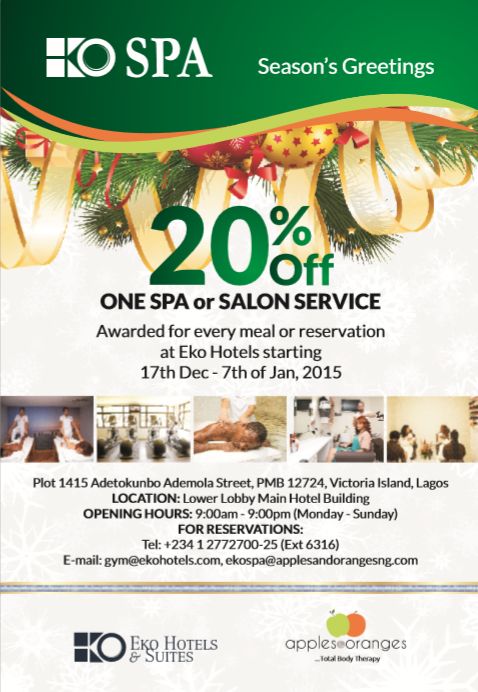 Looking for gift ideas for your partner, colleague, friend or relative this season? Then this is for you!
You can get a whopping 20% off a pampering, relaxing or hairdo session with your meal or reservation at Eko Hotels.
This offer provides you with a fabulous way to unwind and enjoy the holiday season. Share a meal with your loved one and enjoy 20% off a Spa or Salon Service for both of you. It could be a massage service for both, manicure pedicure or hairdo session.
Experience beauty and wellness at its peak! EKO Spa is an intimate, indulgent environment featuring innovative spa treatments, magnificent facilities and gracious, expert services by Apples and Oranges Total Body Therapy.
Your journey to total relaxation and well-being begins on the Hotel's lower lobby, where a spectacular, one-of-a-kind sanctuary includes the Spa, Unisex Hair Salon, Nail Spa and a state-of-the-art Fitness Centre. The Unisex Hair Salon features a unique Nail Spa in close proximity to give you a complete makeover as quickly as possible.
International and local staff are present to ensure you get value for every dime spent. So matter where you're from, hurry now while this offer lasts. This offer is valid from Thursday 17th December 2015 to Thursday 7th January 2016.
Contact – Address: Plot 1415 Adetokunbo Ademola Street, PMB 12724, Victoria Island, Lagos | Phone Number:+23412772700-25 (Ext: 6316) | E-mail: [email protected] or [email protected]
________________________________________________________________________________________________
Sponsored Content