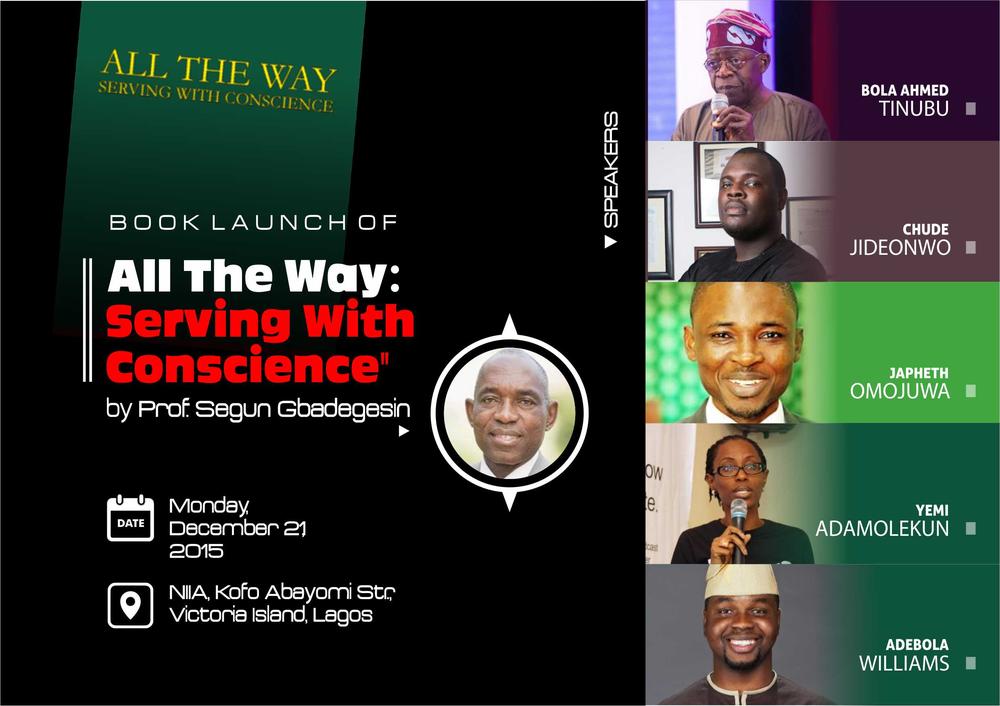 Prof. Segun Gbadegesin will be celebrating his 70th birthday with the launch of his book titled "All The Way: Serving With Conscience" on Monday, December 21 2015 at Nigerian Institute of International Affairs in Victoria Island, Lagos.
Segun Gbadegesin was part of Radio Kudirat, NADECO, Egbe Omo Yoruba and has written a weekly column on the backpage of The Nation since the newspaper was established. The book is a memoir of his professional life and activism in support of social and political transformation. The book tells the story of Prof. Segun Gbadegesin's formative life events and activism through the prism of Nigerian history and politics.
Asiwaju Bola Tinubu who is also Chairman of the event will lead an inter-generational panel conversation with Chude Jideonwo, Japheth Omojuwa, Yemi Adamolekun and Prof. Gbadegesin himself, moderated Adebola Williams.
Date: Monday 21st December 2015
Venue: Nigerian Institute of International Affairs – 13 Kofo Abayomi Street Victoria Island, Lagos
_____________________________________________________________________________
Sponsored Content