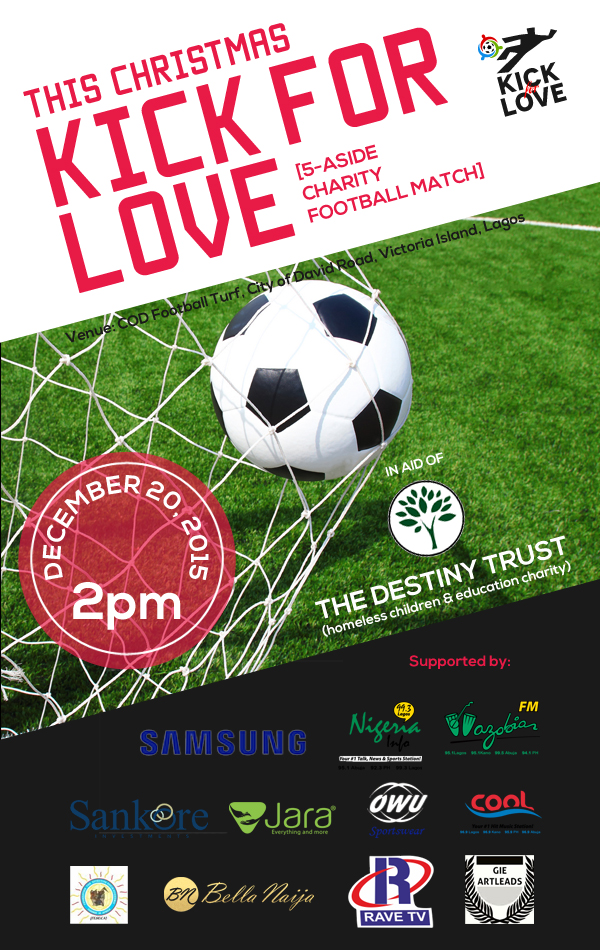 The Destiny Trust, a social intervention NGO  committed to the care, education, rehabilitation and empowerment of homeless children, will be hosting a Christmas football and family day out event tagged 'Kick for Love' to support its work with vulnerable children and their households.
The football event will feature two sets of matches. The first match is a kick about by football enthusiasts and fans who attend the event and who would like to 'Kick for Love.'
The second match is a 5-aside celebrity football match. A combination of ex-internationals, current footballers, and Sports on-Air-Personalities have volunteered to play to highlight their support for the welfare and education of homeless children in Nigeria. These include: Mutiu Adepoju, Etim Esin, Joseph Dosu, Jonathan Akpoborie, Ann Chiejiene, Charles Anazodo, Femi Ubong Daniel, Sean Amadi and more. At this second match, a team of talented former street children at the Trust's Centre will play on a team with ex-internationals and against a team of celebrities-a combined team of Nigerian football stars and other renowned sports On-Air personalities. Nigerian sportswear manufacturer, Owu will kit the teams at the event.
The Destiny Trust recognizes the potential of the football game in uniting people in a fun and exciting way for worthy social causes. Football is more than the energy, action and excitement and can be harnessed to advance our common humanity.
The organization sees 'Kick for Love' as a great way to bring people together to celebrate the great promise that vulnerable children hold, advocate social inclusion and the need for us as a people to do more to secure the future of the Nigerian child. Christmas is an auspicious time for this message-it is the season of love. They invite everyone to join them to have fun while showing love to children in less fortunate circumstances.
This event is proudly supported by Investment firm, Sankore Investments, Jara Mobile, Owu Sportwear, RaveTV, BellaNaija, NigerianInfo, GIEArtleads and FESECA.
Date:  Sunday, December 20th
Time: 2 PM – 6 PM
Venue: COD Football Turf, City of David Road, off Ligali Ayorinde Street, Victoria lsland
___________________________________________________________________________________________________________________
BellaNaija is a media partner with The Destiny Trusts' Kick for Love