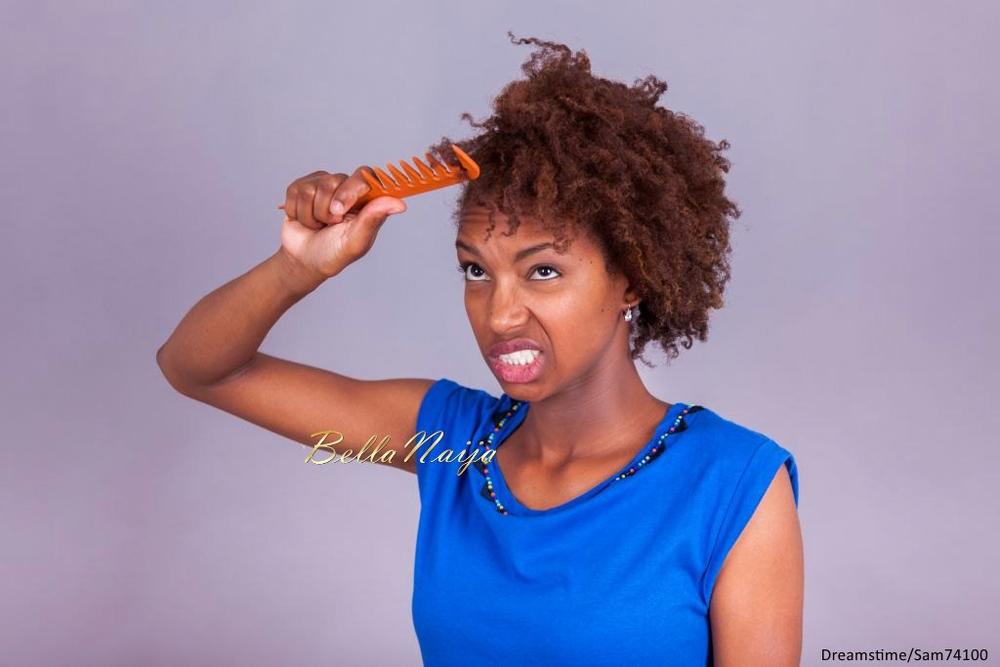 When it comes to hair, it's really those little foxes that spoil the vine.
The effect our everyday habits have on our tresses is much worse than the effect those weekly or monthly treatments have. They not only do harm, they also nullify the results we hope to get from our hair products.
There are a lot of things you do everyday that cause major and possibly long-term damage to your hair, and I am going to list 7 of them. Check them out and don't be shamed to raise your hand if found guilty.
***
1. Over Combing
You see that image above – chances are you've done that exact thing a few times. Maybe even this morning.
Hair doesn't like to be stressed and excessive combing can do more harm than good. For those with long hair, people fawn over your hair and they just love combing it. For those with shorter hair, you keep combing hoping to see the results from your hair supplements after a few hours. Step one to recovery? Stop it!
Excessive combing of hair is a major reason why split ends tend to spread upwards on our stands of hair, and this could lead to you cutting off chunks of your hair to fix the problem. In truth, you need to comb your hair maybe twice or thrice daily if you have to. For example, let's say you tried a new hairstyle and it didn't work out so well. Then you can comb it. Otherwise just run your fingers through your hair gently during the day.
2. Relaxing Your Ends
This is one of the most dangerous things anyone can do to their hair.
Hair is made of living cells, excessive use of chemicals can kill or weaken these cells. In our attempt to make our hair look sleek, we think relaxing our ends is the way to go. But it's not. Relaxing your ends damages the hair and causes heavy breakage.
First of all, you must realize what relaxing does to the hair – It strips the hair of its natural proteins and nutrients. Only new growth i.e: natural hair can withstand the harshness of relaxers. So it's best to relax just the new growth. You can still achieve the sleek look by blowing drying your hair.
3. Overworking Your Hair
Hair can only withstand so much. And like every other part of our body, it needs to rest. Some of us relax our hair and then immediately do braids or fix a weave! That is so not good for your hair.
You should leave your hair to rest after relaxing for at least 3 days. It's also wrong to bleach, dye or flat iron your hair back to back. If you intend to flat iron after relaxing, then the hair must be relaxed for 15 minutes or less then wrapped over night. Imagine going through a chemical bath and then being ironed immediately after. You won't enjoy it much and your hair doesn't too! You can risk it but if you are on a healthy hair journey it's not worth it.
4. Wrong Use if Heating Tools
Sometimes we think we are straightening hair when in reality we are actually frying or roasting the hair.
Heating tools don't have to be crazy hot or smoking before you use them on your hair. Always makes sure its temperature is 350F or less. Never use heating tools with exposed metal. Rather it should have a ceramic coating.
5. Using Wrong Products
Always make sure the products you are using for your hair are authentic and actually meant for hair. Especially shampoos! Dish washing liquid soaps do not qualify as shampoos (I know for a fact some people use it) and products that contain alcohol are not the best.
Also a very good conditioner goes a long way so try to invest in one. We all have different personalities, and so does our hair. Whatever relaxer or hair cream works for you might not for me. Try to find those products that leave your hair feeling and looking good and healthy.
6. Blanketing with Pomade
Imagine wearing 5 layers of clothing in this hot weather. Unbearable right? Well that is what some of us do to our hair. Attempting to make it lie flat or look shiny, we apply too much oil and cream that our hair can't even breath…poor thing. Hair creams are meant for your scalp mainly but you can also use it sparingly on your ends.
7. Towel Drying Wet Hair Aggressively
Almost everyone does this, even at salons. Wet hair is very fragile and it doesn't take much to make it snap. Towels may be fluffy and innocent looking to you, but you hair doesn't think so. Especially when it's being attacked so aggressively.
The issue is, most people think the harder they rub, the faster the hair dries. True but at what cost? The friction between the towel and hair causes a lot of damage. It's best to pat hair dry and then carry on with the drying process with a blow drier.
***
Are you guilty of any of these hair sins? No need to worry. Just remember that only health hair can grow long.
Photo Credit: Dreamstime/Sam74100