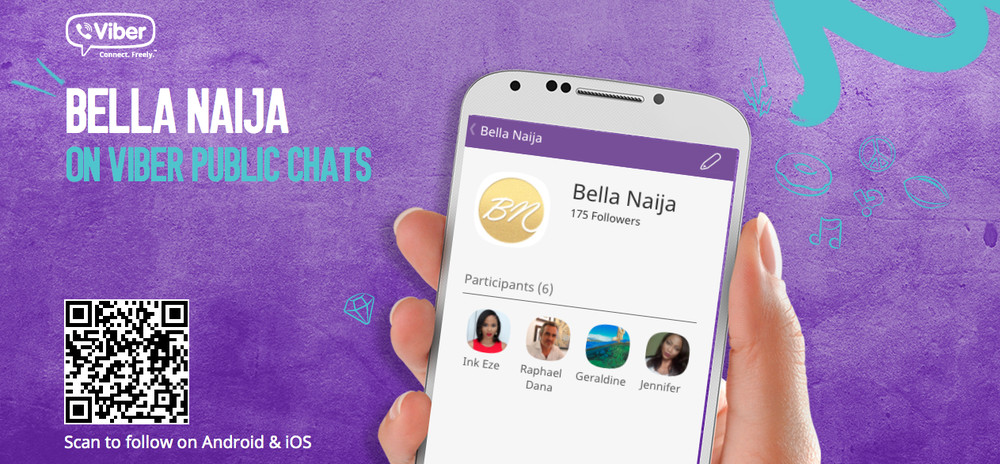 Yay! BellaNaija is now on Viber. So before you finish reading this, click here to follow BellaNaija.com on Viber now!
Viber is one of the leading messaging and calling apps with more than 664 million unique users worldwide, announced this week that it has opened its latest social channel 'Public Chats' to partners in Africa and the Middle East. Brands, organizations, celebrities, public figures and social influencers from these countries can now join Viber's global platform to reach a local and regional audience. If that sounds like you, what are you waiting for?
BellaNaija.com joins Viber as one of its select partners in Nigeria. BN readers can now experience a new kind of social experience with the introduction of Public Chats – tapping into live conversations and real time BN updates. Mobile users can discover new communities, follow interactive chats and share original pieces of content with friends and contacts.
"The Middle East and Africa are important markets for Viber, and we are pleased to welcome local influencers and brands to our Public Chats platform," said Mark Hardy, CMO, Viber.

"We are sure they will enjoy chatting, commenting and debating live on this active social channel whilst sharing tips, news, and local content to our constantly connected mobile audience across the region." 
Other partners in Nigeria include: Jumia, the leading e-commerce platform in Africa; The Future Project, an organization designed to empower citizens across Africa; Naij.com, leading online news platform; YNaija, the internet newspaper for young Nigerians; 360 Nobs, the number 1 media platform for music & celebrity news in Nigeria; Style Me Africa, Nigerian-based platform for African designers; Style Vitae, Nigeria's online media dedicated to fashion, style and beauty; Giditraffic, Nigeria's urban network & no.1 source for real-time traffic updates; George Okoro, renowned photographer capturing the best of Nigerian celebrity & luxury weddings; Uzo Orimalade, CEO of Uzo's Food Labs, a budding food and home entertainment blog and IT Talk Africa, an informative and resourceful tech hub for Africans, powered by Future Soft.
The Guardian, a national newspaper in Nigeria, will be joining Viber Public Chats in the coming months as part of their digital strategy to offer news, discussions and debates to a growing mobile audience.
In addition, more than 50 partners have joined Public Chats in key African markets. Viber users can now follow internationally acclaimed Senegalese singer, Youssou N'Dour, Vanessa Haywood, Actress and Model in South Africa, Live FM radio in Ghana, Xtian Dela, Radio Presenter, Blogger & Social Influencer in Kenya, Filfan, the first entertainment platform in Egypt, WIW Sport the number 1 Sport news portal in Senegal and Serge Beynaud, Afro Pop Musician and Composer from Ivory Coast.
Global brands, celebrities and public figures on Public Chats include online media platforms such as Huffington Post, Mashable, BuzzFeed and the BBC; the Prime Minister of India, Narendra Modri; Pop star Pixie Lott and Model and Actress Karolina Kurkova.
For any media enquiries in Nigeria, please contact our local PR representative Ijeoma Ndekwu via email [email protected] or call + 234 818 090 81 28
To learn more on how to open a Public Chats in Nigeria, please contact [email protected]
_______________________________________________________________________________________
BellaNaija.com is in partnership with Viber