To celebrate this new year, Alliance Francaise Lagos bring you a unique program – Color Me Rad. For the first time in Africa, the famous fun race coming from US arrives in Lagos on Sunday 31st of January 2016! From Bar-Beach to Freedom Park.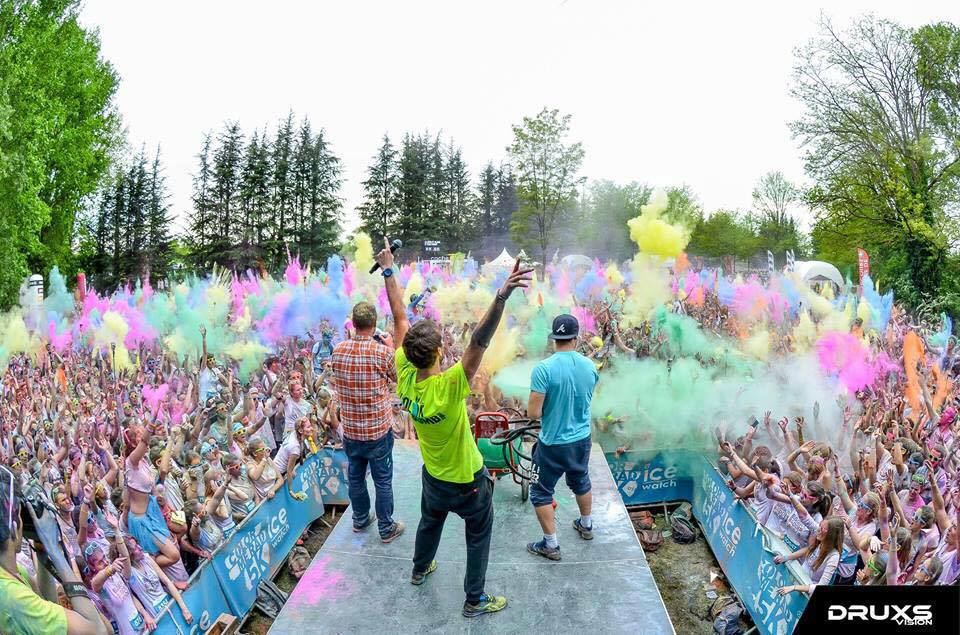 What is Color Me Rad?
Color Me Rad is based on the Hindu Festival of Colors, otherwise known as Holi. The festive colors used are a sign of winter's end and spring's new beginnings. Or in the case of RAD; the color represents the end of lame runs and the beginning of fun runs.
Running in the midst of colours
There is no idea of competition, as there is no timing. Participants are going to experience a unique moment which brings the whole community together and with a view to ensuring education for children.
Color Me Rad is a 5-km race aimed only at making participants laugh. It is not competitive and it is not timed. Doused with colors, the race is pure pleasure for children and adults. Everybody is welcome: parents, grand-parents, students, friends and accomplished athletes.
A festival of colour and music
At every kilometer, there is a new outburst of colors which cover the skin of participants and give them renewed impetus, changing them into walking masterpieces.
To make them dance till the finish, each Color Zone is a mini festival of music which transforms the efforts of the participants into a whirl of extravagance and pleasure.
Like a reward for the participants, there is an outburst of colors and music waiting for them at the finish.Rather than a finish, it is the beginning of another festival!
A race like no other!
Color Me Rad makes everyone euphoric, coloured, happy and a bit extravagant.
Color Me Rad encourages accomplished runners and those who get up to wear their best white tee shirts, thus changing them into a work of art.
This is the best opportunity to experience joy and see life in many colors!
Watch Highlights from Color Me Rad in Rouen (France)

How to register
1/ Sent an email to one of these addresses:
[email protected]
[email protected]
2/ Tickets are available at
-Bogobiri House, Maitama Sule Street, Ikoyi.
-VGC sports Centre, Kone's cafe. Rd. 22A VGC recreation club
-Alliance Francaise,239 Herbert Macaulay street, Alagomeji Yaba.
Please mention in your email if you will Pay in Cash or bank account transfer
Fees for participation are N6000 which allows you to participate to :
– 5K race from Bar-Beach to Freedom Park, starting at 4pm.
– 3 hours music festival at freedom park (Wura, Raskimono, Keziah Jones, Seun Kuti and others…)
– Goodies (tee-shirt, sun-glasses and more..)
– Color Me Rad is involved in the communities where the race takes place. Part of the profit is given to them as donation for Education.
– Fun and unique experience!
Date: Sunday, 31st Jan 2016
Venue: Bar Beach & Freedom Park