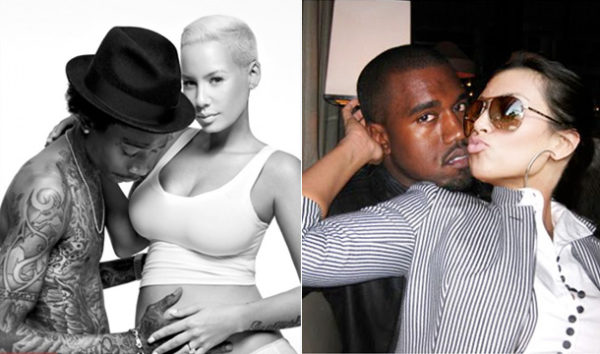 It's happening again…
Grown people fighting on social media.

What Happened?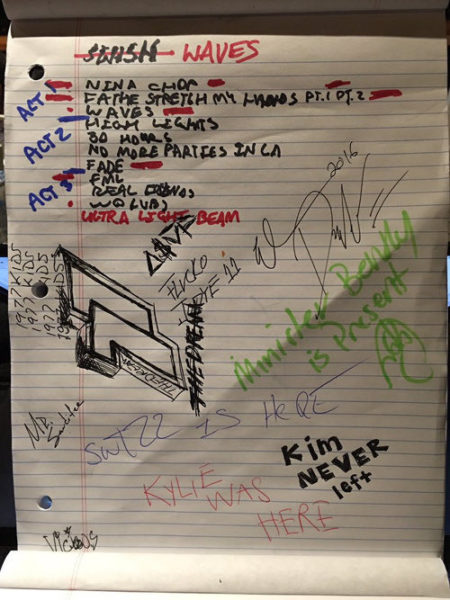 Kanye West announced that his new album will be called "Waves". Wiz Khalifa is not happy about that because he believes the term and a music movement known as "Waves" belongs to a rapper called Max B who is currently in prison.
Wiz was sending subliminal messages about it on Twitter including mentioning the initials "KK" and Kanye decided to fire back…
Background
Kanye West brought former stripper Amber Rose into the limelight. Amber later married Wiz Khalifa and they have a son. Amber and Wiz have broken up.
In his tweets, Kanye said "You let a stripper trap you".
Wiz Khalifa
Please don't take the wave.

— KOE (@wizkhalifa) January 27, 2016
Max B is the wavy one. He created the wave. There is no wave without him.

— KOE (@wizkhalifa) January 27, 2016
Im a wavy baby for sure and I'm not having it. https://t.co/M7hhKo5TlP

— KOE (@wizkhalifa) January 27, 2016
He's the reason I sing on all my songs. That's the wave. If theres nothing wit that sound ITS NOT WAVY.

— KOE (@wizkhalifa) January 27, 2016
Just so you know what true waves are. https://t.co/Mot3ab1Kuu

— KOE (@wizkhalifa) January 27, 2016
Max B number one trending. FREE THE WAVE.

— KOE (@wizkhalifa) January 27, 2016
We just landed in your city. Go time!

— KOE (@wizkhalifa) January 27, 2016
Hit this kk and become yourself.

— KOE (@wizkhalifa) January 27, 2016
KK is weed fool. Reason's why your not wavy. Go bacc to Swish. https://t.co/7OT4xiQa5V

— KOE (@wizkhalifa) January 27, 2016
I been smashed the idea of that album even existing. I got joints to roll @kanyewest

— KOE (@wizkhalifa) January 27, 2016
Kanye West
Like, oh that's Ye and I can put his wife's initials on my twitter @Wizkhalifa

— KANYE WEST (@kanyewest) January 27, 2016
Bro first of all you stole your whole shit from Cudi

— KANYE WEST (@kanyewest) January 27, 2016
Second, your first single was corny as f- and most there after

— KANYE WEST (@kanyewest) January 27, 2016
work hard play hard pic.twitter.com/zp2P7FMtVp

— KANYE WEST (@kanyewest) January 27, 2016
You have distracted from my creative process

— KANYE WEST (@kanyewest) January 27, 2016
I went to look at your twitter and you were wearing cool pants

— KANYE WEST (@kanyewest) January 27, 2016
I screen grabbed those pants and sent it to my style team #Wizwearscoolpants

— KANYE WEST (@kanyewest) January 27, 2016
3rd no one I know has ever listened to one of your albums all the way through

— KANYE WEST (@kanyewest) January 27, 2016
4th you let a stripper trap you

— KANYE WEST (@kanyewest) January 27, 2016
5th I know you mad every time you look at your child that this girl got you for 18 years

— KANYE WEST (@kanyewest) January 27, 2016
6th don't ever come out the side of your neck at me

— KANYE WEST (@kanyewest) January 27, 2016
7th I am your OG and I will be respected as such

— KANYE WEST (@kanyewest) January 27, 2016
8th I made it so we could wear tight jeans

— KANYE WEST (@kanyewest) January 27, 2016
9th me and Cudi created this shit

— KANYE WEST (@kanyewest) January 27, 2016
10th don't you ever in your f-ing life speak sideways about a nigga that's fighting for us I do this for all of us

— KANYE WEST (@kanyewest) January 27, 2016
11th I showed you respect as a man when I met you

— KANYE WEST (@kanyewest) January 27, 2016
12th You wouldn't have a child if it wasn't for me

— KANYE WEST (@kanyewest) January 27, 2016
13th You own waves???? I own your child!!!!

— KANYE WEST (@kanyewest) January 27, 2016
14th Nigga it's called creativity #youshouldtryitsomeday

— KANYE WEST (@kanyewest) January 27, 2016
15th Nigga I tried to call you and you changed your number

— KANYE WEST (@kanyewest) January 27, 2016
16th don't even hint at mentioning me my family or my wife I am your OG

— KANYE WEST (@kanyewest) January 27, 2016
17th I think you dress cool I wish I was skinny and tall

— KANYE WEST (@kanyewest) January 27, 2016
maybe I couldn't be skinny and tall but I'll settle for being the greatest artist of all time as a consolation

— KANYE WEST (@kanyewest) January 27, 2016
Don't ever ever ever come out the side of your mutherf-ing neck bro or bruh or however you say it Mr. Waves

— KANYE WEST (@kanyewest) January 27, 2016
I'm YE and I ain't gotta say it the right way I'm Ye I'm Ye I'm Ye I'm Ye I'm Ye I'm Ye I'm Ye

— KANYE WEST (@kanyewest) January 27, 2016
Thank you for the extra promotion #WAVES available February 11th

— KANYE WEST (@kanyewest) January 27, 2016
What's sad is I love Wiz and I love all all my brothers and all people

— KANYE WEST (@kanyewest) January 27, 2016
**
Kanye has now deleted his tweets though he added…
Man it's a sad a day… Wiz lost 2 million followers since I tweeted I didn't mean to either him like that.

— KANYE WEST (@kanyewest) January 27, 2016
I'm happy that I now know that KK means weed… please excuse the confusion … now back to #WAVES

— KANYE WEST (@kanyewest) January 27, 2016

**
Amber Rose joined the drama
Awww @kanyewest are u mad I'm not around to play in ur a-hole anymore? #FingersInTheBootyAssB-h☝

— Amber Rose (@DaRealAmberRose) January 27, 2016
Lol @kanyewest Now u wanna delete ur tweets cuz Muva has arrived? #TwitterFingers #UrGettingBodiedByAStripperNigga

— Amber Rose (@DaRealAmberRose) January 27, 2016