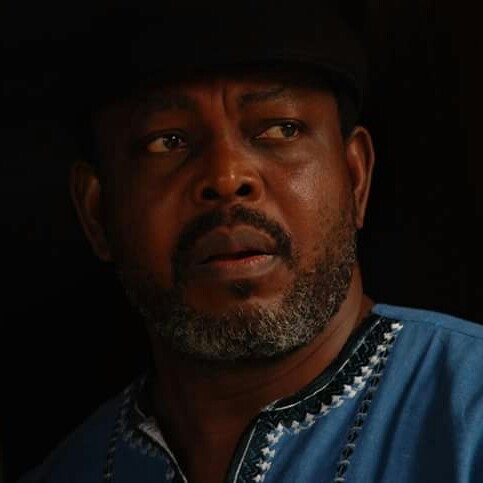 My dear friends and colleagues, I have read and heard a lot that has been said about how my manner of interaction with some younger female writers within our literary commune has been quite inappropriate. With sincerity I accept responsibility for the hurt a writer's excesses have caused you all. I wish to humbly seek a lasting healing for all affected and all concerned because it was not my intention to hurt anyone. I truly regret this. I am deepy sorry and I apologize without reservation to all affected. DO FORGIVE. Thank you all for reading and for your understanding.
Cc.
Pa Ikhide
Denja Abdullahi, The President, ANA
These words are from published Nigerian poet, Chijioke Amu-Nnadi. The Facebook post was made after news broke yesterday with several young female writers recounting their various encounters with him.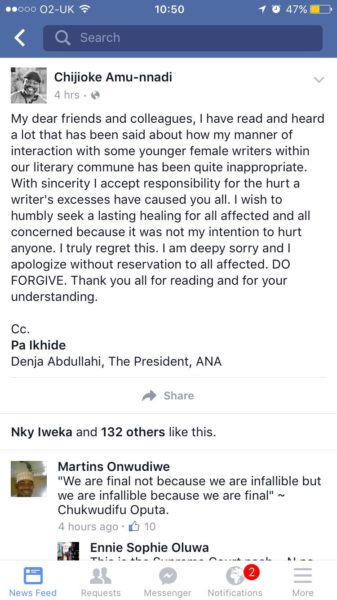 The news first broke when a writer, Miracle Adebayo, came out on Facebook to narrate her encounter with Amu-Nnadi. She recounted how he kissed her against her will at the Ake Arts & Book Festival in 2014.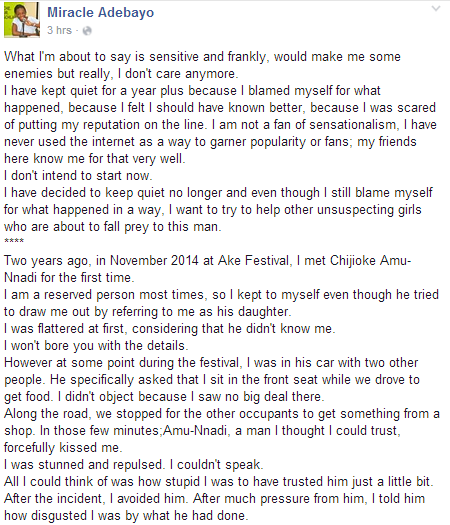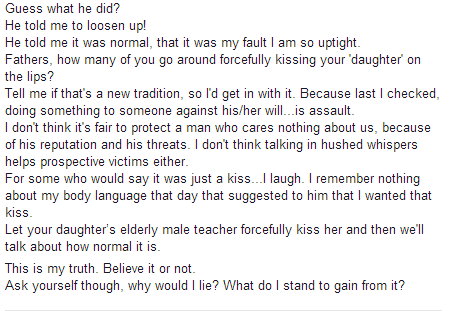 Another young lady, wrote of her experience with the poet, in a Blog post titled Of Kisses, of Sexual Predator, Of Chijioke Amu-Nnadi.
Mine didn't start with poetry. 
I didn't know him beyond his name, his posts, on Facebook.
I was in Uganda for 2014 Writivism Literary Festival as the festival's blog editor; he was there too, as a guest to hold a masterclass on poetry. 
He checked in at midnight with Sadiq Dzukogi. I was working at a section of Ministers' Village –the hotel we were lodged- dining hall when he arrived. Mukoma wa Thiong'o, Pa Ikhide, and Aaron Bady had arrived not long before and I'd gone to the reception to greet them so when Ssekandi – the festival's official chauffeur – pulled into the driveway, I went out to see who else had come in.
As I greeted him and introduced myself, he hugged me. Then one of the minders  and I accompanied them upstairs to settle in. After we found their rooms, we all made to leave. I was going back to the ground floor to continue work; he offered to see me off a bit. When we got to the first floor (his room was on the third), we stopped to wrap up our chit chat. I didn't see what happened next coming. It just did.
He cupped my face in his hands and kissed me.
I didn't know what to do. I wasn't even processing. I just said, "Goodnight," turned around and walked back to where I was working. As I sat, it began to hit me. Chijioke-Amunnadi kissed me. He kissed me…he…kissed me? He f*ing kissed me?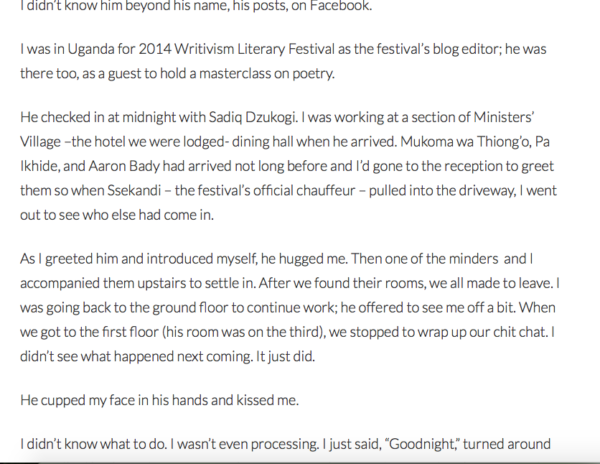 Amu-Nnandi, is the author of four collections of poetry, the fire within, which won the 2002 ANA Gabriel Okara Prize for Poetry;pilgrim's passage, shortlisted for the 2005 Nigeria Prize for Literature; and through the window of a sandcastle, winner of the 2013 ANA Poetry Prize, runner-up to the 2013 Nigeria Prize for Literature and winner of the 2014 Glenna Luschei African Poetry Book Prize.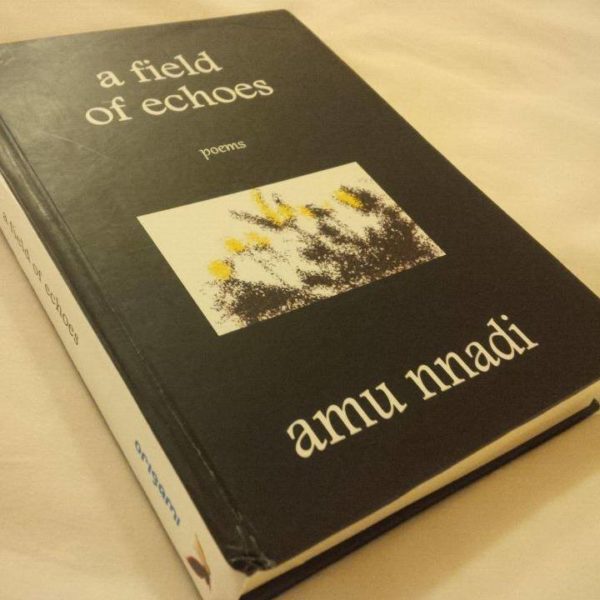 The revelation has given rise to a lot of social commentary on Facebook.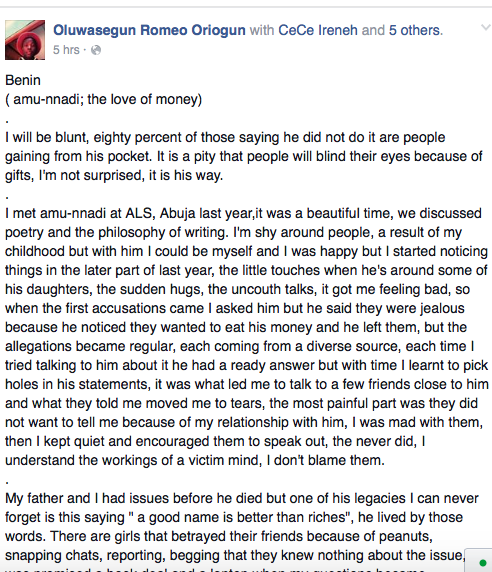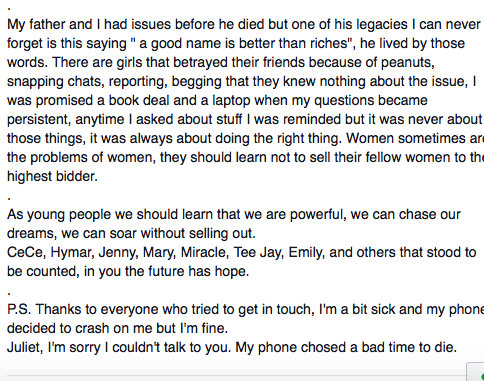 Even more notable is the fact that poet, in his apology attributed his actions to "A writer's excess". Some people have hailed him for being a 'man of courage'.
There's a lot to be said for a society that makes excuses for bad behaviour.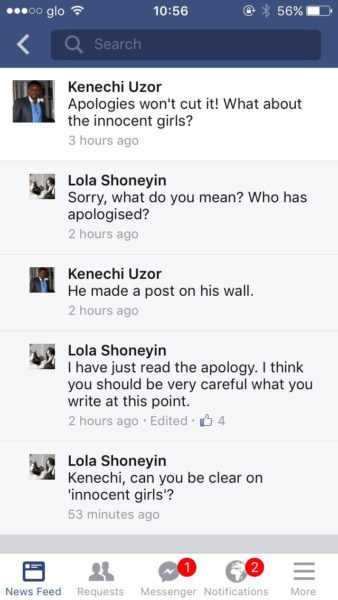 As always BellaNaija stands together with victims of sexual and domestic abuse. We hope that the scourge of abuse will end in our society. We also hope that justice will be served and the truth will come to light.
Please help by lifting the veil of silence. Speak up and seek help.  As a society, we should work together help victims.