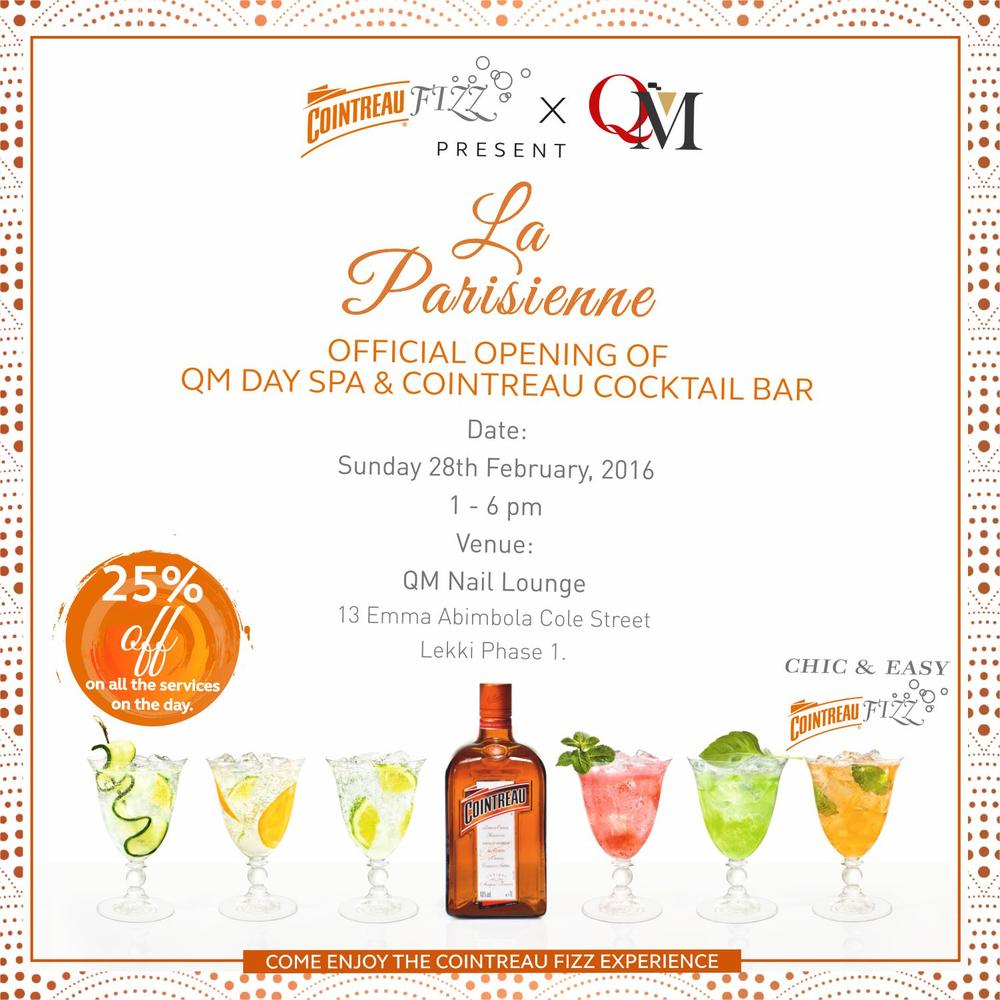 Cointreau continues its series of collaboration parties – where the orange liqueur brand collaborates with various top lifestyle and beauty partners to present special monthly Cointreau Fizz parties. The parties will each be a blend of the spirit of La Maison Cointreau with the core essence of each establishment, meaning there is a different and exciting new theme for each party. Each party, in addition to having their own special themes, will be held at different and equally chic locations across Lagos.
On the 28th of February 2016, QM Nail Lounge & Spa, specialists in quintessential experience for all things Nails including manicure and pedicure will see a network of exquisite ladies enjoy Cointreau infused desserts, canapés and of course – Cointreau Fizz cocktails. This means you can get your drink on while getting your nails and everything beauty done as well.
QM Nail Lounge offers a variety of indulgent services ranging from their signature QM Classic Manicure & Pedicure to a variety of extended treatments such as Chocolate, Lavender, and Ice Cream Pedicures; a relaxing and impeccably polished environment that's a perfect oasis to escape into a world of total body and mind relaxation.
This Sunday, QM Nail Lounge also launches its Day Spa and Cointreau Cocktail Bar, offering a selection of services and experience that is memorable. All Spa products are naturally, organically and automatically drawn from plants and flowers.
The Spa environment unleashes soft sounds; delicate tones and light scents of geranium and rose linger in the air.
All treatments are centered on the individual guest, to enhance physical and emotional wellbeing.
Ever tried a Cointreau Fizz cocktail? Come enjoy the Cointreau Fizz experience.
Date: Sunday 28th February
Time: 1pm – 6pm
Venue: QM Nail Lounge, 13 Emma Abimbola Cole Street, Fola Osibo Lekki Phase 1 Lagos
18+ Drink Responsibly
__________________________________________________________________
Sponsored Content