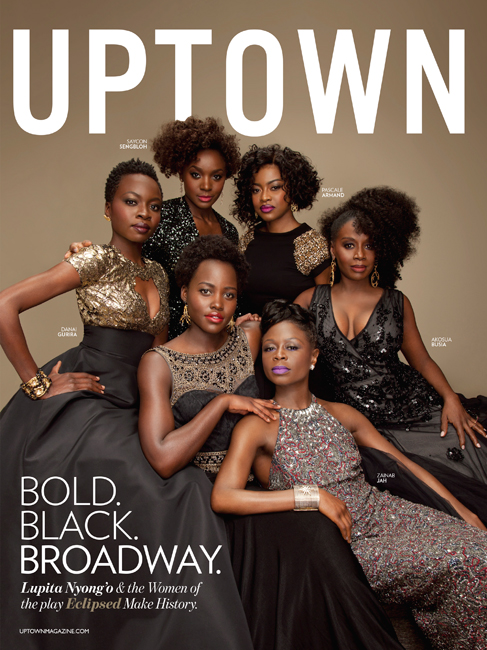 History is being made on broadway right now with "Eclipsed". This is the first play to be written by, directed by, produced by and starring black women on broadway!
The leading ladies of Eclipsed all feature on the cover of UPTOWN Magazine's new issue.
"Eclipsed, which played a sold out run at New York City's Public Theater last fall, stars Academy Award winner Lupita Nyong'o joined by an ensemble of fierce theater thespians, including Pascale Armand, Akosua Busia, Zainab Jah and Saycon Sengbloh.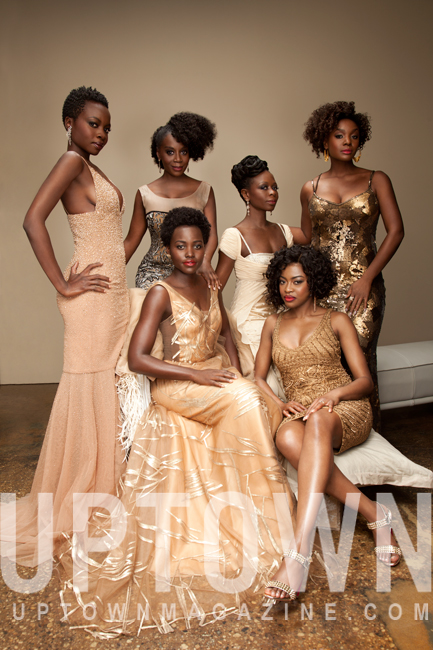 Through the lens of Obie award-winning director Liesl Tommy, audiences are exposed to a remarkable story never told before: of five extraordinary women brought together by upheaval in their war-torn homeland of Liberia. They forge a close-knit bond during the devastating despair and severe brutality of the African nation's second civil war."
Interestingly, most of the women in the play are of African descent.
"Creating this play was an act of love and it was really something that I couldn't let go of," Danai Gurira said. The actress/playwright, who is of Zimbabwean descent, journeyed to Liberia to interview the women who survived the brutal war. "I really felt like I had to tell this story and I was really scared out of my mind."
Lupita who is from Kenya says she became familiar with Gurira's play during her undergraduate studying at the Yale School of Drama.
"I was first cast as the understudy in the role I'm playing now so it was the very first role I under-studied and it was the very first role that I was assigned to at Yale," she confessed. "I was just drawn. I thought it was an incredibly engaging and riveting story and I was just dumbfounded that I never experienced anything like it before — five African women telling their stories and each of the women are so distinct from the other one. And it was so funny and also heart-breaking at times. It was just a very powerful story."
"I have family members, who were involved in the Liberian Civil War and I haven't seen them since the war," says Sierra Leone native Zainab Jah, who portrays a female rebel soldier in Eclipsed. "So this character was very real to me."
Jah plays the brazen female rebel soldier and hails from Liberia's neighboring country Sierra Leone. The actress, like Nyong'o, is making her Broadway debut in Eclipsed and described the experience as "nerve wracking."
Ghana native Akosua Busia, best known as "Nettie" from the film version of The Color Purple, has worked with refugees from the Liberian Civil War, which Eclipsed tackles. "You cannot put everything on that stage, but you do your best and bring some kind of homage to the people who went through that."
Eclipsed is a return to The Great White way for Busia—last seen on the boards in 1991's short-lived Langston Hughes play Mule Bone. The veteran actress, retired from the business after giving birth to her daughter Hadar Busia-Singleton (with ex-husband filmmaker John Singleton) in 1996. The daughter of a former Ghanaian prime minister, Busia is actively involved with humanitarian causes in her native land. Her sister, a professor at Rutgers University, told her to read the script because she knew of Gurira after being dazzled by her at an event for the African Women's Development Fund.
Saycon Sengbloh is the only one in the cast with roots in Liberia, where Eclipsed is set. "I think it's really awesome to be a part of something like this, in terms of making history."
For Sengbloh, Eclipsed hits home the most. She's the sole cast member with roots in Liberia.
"I'm really proud. I think it's really awesome to be a part of something like this, in terms of making history."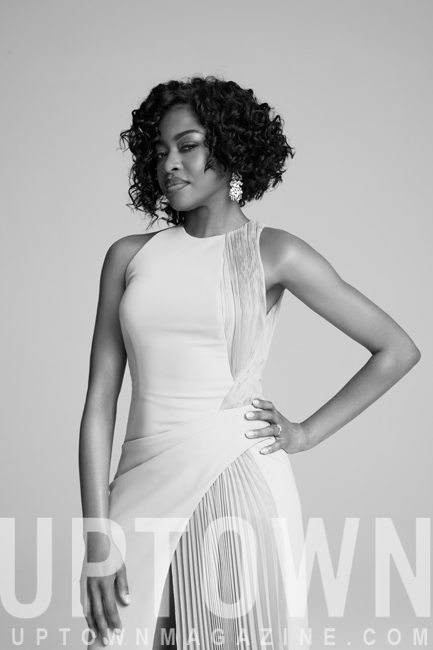 Pascale Armand, of Haitian descent, has been with Eclipsed the longest, performing in three productions before Broadway. "This is my role."
***
Catch Eclipsed on broadway now!