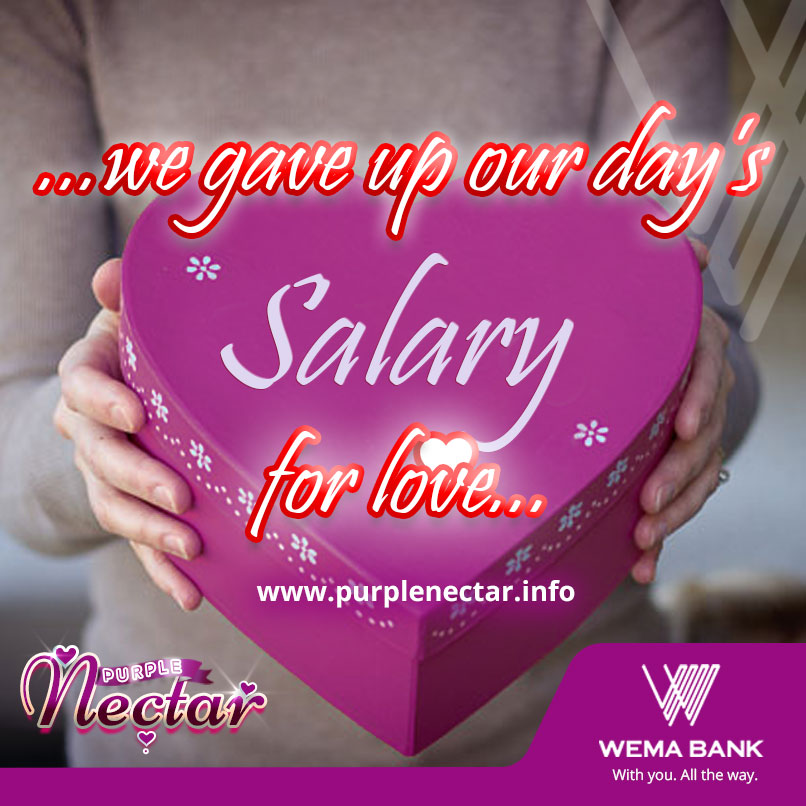 Hi Everyone.
Hope you had a lovely Valentine's weekend.
I was minding my own business yesterday and then I saw this on my friend's DP and thought to share.
Apparently, staff of Wema Bank had given up a day's worth of their salary to help 10 people who require immediate financial assistance. It didn't just stop there, the management of the bank also agreed to double the amount raised from staff.
This really caught my attention, especially as I did not expect such from a bank. I went on to visit the site – www.purplenectar.info to read the stories of these 10 people they want to help. Wow. I was touched. I was so glad I could drop some messages for this people on the site (by the way, they said they would print all the messages people dropped into a card and present it to the beneficiaries).
It made me realise that there are soo many people out there suffering who need help, not only financially but even emotionally. It also made me realise that a person can be living a normal life today and tomorrow sickness comes to destroy everything.
It is important for each of us to be prayerful and to also show love to people who need it now. Even a call can go a long way in encouraging people. The people who are ill or financially less-privileged did not choose it.
In summary, my message to everyone reading this is 'Show Love Always'.
____________________________________________________________________
Sponsored Content