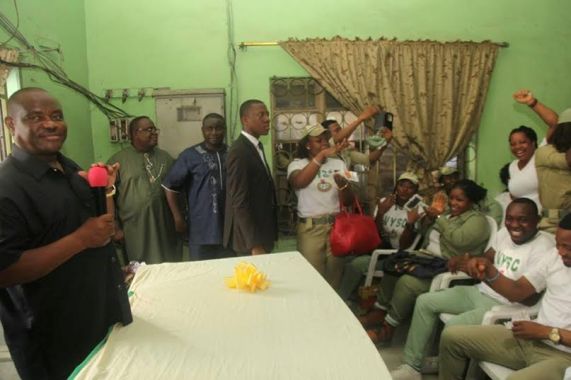 Governor Nyesome Wike of Rivers State, in a condolence visit to the NYSC State secretariat in Port Harcourt has condemned the killing of a Corps Member during last Saturday's re-run elections in the state. The Late Corps Member, who was an orphan was killed by unknown gunmen in Ahoada West Local Government Area of the state.
"The death of this Corps member is unfortunate and condemnable. I urge the Police to thoroughly investigate the crime. The outcome of the investigation should be made public so that those involved are prosecuted. The killing of this corps member must not be swept under the carpet." He said
He also announced the increment of State Allowance for Corps Members serving outside Port-Harcourt from N10,000 to N15,000, while those serving in Port-Harcourt will now get N10,000 from the State as opposed to the N5,000 they were getting before.
Rivers State NYSC Coordinator, Ngozi Nwatarali thanked the Governor for his visit, and called for greater protection of Corps Members during elections.
Alex Edeabeatu, a representative of Late Samuel Okonta's family also appreciated the Governor for his kindness. He said that Samuel was a shining light for the family.
Source: Vanguard