Heart of Gold! Wife of Kebbi State Governor, Zainab Atiku Bagudu Adopts Daughter of 'Mentally Challenged Woman'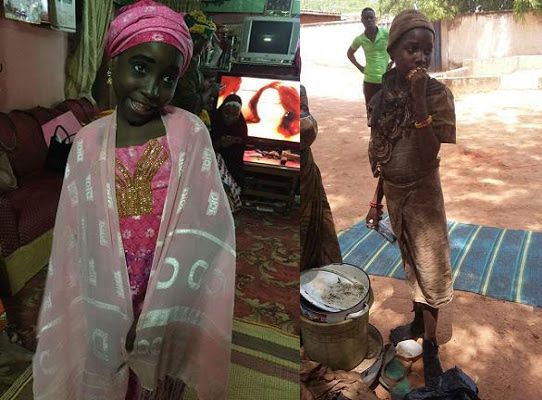 Dr Zainab Atiku Bagudu, wife of Kebbi State Governor earned plaudits for her gesture of goodwill towards a mentally challenged woman and her daughter.
The Ahmadu Bello University trained medical doctor on Tuesday, March 15, 2016 came to the aid of Sidika Bako, 10, whose mother, aged 22, is mentally challenged, following a report she received on the girl's poor condition. The woman's husband who also resides in Birnin Kebbi reportedly abandoned them after she developed mental illness.
Here is what Sabatu A. Yakubu & Haruna A. Atiku wrote about the incident
"Improving social well-being of the general public, including physically and mentally challenged persons is one of the key social services expected of a well-meaning government. Kebbi State Government has been working seriously on putting a system in place which will put to an end the menace of drug abuse, reducing the burden of mentally retarded or challenged persons and improved health services through various interventions, including rehabilitating and providing psychosocial support services in social rehabilitation centres, improving educational systems, upgrading educational institutions, supporting and equipping hospitals, among others.
The Wife of the Kebbi State Governor on Tuesday 15th of March 2016 has extended such social support to a young girl and her mentally challenged mother. Dr Zainab Atiku Bagudu came to their aid following a report she received on the condition of both Sidika Bako aged 10 years and the mother aged 22 years. It is believed that the father of the girl also reside in Birnin Kebbi, but abandoned them following the mental illness developed by the mother. What caught the attention of the Government House Housekeeper, Hajiya Hajara Nagode was the mothers persistent backing of the 10 year old girl, which is weird. She immediately informed the Governors wife of the situation, who immediately came to their rescue. It was gathered that the both mother and the girl were residing in the mothers family house along with her brother in Birnin Kebbi, but medical attention could not be sought for her due to financial challenge. They usually go out in search of alms and even trek from Birnin Kebbi to Sokoto, but it was learnt that they always sleep at home. Dr Bagudu immediately directed that the girl be taken to a safer residence in Birnin Kebbi, and has taken full responsibility of young Sidika's education. Infact, enrolment of the girl into school has already started. The Governor's Wife further ordered for providing immediate medical attention to the mother, and has also taken full responsibility of the medical bills. The woman is presently in Physiatric and Rehabilitation Center, Jega LGA of the State. The hospital officials disclosed that the woman is responding well to treatment and may likely be back to her senses in about six weeks."
See more photos below: