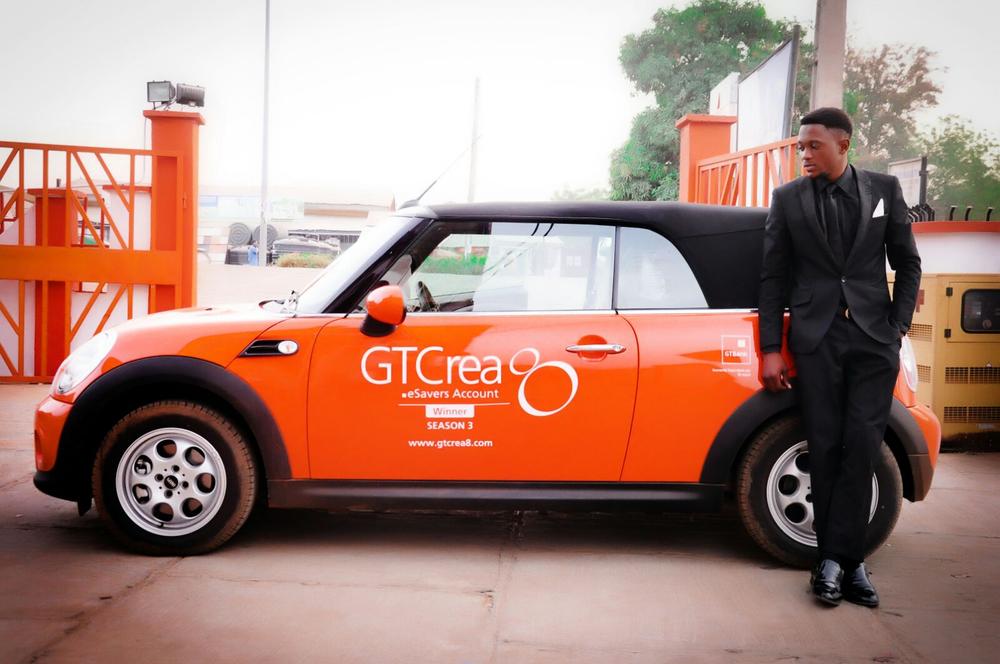 The GTBank GTCrea8 Mini Cooper Raffle Draw was held on Dec 10th, 2015 where over 80,000 undergraduates qualified for the Mini Cooper by either saving N5000 in their accounts for 6 months or using e-channels three times a month for 6 months.
Olawale Jamiu Hassan a student from Kwara State University won the car and here's what he had to say
Tell us a bit about yourself:
My name is Olawale Jamiu Hassan and I hail from the North Central of Nigeria, Ilorin city to be precise, which is where I also reside. I come from a family of four. I school at Kwara State University, and I am a final year student of the Dept. of Banking and Finance. I'm a model (MR.KWARA INT'L CHARISMATIC 2015). I don't really have hobbies, but I pride myself at solving problems around me and sometimes in attempts to solve problems, different businesses ideas. One of such business is ICHOPPY a feeding app for student and the other called SALUBATA a model invention of the past.
How did you hear about the GTCrea8 e-Savers account?
I Heard about GTCrea8 eSavers account from different sources which includes newspapers and online. There was a time I had issue with buying goods online. This made me go to my bank (GTBank) to enlightening me more about Internet transactions.
Has the account been useful to you?
The GTCrea8 account has come in handy many times. Fashion and style has been my tool to get people to listen to what I have to say when it comes to my ideas and business motives. Since most of my shopping is done online the GTCrea8 account has made it very easy and fast indeed, therefore creating a seamless experience for me every time I shop, its usefulness can therefore not be overemphasized.
When you received the phone call informing you that you won the car on the Morning of December 10th, 2015 how did you feel?
No words can explain the joy I felt, so much adrenaline rushed through my body, but certainly I can say that I was overwhelmed by the news and I was and am still undoubtedly very grateful to God for granting me this favour.
How has your experience been since winning the car?
Like I said earlier most of the time I pride myself as a problem solver, it has inherently and unavoidably imbibed in me a sense of business. This car has greatly reduced the stress of me and my partners always having to shuffle between bikes around the city in search for our next collaborators and sponsors of our initiative.
Thank you GTBank!
The GTCrea8 account is an account especially designed for undergraduates.
Click here to find out how you can be a winner of a brand new mini cooper, courtesy of GTBank: j.mp/moregtcrea8
GTCRea8 Facebook: https://www.facebook.com/gtcrea8/
GTCrea8 Twitter: https://twitter.com/gtcrea8
____________________________________________________________________
Sponsored Content