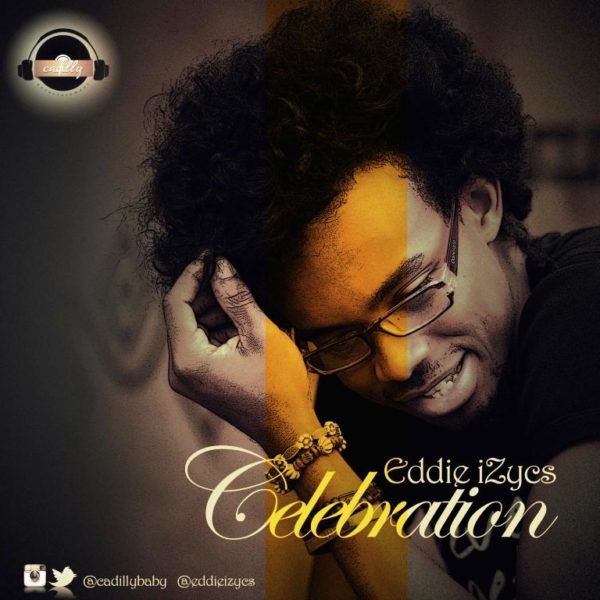 So I have been postponing this for a while. I'm so excited that I finally get to review an EP that I would like to describe as 'one of a kind'. Sometime in December 2015, I got invited to the launch of an Extended Play by an artiste who was relatively new at the time called 'Ed Izycs'. For those who don't know,  know, Ed Izycs is a Nigerian jazz artiste and multi-instrumentalist currently signed to Cadilly Entertainment.
My initial reaction to this was two-fold. First, I'd stumbled on one of his songs and also a live performance at Bogobiri and I'd been swept away by his art. On the other hand, I wasn't quite sure what the reception of his type of music would be like. In any case, I really just wanted to have an evening out enjoying good jazz and also finding out what this man had for us. I grabbed myself a copy of the EP at the event.
Enough about the EP launch and straight to the EP itself. The EP consists 8 fully instrumental (no words at all) songs. Though predominantly jazz, some of the tracks can be said to be a fusion of jazz and other genres such as soul and folk. The EP features only one artiste 'Tonie the Emperor'.
Track 1: Celebration
No skit, no 10 seconds intro song.. Ed jumps right into it by giving us the first track called 'Celebration'. Aptly titled! This song reeks of 'joy and celebration'. Even though it's not exactly fast tempo, I can't help but smile while listening to this song. It has a way of creeping up into you mind and bringing up great memories. A lot of piano and flute work went into this and I would say the result is fireworks in my mind!
Track 2: Nostalgia ft. Tonie the Emperor
This happens to be my favourite track on this EP. If it were left to me, I would probably title the song 'sunset' because it has this folk-ish sound that may remind one of 'tales by moonlight'. There's something very resounding about the sound of the drums. The second verse of the song had whole guitar thing going on and it was really beautiful too. I also really love the chorus. I absolutely love this song!
Track 3: Jamboree
You see, this song doesn't even start out like a 'jamboree'. But then a sudden spin jumps at you where the tempo gets real fast and danceable. Sound like there should've been a rapper on it dropping a few bars. I would definitely turn up to this sound! Love it!
Track 4: Ojuelegba (Jazz Cover)
A jazz version of the popular 'Ojuelegba' by Wizkid. I like it… I mean I don't think it's special. But I think it was a good attempt at recreating the song. It's a song that a band would jam half way through a concert for you to refresh for the second half. I would play this on a rainy day while clutching a cup of tea.
Track 5: Bloody Rose
A song that obviously tells a deep story. Gentle and quiet at the beginning (where you only hear the keyboard), it progresses step by step (in a way that keeps one expecting) and gets more and more intense with the introduction of more instruments. It is really soulful and can leave one in deep thought. It really sounds like a sad song and I feel like a lot went into the production. A pretty awesome track!
Track 6: Light
Yanni! Yanni!! Yanni!!! I definitely do not hear this song in my ears but in my heart just like most Yanni tracks. Though very complex with improvisations flying around everywhere, this is still a relaxing, pleasing and beautiful song!
Track 7: Woju Cover
He had to cover the big songs of 2015. Lol.. I really love Ed Izycs' take on Kiss Daniel's Woju. He worked pop and jazz together wonderfully here with a little soukous. I prefer this to his take on Ojuelegba. Very brilliant!
Track 8: Awesomeness
I believe the idea behind this was turn up!!! Because this is definitely a great track to dance to. Fast tempo and very soukous-ish too. It's a great way to wrap up the EP!
All in all, Ed Izycs has an absolutely amazing mastery of his art and the strategic use of his knowledge of various instruments totally works for him. There are very few albums around which don't make me feel like skipping at least one or two tracks and this is one of them. (He also threw in a CD into the package that contains videos to 3 of the songs just in case we wanted to know the stories the songs were telling). I would rate 'Songz of Izycs' EP an A1, and I cannot wait for the full album to be released.
P.S. Listen to my favourite track (Nostalgia ft. Tonie the Emperor) on the EP below:
Listen to the Songs of iZycs EP HERE