Verdant Zeal's 2016 Innovention Series Set to find 'The Next Big Thing' | March 22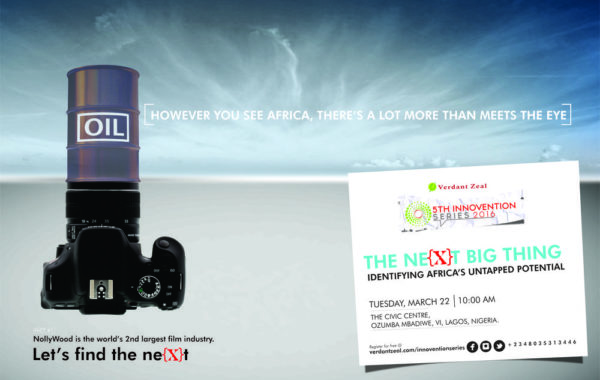 You know how they say that 90% of businesses fail in the first 5 years…while 90% of the remaining fail before they are 10? But, while other businesses were still grappling with survival, Verdant Zeal, one of Africa's foremost marketing communications groups, was already ahead of the pack.
5 years marks a positive turning point; an age of distinction that draws the fine line between survival and the promised land of stability. It is therefore understandable when, upon attaining this landmark, an organization rolls out the drums in an extravagant party to celebrate such milestone. But in March 2012, Verdant Zeal dared to do something different for her fifth anniversary – actually give back to society. This is what birthed the Innovention Series.
Innovention Series is simply Verdant Zeal's way of creating practical solutions for tomorrow's realities. In other words, rather than just sit on the side and keep grumbling about the problems in our society, the organisation decided to be inventive and innovative by setting up a forum where questions could find answers. This annual lecture focuses on bringing stakeholders – whether captains of industry, professionals or just any interested participant – together in an open discourse. The aim is to tackle pressing issues and improve our nation.
This 2016 edition, the 5th in the series, holds on Tuesday, March 22, 2016, at The Civic Centre in Victoria Island, Lagos. The theme is 'The Next Big Thing: Identifying Africa's untapped potentials'.  Attendance is free, just register at www.verdantzeal.com/innoventionseries
Thought leaders to drive this include Kyari Bukar, Chairman of Nigerian Economic Summit Group; Prof. Pius Adesanmi, Professor of African Studies at Carleton University, Canada; Kelechi Nwosu, President of Association of Advertising Agencies of Nigeria; Joel Chimhanda, founder of JC Capital Ltd; Audu Maikori, founder of Chocolate City Entertainment, and Dr Tunji Olugbodi, Executive Vice Chairman /GCEO of Verdant Zeal Group.
Date: Tuesday, March 22, 2016
Time: 10 AM
Venue: Civic Centre, Victoria Island, Lagos
Follow the conversation #NextBigThingAfrica.
---
Sponsored Content