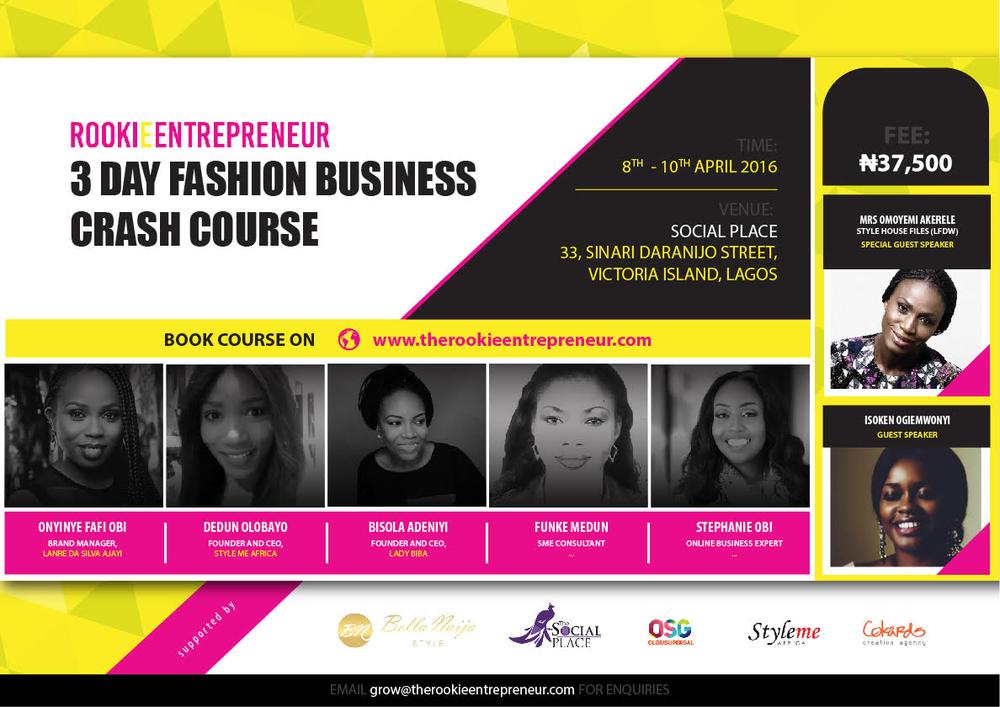 Running a business in Nigeria can be tough. Running a fashion business in Nigeria is definitely not for the faint hearted.
The Rookie Entrepreneur Program is a 3 Day fashion business course designed for future and current fashion business owners to guide them in establishing a brand that will be viable, accountable and profitable. This course is a practical guide in merging creativity and business together. Each instructor is an entrepreneur or works in a viable field in fashion so they will be taking a down to earth and practical approach in educating each student on structuring your business, funding, branding, social media strategies, online marketing and so much more.
The course is split into 3 days with a guest speaker for each day and instructors for each category from Structuring your business to branding to Making money on and offline. The course will also feature a question and answer session with our special guest speaker; Mrs Omoyemi Akerele founder of LFDW and a live panel with entrepreneurs. Guest speaker; Isoken Ogiemwonyi founder of Zazaii will also be speaking to the entrepreneurs.
Venue: The Social Place. 33, Sinari Daranijo Road, Victoria island, Lagos.
Date: 8-10th  April 2015
Fee: 37,500 naira.
Book the course on the user friendly site www.therookieentrepreneur.com
——————————————————————————————————————————————
BellaNaija is a media partner for the Rookie Entrepreneur Program