One of Nigeria's most sought after DJs, DJ Babus recently launched his highly anticipated 6 track house music project – Euphoria EP. The April 1st 2016 album listening/release party held at Intercontinental Hotel Lagos, turned out to be an unforgettable experience.
The CIROC sponsored event featured performances from the albums featured artists including Capital F.E.M.I and a bevy of great new female talent including Tomi Owo, Jowana and Nnaya Rhythm. The event was attended by popular entertainers including Praiz, Zaina, Saeon, Douglas Jekan (Beat 99.9FM), GGB Dance Crew and more.
DJ Babus is one of the most in demand djs in the country , playing weekly at major venues at home and abroad. He is also the go to DJ for many top beverage, electronic and finance brands.
Known as a DJ, the release of his EP is a chance to see DJ Babus talent as a producer and songwriter.
"I really wanted to show people my versatility and the different sides to my talent. I did not want people to create music for me and just stamp my name on it, I wanted to create the tracks from top down and get awesome artist to perform on them. I did not want to fill the project up with popular artists because I want the music to speak for itself and based on feedback, I made the right decisions"

"House music is not the typical popular music in Nigeria and people at the start tried to discourage me but I chose to be original, not to follow the norm and its paid off. I love house music and I'm best known for this, but I play a lot of other styles as well. I play everything from Afro Pop to HipHop to Old School Dance and everything in between. Clients and Event planners love me at weddings because I create a nostalgic atmosphere with throwbacks and truly entertain the crowd".
DJ Babus recently shot the video to one of his singles which will be released in the coming months. He is also hard at work in the studio working on new projects with several artists including new remixes and mixtapes.
Sponsors and Partners for the event were Ciroc, Pulse NG, Intercontinental Hotels, Crates and Vinyl Entertainment, Pink by La Toksserie, Afro Cab and DZRPT TV.
Download the EP from one of the following links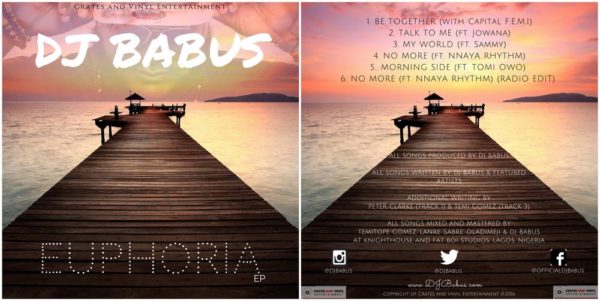 MTN Music+ – goo.gl/nVUJmv
Spinlet – goo.gl/hosLtW
iTunes – goo.gl/6uaBvu
Beats Music – https://itun.es/us/LIj-ab
Follow DJ Babus @DJBabus on social media
________________________________________________________________________________
Sponsored Content