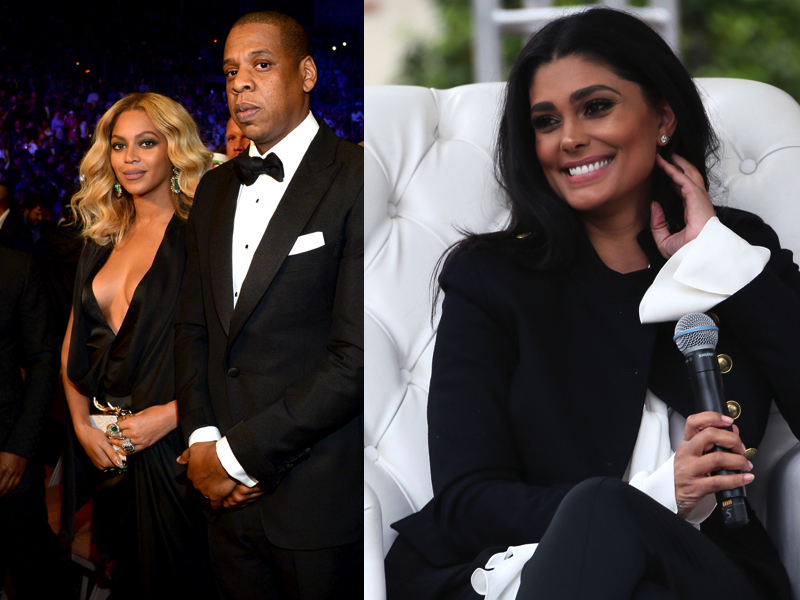 Beyoncé's artistic film/album Lemonade debuted on HBO on Saturday, and the provocative lyrics about a cheating partner and her reaction has people talking.
In many of the songs, she has lyrics about cheating, but it was one line that has caused the Bey Hive (her legion of fans) to break loose.
Beyonce sang in Apathy,
"So what are you gonna say at my funeral now that you've killed me? Here lies the body of the love of my life whose heart I broke without a gun to my head.

Here lies the mother of my children both living and dead. Rest in peace my true love, who I took for granted.

Most bomb pussy, who because of me sleep evaded. Her shroud is loneliness, her god was listening. Her heaven will be a love without betrayal. Ashes to ashes, dust to side chicks."
She also throws away her wedding ring!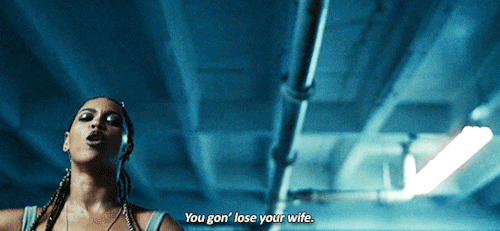 She ends with "he better call Becky with the good hair."
Rachel Roy, who also happens to be the ex-wife of Jay Z's former business partner Damon Dash, posted a photo on Instagram with a caption about having 'good hair' and #NoDramaQueens – it appeared she was throwing shade at Bey.
The Bey Hive started attacking her in the comment section of her Instagram page.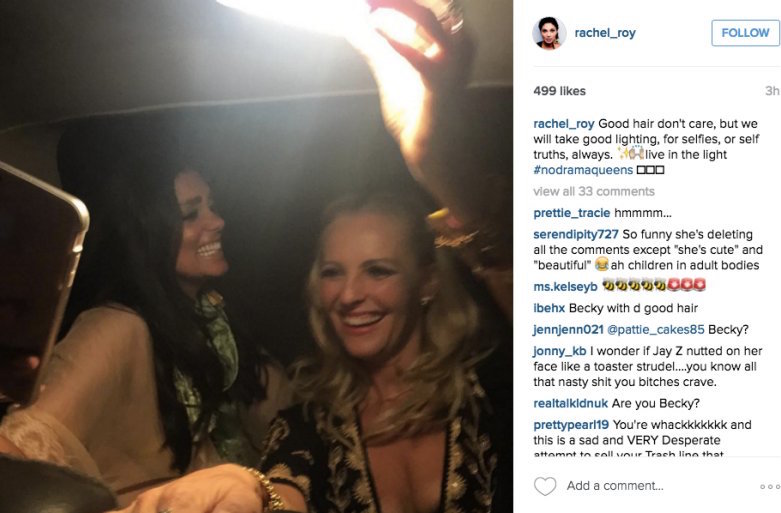 Rachel sort of denied the cheating rumor in her tweet, and had to make her IG page private –
I respect love, marriages, families and strength. What shouldn't be tolerated by anyone, no matter what, is bullying, of any kind.

— Rachel Roy (@Rachel_Roy) April 24, 2016
We have to ask though, why didn't the Bey Hive go after Jay Z? Isn't he the one who (allegedly) did the cheating?
Many fans have said if Jay Z did cheat on the extremely beautiful and talented Beyoncé, then no woman is safe.
How many times Jay-Z cheat exactly because the way these songs are set up #LEMONADE pic.twitter.com/44INFboi5Q

— Jay Dior (@JayKenMinaj_) April 24, 2016
Yo did Jay Z cheat on Beyoncé? Because She made 3 straight diss songs so far.

— Brandito (@Bigpapibeez) April 24, 2016
The real joke is someone as ugly as Jay z had the nerve to cheat.

— cake (@flawlessnormani) April 24, 2016
So Jay Z been cheating on Beyonce and she still with him? Bet. That's the green light to cheat, fellas. Thank you Beyonce.

— idk. (@BenjayLatrez) April 24, 2016
Lmao if jay z can cheat on beyonce then ain't none of y'all too good to get cheated on

— romeo santos (@Ambitious_Rome) April 24, 2016
If Jay Z can cheat on Beyonce then I'm leaving my boyfriend cause he probably cheating on me too

— senpai (@yagirlili) April 24, 2016
The fact that Jay Z cheated on Queen B leaves me no hope that men won't cheat

— Jank. (@KendraJank) April 24, 2016
Photo Credit: David Livingston & Kevin Mazur/Getty Images