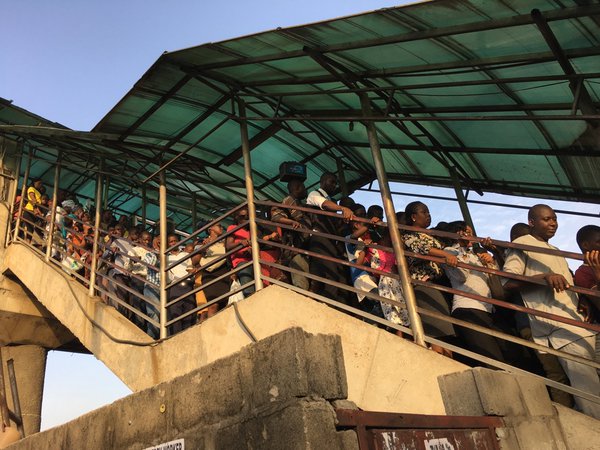 Officials of the Kick Against Indiscipline (KAI) and the Police Rapid Response Squad (RRS) stormed the Ojota axis of Lagos on Monday morning to make sure that individuals use the overhead pedestrian bridge to cross to the other side of the road.
Hundreds of individuals were pictured struggling to navigate through the overcrowded bridge as the KAI officials were stationed on post sides of the road, making sure pedestrians use the bridge. To ensure orderliness, RRS officers had to make pedestrians create a queue to cross the bridge.
See photos below:
See some of the tweets below.
It's not polite, why do we av to queue to climb OJOTA bridge, if u see the queue, it looks like we are going to heaven. VIA @teddybear_Hort

— TRAFFICBUTTER APP (@trafficbutter) April 11, 2016
It's only in Nigeria you will find all sorts of queue
Fuel queue
Voting queue
Brt queue
Bank queue
And now pedestrian bridge queue at ojota

— TOBILITY (@iamtobility) April 11, 2016
It's 2.50pm and the queues have not gone away at Ojota. Just wondering if this will get better or worse in the coming days.

— Ifreke Inyang (@Ifreke) April 11, 2016
The human traffic on Ojota bridge is ridiculous! And the queue waiting to get on it is just as crazy. What's happening? @Gidi_Traffic

— Ifreke Inyang (@Ifreke) April 11, 2016
Fashola constructed a second pedestrian bridge at Oshodi before enforcing his no crossing law on Agege motor road. Why not in Ojota too?

— Michael Orodare (@MichaelOrodare) April 11, 2016
As they have blocked Ojota express now.
Shebi they should have constructed new pedestrian bridges? Now na to queue to climb bridge.

— Alhaji Pablo. (@vanboyosky) April 11, 2016
The Engineer that built the Ojota bridge didn't try at all.Too steep & not user- friendly.Check out the Obanikoro bridge, very friendly.

— Omótólá (@RashidahAbdul) April 11, 2016
this is not the first time they are enforcing Ojota Ped Bridge. Way back 2010/11 they did too but these things die with time

— Hyke (@ekesunvictor) April 11, 2016
@Gidi_Traffic Somebody will still have time to toast a babe on this Ojota pedestrian bridge gridlock ?. pic.twitter.com/THejanYsSh

— Delewad (@yegoete_07) April 11, 2016
The number of people I saw at Ojota today was so scary??

I cant imagine the number of people in lagos!! Just so many in dis state

— Ifemidayo™ (@IFM4real) April 11, 2016
Asked few on the Ojota pedestrian queue and one said he has been there for 20mins and he hasn't reached the bridge. Chai

— Kay Baba (@datGuyKOFO) April 11, 2016
Soon now u'll hear that someone met his missing rib at the petrol station or at the Ojota pedestrian bridge queue. Every disappointment…?

— KODYANDTHEKIDSMAY15 (@KodydKodyNator) April 11, 2016