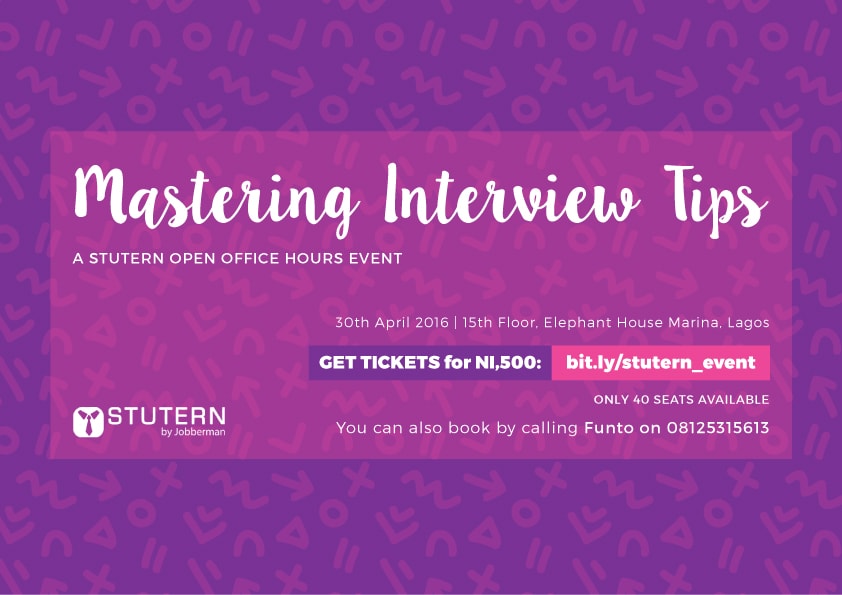 Stutern is Nigeria's fast growing online platform that connects interns with employers. Founded in Lagos Nigeria.
Every day, we go to work hoping to do just one thing: Empower more workplaces with talented interns. When you join Stutern, you get access to awesome internships that can help you excel. When you join Stutern as an employer you get access to the best talents that can help you achieve your organization's incredible goals.
Join us for a day of drinks, networking, training and the chance to talk one-on-one with the top HR managers about everything from getting an internship and developing the right skills for the job market in Nigeria. At this event, you'll have the opportunity to ask burning questions, speak directly with the team that builds Stutern, and go home with a skill development certificate that you can add to your profile on Stutern..
Stutern HQ is conveniently located at the 15th Floor, Elephant House, Marina, Lagos State.
Questions? Email [email protected] or call us at 234-814-623-0284!
Date: Saturday, April 30, 2016 from 11:00 AM to 4:00 PM (WAT) – Add to Calendar
Venue: 15th Floor, Elephant House, Lagos
Registration is required. Click HERE to register.