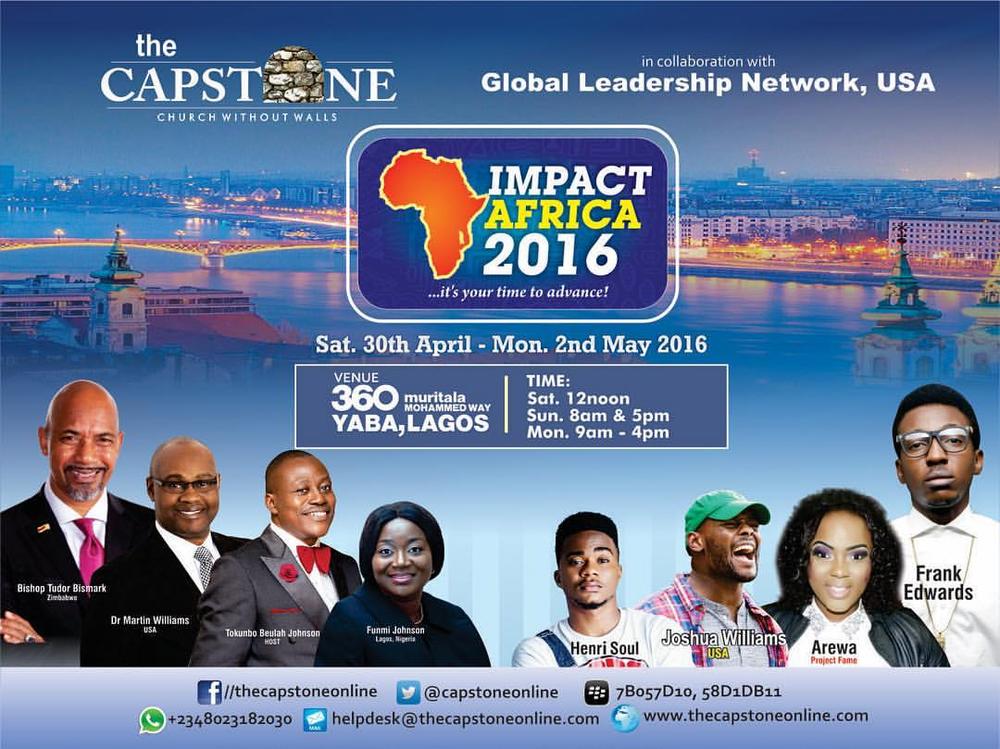 There are no great nations. However, there are great men and women. When these men & women gather together in a geographical location to make the necessary impact, a GREAT NATION IS BORN!
In the same vein, great leaders are not born. They are made! The making of a great leader requires that ordinary men and women pay a price, dedicating themselves to the counsel, training and instructions of more experienced and seasoned leaders.
This is the wisdom behind the IMPACT AFRICA CONFERENCE 2016; an inspired initiative of The Capstone (Church Without Walls) Yaba, Lagos  in collaboration with Global Leadership Network,USA. It is going to be a three day life-transforming and destiny-changing dominion conference.So finally it is your time to advance!
Conference Speakers are internationally acclaimed Christian Leaders: Bishop Tudor Bismark (Zimbabwe), Dr. Martin Williams (USA) and Pastors Tokunbo and Funmi Johnson (Host).
Special music appearances includes Frank Edwards, Arewa of Project Fame, HenriSoul and the prestigious Lagos Mainland Community Choir (LMCC) among others.
The conference is scheduled as follows:
Venue: The Church Auditorium, 360 Muritala Mohammed Way, by Yaba Bus-Stop.
Time Schedule:
Saturday, April 30th @ 12pm.
Sunday, May1st @ 8am and @ 5pm (LMCC concert).
Monday May 2nd (Public Holiday) @ 9am–4pm.
For more details visit www.thecapstoneonline.com or send a message to 0807 748 222 or e-mail us at [email protected]com.
_______________________________________________________________________
Sponsored Content