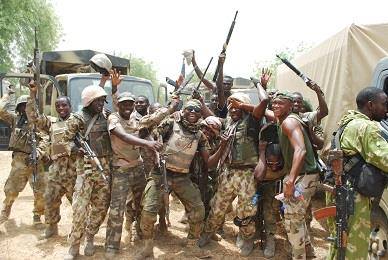 Boko Haram insurgents attempted to enter the 113 battalion headquarters located at the northern Borno town of Kareto in an early morning attack on Monday but were expelled by troops of the Nigerian Army.
The Army Spokesman, Colonel Sani Usman said in an interview with the News Agency of Nigeria (NAN) in Bauchi that troops of the 113 battalion, with aerial support from the Nigerian Air Force, successfully repelled the attack on the town and the battalion headquarters. He said scores of the insurgents were killed in the attack while others escaped.
He said that calm has since returned to the town and reinforcement had been sent to the unit to forestall any attacks while troops were still on the trail of the insurgents.
Usman said 2 officers and 22 soldiers who were wounded had been taken to Maiduguri for prompt medical attention.
"You will recall that Boko Haram terrorists attacked our troops location at Kareto this morning but were successfully repelled by our troops. The situation has since been brought under control and reinforcement sent to the location. So far, our troops had two officers and 22 soldiers wounded in the attack and they have been taken to the military hospital in Maiduguri for treatment," he said.
The News Agency of Nigeria (NAN) recalls that the military had recently cleared many hideouts of the insurgents in Borno, Yobe and Adamawa including their purported Spiritual Headquarters at the Alagarno forest.