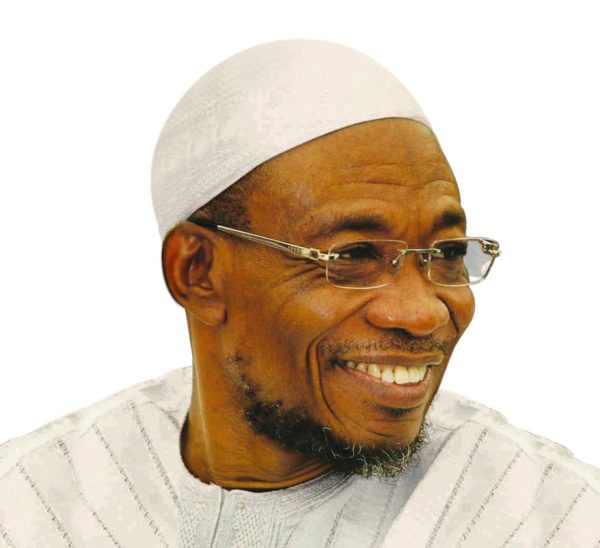 The Economic and Financial Crimes Commission (EFCC) in a letter sent to the Civil Societies' Coalition for the Emancipation of Osun State (CSCEOS) said that they have commenced investigations into the allegation of diversion of local government funds levelled against the administration of Governor Rauf Aregbesola of Osun State.
The EFCC's letter, dated May 13th, 2016, with reference No: CR: 3000/EFCC/IB/T.B/VOL.1/79 made available to PUNCH's correspondent in Osogbo was titled, "Investigation Activities: Acknowledgement/Invitation letter."
The EFCC invited CSCEOS to find out why it is "calling for investigation and stoppage of Releasing of Local Government monthly allocations to Osun State through Rauf Aregbesola and to inform (them) that investigation has commenced".
"In view of the above, you are hereby requested to report to the EFCC Zonal Office at No.16 Revd. Oyebode Crescent, Iyaganku, G.R.A., Ibadan, for an interview with the undersigned through the Head, Team B, on May 17, 2016, at 10 AM prompt," the letter read.
CSCEOS in their petition accused Aregbesola of suspending the democratic system in the administration of the Local Governments "by appointing the grade level 14 local government staff as 'council managers' to man the council areas of the state instead of 'democratically-elected chairmen  and councilors' as stipulated in Section 7(1) of the amended 1999 Constitution of the Federal Republic of Nigeria in order to give Aregbesola a leeway in the criminal diversion of local government funds".
The group therefore called on the Federal Government, the National Assembly and its anti-graft agencies to investigate the acclaimed road projects embarked upon by Aregbesola on behalf of the local government areas of the state without following the due process of the Public Procurement Act.
"The violation of all due process in managing the public finances of Osun State by Rauf Adesoji Aregbesola has been seriously impacting negatively on the lives of the state masses including the state  and local government local  workers with their retirees alike," it said.