Husband of Deceased Domestic Violence Victim speaks out from Hiding | Says he did not Kill his Wife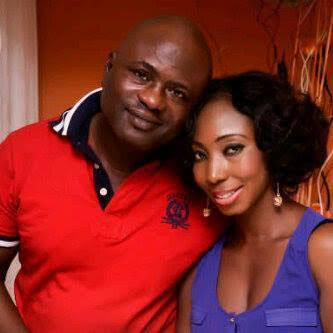 Lekan Shonde, the husband of late Ronke Shonde who is alleged to have died after being beaten by her husband, has spoken out from hiding.
According to Punch, they were able to contact Lekan via the phone of an in-law and the communication has been authenticated by the Police.
Speaking with the newspaper, Lekan denies killing his wife or even beating her on the night she died  he also denied locking his kids in the house.
Here's what Lekan shared with Punch Metro:
Since I married my wife eight years ago, she has never bought anything into the house. I gave her N5,000 on Saturdays and N3,000 on Tuesdays for soup. I also gave her money to make her hair.

"She was working with GTB as a marketer, but she got sacked three years ago. For that period, I was the one feeding her and taking responsibility for everything in the family. I would wash her pants, bathe the children and buy foodstuffs in the house. She later got a job with a publishing company owned by her uncle.

"But my wife changed sometime in March, when she started dating the general manger of a publishing company. My wife was going to the office from Monday to Sunday and she wasn't going to church again, all because of this man. She called him 'Eyitemi' (My own).

"Last week Friday, she went to Abuja and came back on Monday. She never told me that the lover was there with her. I learnt later that the lover was there and they slept together in the same room for four days.

"When she came back, she didn't know I was inside the house. She started talking with the man on the phone that he really had fun with him and I didn't know how to make love. She again said her private parts were paining her."

It was around 9pm on Thursday. We had paid our nanny N20,000. Then we needed to pay our children's teachers N30,000. I discovered she had taken N20,000 and when I asked her to return my money, she said she had spent it.

"I was angry because for the past three months, she didn't allow me to have sex with her. I pushed her hand away from me on the staircase and I left her. She never tumbled or fell. In fact that night, I bought the food that we both ate because she said she didn't want to cook.

"I didn't know anything had happened to her until Friday when I saw her on the staircase. I thought she was still pretending. I just left her and walked away."

"Jide, her family's second child lived with me for three to four years. Their eldest daughter, Bolatito, has lived with me too.

"Although I am not a saint, I don't drink, I don't smoke. I am a responsible man. The problem with my wife was that she was temperamental. She shouted at me whenever she talked.

"I am a Lagos boy and I can be in this Lagos for the next 30 years and nobody would see me."
Family members of the late Ronke were also contacted by Punch Metro and while the family is still in mourning they emphasized that they have forgiven Lekan and pleaded with him not to commit suicide.
Read the full report here.