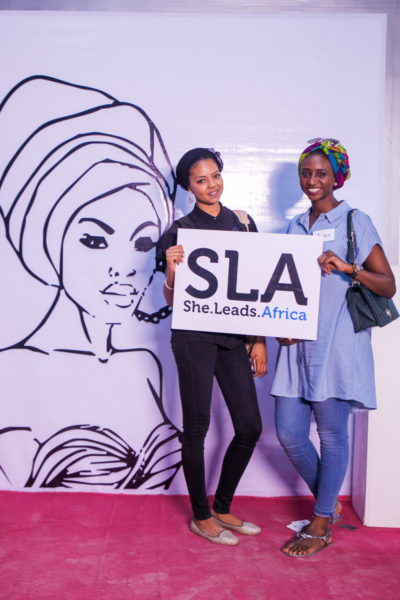 Recently, the premier community for young career and business women – She Leads Africa – held its innovative (travelling) bootcamp, the SheHive, in Abuja!
SheHive Abuja, which provided young and ambitious women with new skills in climbing the corporate ladder, negotiating, developing a pitch deck, identifying job opportunities, speaking with investors and more, was a highly rated success.
The bootcamp saw 100 attendees over the weekend. On Twitter the #SheHiveAbuja hashtag made 2.5 million impressions in one week, whilst on Instagram the hashtag made over 5.5 million impressions.
80% of participants gave the event a 5/5 in terms of usefulness with the remaining 20% giving the event a 4/5.
"One of the best decisions I have made was to keep up with She Leads Africa." – Adama Indimi, Style & Beauty Night host (Instagram @presido)
Speakers included Kaduna State Governor Nasir el-Rufai, Minister for Environment, Amina Mohammed, Chief of Staff to Kaduna governor, Hadiza Bala Usman (co-founder #BringBackOurGirls)leading lawyer Asue Ighodalo, as well as MTV Base and The Voice Presenter Stephanie Coker. These speakers covered topics including, Building a career in the public sector, How to Negotiate, Public Speaking, and How to orchestrate an Internationally Recognised Campaign.
Governor Nasir el-Rufai who was interviewed by his son Bello spoke passionately about the role and duty of men in ensuring gender equality in Nigeria.
Participants who purchased the exclusive All Access Pass also had surprise visits from 2 of Nigeria's most prominent investors, the Nigerian Minister for Trade, Investment & Industry, as well as the Head of the Nigerian Sovereign Wealth Fund. The Sovereign Wealth Fund head actually listened to some of the people's pitches and requested a follow up meeting with one of the entrepreneurs!
"The sessions have been intimate which I really like. They have also sought to include us as much as possible by using our personal businesses to create practical scenarios."  – Eyak Bob, All Access Pass holder (Instagram @eyak_bob)
All attendees walked away with FREE goodies from Lumo Naturals, Hairfinity, Maybelline NYC and Dark & Lovely, as well as a N1,000 gift certificate for Nkataa, Nigeria's premiere online supermarket. The Nkataa team also gifted one of the lucky entrepreneurs with a N50,000 cash prize!
Watch Participants share their experiences below:
Sponsors of the event included: Huawei, Etisalat, BellaNaija, YNaija, Ebony Life TV, Pulse NG, Lumo Naturals, Dark & Lovely, Maybelline NG, Hairfinity, IE Business School, Chicken Republic, SoltoshMocktails, ACE, Jobberman, and The Guardian.
SheHive Abuja was also supported by a wonderful Host Committees including Adama Indimi, Chidera Okolie, Fatima Mamza (of Mamza Beauty), OG Ogechukwu (of Style Temple), Ugo (Nkataa.com) and Rahama Sadau (KannyWood Actress).
She Leads Africa will be taking the She Hive bootcamp on a tour across the continent and diaspora in 2016; the next stop is New York (June 2nd-5th 2016). Interested participants and partners can learn more about the tour and sign up at sheleadsafrica.org or contact [email protected]
————————————————————————————————————————–
BellaNaija is a Media Partner for #SheHiveAbuja