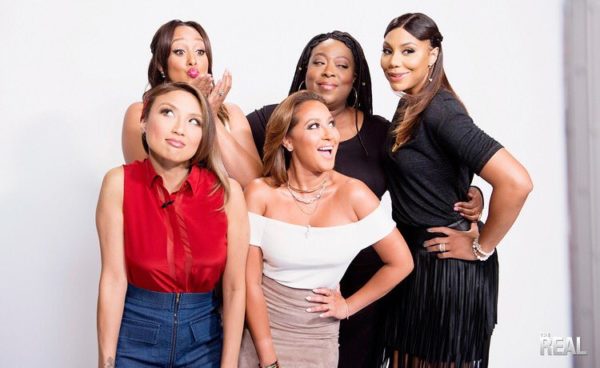 Tamar Braxton has been reportedly fired from Daytime Emmy-nominated Show 'The Real' which she co-hosted with Loni Love, Adrienne Bailon, Tamera Mowry-Housley and Jeannie Mai.
According to LoveBScott, "She wasn't reading too well with the audience and sales people didn't find her to be a good fit with advertisers. She was also too difficult dealing with production".
Since the news broke out, Tamar posted a photo on Instagram with a heart-felt caption:
I love u all but I have been stabbed in the back by someone I stupidly trusted ( not my man or my sisters) I am not about to be tried and tested to snitch (?) and it's not in good taste to tell you who…… but as #tamartians you are very smart and can figure things out on your own. But know that every one who smiles in your face is NOT your friend and is NOT cheering for you and will LIE and try and tear u down to TRY and dim your light. Thank GOD HE HOLDS MY FUTURE AND MY HAND! (Remember who u are)….I am Tamar Braxton. And if you thought for 1 sec u played me…..In the late great Prince and the amazing Beyoncé voice you PLAYED yourself? to God be the Glory and I will be taking a short break from ALL social media…until then❤️ yourself and WATCH YOUR BACK ( I put this picture up cause this is the embrace I got from my sister and best friend that she ALWAYS gives when she knows I've been had)
This is coming at a very odd time as the show is currently airing its current run and has been renewed for another season. Also, Tamar is no longer following Adrienne Bailon, Jeannie Mai, Loni Love, or 'The Real' on Twitter. The only host she's still following is Tamara Mowry-Housley.
As at the time of this report, there's no word from FOX or her co-hosts about a potential replacement for Tamar.
Photo Credit: Instagram/Tamar Braxton | Twitter/The Real