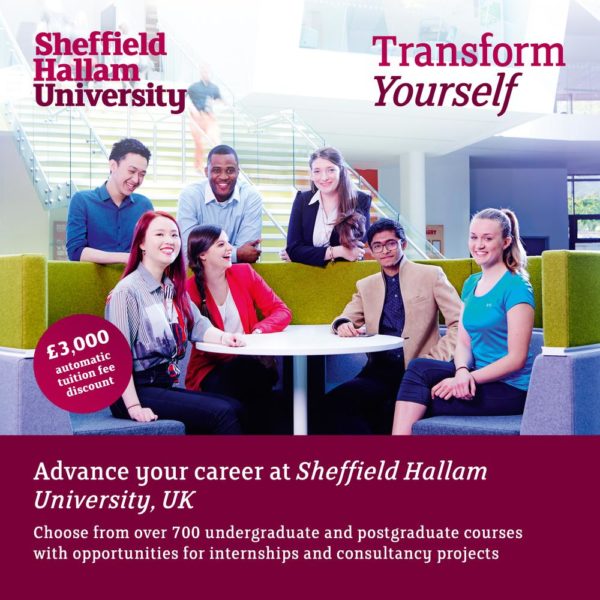 Sheffield Hallam is one of the most popular universities in the UK with over 34,000 students from 100 countries. You will join a community of like-minded and ambitious students with opportunities for paid placements and consultancy projects with real businesses.
The University, located in the student-friendly city of Sheffield, UK, is also offering a £3,000 automatic fee discount to all Nigeria domiciled students when they apply to any full-time taught undergraduate or postgraduate courses starting in the academic year 2015/16 and 2016/17.
Find out more
Meet Sheffield Hallam staff in Abuja and Lagos to
Discuss the course options available
Provide more information about the £3,000 automatic tuition fee discount
Help with your application
Talk about the facilities and support services available
Tell you more about Sheffield and your accommodation options
Provide visa counselling and much more..
Date : Thursday, 16 June 2016 
Time: 10am to 4pm
Venue: Sapphire Hall, Chelsea Hotel Wuse 2,Plot 374 E, Adetokunbo, Ademola Crescent,
Wuse 2, Abuja
Participation is free. Sign up now to meet Sheffield Hallam staff or request more information by email.
Alternatively, please contact Sheffield Hallam University's office in Lagos, which is open Monday to Friday from 9am-5pm: Sheffield Hallam University Nigeria Office 3rd Floor, 76 Opebi Road Ikeja, LagosMobile 08074094965 / 08074094970 Email [email protected]
_________________________________________________________
Sponsored Content