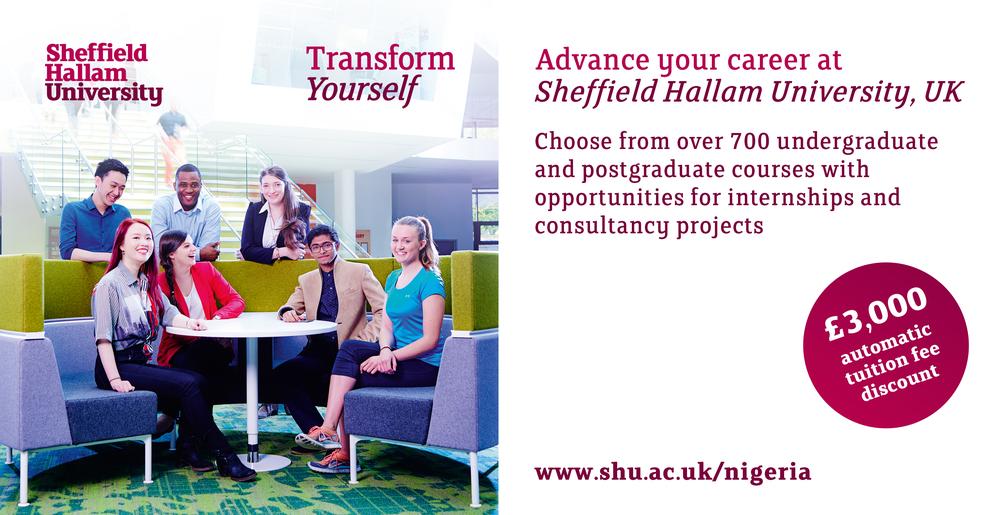 Sheffield Hallam is one of the most popular universities in the UK with over 34,000 students from 100 countries. You will join a community of like-minded and ambitious students with opportunities for paid placements and consultancy projects with real businesses.
The University, located in the student-friendly city of Sheffield, UK, is also offering a £3,000 automatic fee discount to all Nigeria domiciled students when they apply to any full-time taught undergraduate or postgraduate courses starting in the academic year 2015/16 and 2016/17.
We are now accepting application for January and September 2017.
Meet Sheffield Hallam staff in Abuja and Lagos to
Discuss the course options available
Provide more information about the £3,000 automatic tuition fee discount
Help with your application
Talk about the facilities and support services available
Tell you more about Sheffield and your accommodation options
Provide visa counselling and much more..
Here are the options available:
Date: Monday, October 17th 2016
Location 1
Time: 10am – 1pm
Venue: SI-UK Abuja Office Suite SF 15 Olive Plaza by Banex Junction, Wuse 11
Location 2
Time: 2pm – 5pm
Venue: PFL Abuja Ground Floor, Lantern Plaza, 10 Gimbiya Street, Area 11 Garki, Abuja
Date: Tuesday, October 18th, 2016
Location 1
Time: 10am – 1pm
Venue: UKEAS Abuja – Suite 3, 2nd Floor Hatlab Place, Plot 1952 Sokode Crescent Wuse Zone 5, Abuja FCT
Location 2
Time: 2pm – 5pm,
Venue: Dave Abion Consulting, Suite 206, 2nd Floor, JINIFA Plaza, Muhammadu Buhari Way, Central Business District, Abuja
Date: Wednesday, October 19th, 2016
Location 1
Time: 10am – 1pm
Venue: B&S Educational Services Suite 118 Oyibo block Women Development Centre Central Area, Abuja
Location 2
Time: 2pm – 4pm
Venue: Suite 16 Kaku Plaza, , No 7 Nairobi Close off Nairobi Street Off Paraku Crescent, Wuse 2
Date: Thursday, October 20th, 2016
Location 1
Time: 10am – 1pm
Venue: TGM Education Suite 301A DBM Plaza, Plot 1381-1383 Cadastral Zone A02 (Opp First Forty Hotel) Aminu Kano Crescent, Wuse 2, Abuja
Participation is free.
Alternatively, please contact Sheffield Hallam University's office in Lagos, which is open Monday to Friday from 9am-5pm at Sheffield Hallam University Nigeria Office 3rd Floor, 76 Opebi Road Ikeja, Lagos.
Call: 08074094965 / 08074094970 | Email: [email protected]
_______________________________________________________________
Sponsored Content