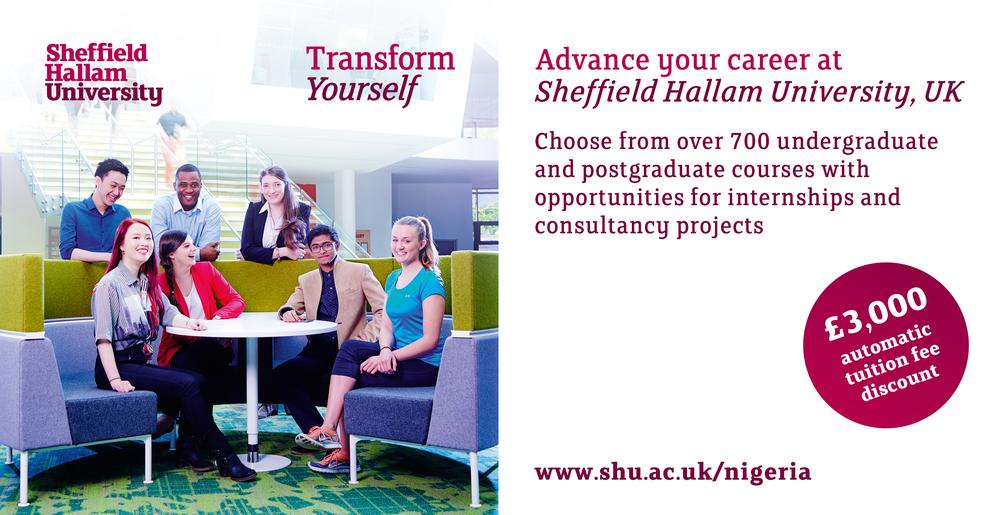 Sheffield Hallam offers many opportunities and activities to support your personal and professional development. We will help you gain the skills, knowledge and experience to become a successful graduate. Gain work experience through our short and long-term placements and consultancy projects with real employers.
A Sheffield Hallam qualification can help you
increase your career options
enhance your knowledge and experience of a subject or industry
apply your learning and skills to the workplace
gain professional accredited qualifications
stand out from other graduates
Sheffield is an affordable city with a low cost of living compared to other UK cities. The city is home to 50,000 students and has a growing Nigerian student community.
Popular subjects include MBA, human resource management, accounting and finance, tourism and hospitality, events management, computing, logistics, construction, biosciences and physiotherapy.  See the online prospectus for a full list of courses.
Meet Sheffield Hallam staff in Enugu to discuss the course and work experience options available and receive on-the-spot advice on your application, visa counselling and a £3,000 automatic tuition fee discount. Sign up now!
Date: Tuesday, November 22nd, 2016.
Time: 11am – 5pm.
Venue: UKEAS Enugu, Suite B8, First Floor, Bethel Plaza, 36 Garden Avenue, Enugu.
Participation is free. Sign up now to meet Sheffield Hallam staff or request more information by email.
Alternatively, please contact our office in Lagos, which is open Monday to Friday from 9am-5pm: Sheffield Hallam University Nigeria Office 3rd Floor, 76 Opebi Road Ikeja, Lagos Office 01 342 9855Mobile 08074094965 / 08074094970 Email [email protected] *
______________________________________________________________
Sponsored Content