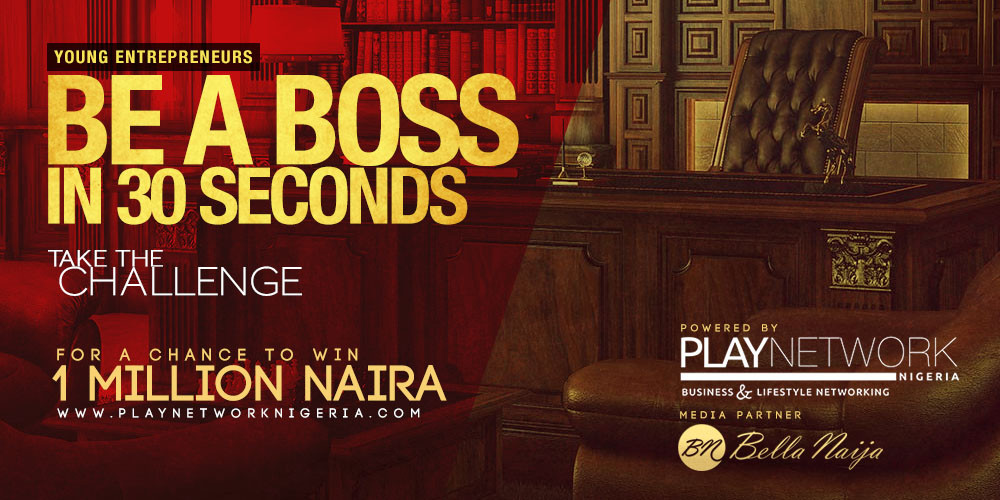 At Play Network Nigeria, we truly believe that without an empowered youth, the future is uncertain for any society; no matter how developed or undeveloped it seems! Simply put, the "Be a Boss in 30 Seconds" competition is an initiative of the Play Network Nigeria that aims to empower an aspiring young entrepreneur to start following his/her dreams today!
Even though there are only a handful of our youth that can win in this competition, we want to use this opportunity to encourage every young person reading this post right now- if you've got an idea, start today! No matter how small the steps you can take might seem, be consistent, and never take your eyes off the prize! No dream is too small or too big. As long as the dream is yours, put in the work, and you will surely succeed!
The first season of the "Be a Boss in 30 Seconds" competition aims to give One Million Naira Only (₦ 1,000,000) every month to ONE aspiring young entrepreneur. Please note that this young entrepreneur must not necessarily have what the world sees as the next biggest idea! We are looking for ideas that work, which are relatable, capturing, reasonable and achievable at start up level with the money to be won!
Throughout the duration of this competition, we hope to keep things fun, concise and straight to the point. Our goal is to receive as many entries as possible so as to encourage as many young people as possible! As you might have already guessed, there's only one catch- your pitch must be made in 30 seconds only! Yes 30 seconds!
Here's How to Contest:
Join the PLAY NETWORK by registering on

www.playnetworknigeria.com

Enter the"Be a Boss in 30 Seconds Competition"by enrolling for the competition on the website. You will be given a contestant code.

Make a

30 Seconds video

summarizing your business plan. Be as clear and concise as possible.

Upload your video on the Play Network Nigeria website at

www.playnetworknigeria.com

 

AND

also on your Instagram page

citing your contestant code

in the caption box on Instagram as well as on your video upload on the Play Network website for easy identification and sorting.

In the caption box under your Instagram upload, hashtag

#BeABossin30Seconds #PlayNetworkNigeria

and

#PNNLifestyle

Tag

@playnetworknigeria

and

@pnnlifestyle

on your uploaded video on Instagram for easy identification by the Play Network Team. Your video will be reposted and you will be tagged in the reposted video on our Instagram page.

If the business idea you have pitched in your video is reasonable, the

TOP 5 VIDEOS

with the highest number of likes and most engaging comments will be selected and announced on

www.playnetworknigeria.com

. Likes and comments on both the Play Network Website

AND

Instagram will be considered when choosing the Top 5 contestants.
Please note that any contestant that has a high number of likes as a result of paid or driven likes will automatically be disqualified from the competition.
If selected, you will be invited to the finale of the competition in Abuja or Lagos where you will meet with the judges to further expand on your pitch. All expenses for your trip will be fully paid for if you are not a resident of the state in which the finale will take place.

That's it! One winner will be chosen by the judges and the winner takes all!

ONE MILLION NAIRA

towards the realisation of your dreams!
Goodluck!
__________________________________________________________________________________
BellaNaija is a media partner for "Be a Boss in 30 Seconds"