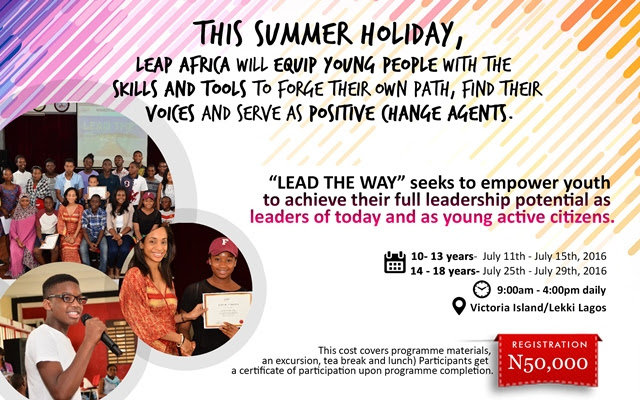 This Summer Holiday, LEAP Africa will be equipping young people with the skills and tools to forge their own path, find their voices and serve as positive change agents.
Throughout the course of the 'Lead the Way' programme, your teenager will be taught the act and art of leadership, mission and vision statements, goal setting, tower games, building self confidence, creativity, patriotism/social responsibility, time management and moral ethics.
LEAP utilizes case studies, games and interactive exercises to enhance the life and leadership skills of the Nigerian Youth.
For enquiries, send an email to [email protected] or call 07011081954, 08083051466, 012706542
Dates: Monday, July 11th – Friday, July 15th 2016 (10 -13 Years)
Monday, July 25th – Friday, July 29th 2016 (14-18 Years)
Time: 9AM -4PM
Venue: Victoria Island/Lekki Lagos
Register your child for N50,000 here
To view photos from the previous events, click here.
——————————————————————————————————
This content has been published for free as part of BellaNaija.com's commitment to youth, education, healthcare and community development as part of our corporate social responsibility programme.