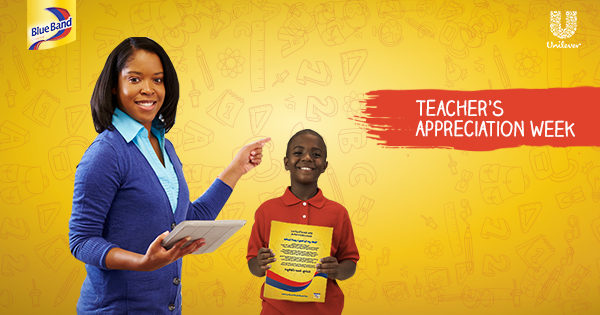 Unilever Nigeria Plc, makers of Blue Band Original multi-use Spread and Blue Band Low-Fat Spread for Bread is giving mothers and their kids the opportunity to appreciate teachers in the Blue Band Teachers' Appreciation Week! The idea behind it: To let mums and tell teachers how  grateful they are for their care and tutelage as school wraps up for the session.
Teachers are there in the good and not so good times and they help the kids to sharpen their mental muscles. They are also a very important influence in the life of every young child as your child's teacher will help mold them into the great stars that the world wants them to be. Blue Band is calling on all mums to join in celebrating these wonderful individuals who all their lives, dedicate their time and energy to grooming young minds to their best capacity.
Do you have a special reason to thank your child's school teacher or lesson guide, maybe for the long hours and their gentle way around the kids or even for sincerely being concerned about their welfare? Then this is a good time to say thank you. In the words of Oprah Winfrey, "I know I wouldn't be where I am today without my fourth grade teacher, Mrs. Duncan." Even Bill Gates acknowledges the guidance of his math and drama teachers growing up saying, "There's no way there would have been a Microsoft without what they did". You can start recognizing their investments from now!
So how can you enter?
Send us your kid's poem or letter to their best teacher, via a Facebook message on our page. We'll put it on to a beautifully designed certificate for you, and send it back to you to print. The kids can then present it to their teacher and mum takes a picture and shares it on our Facebook page facebook.com/growgreatkidsnigeria. The Teachers' Appreciation Week has been extended to 12th June.
Blue Band will also publish some pictures of kids presenting the certificates to their teachers in the final leg of the activity.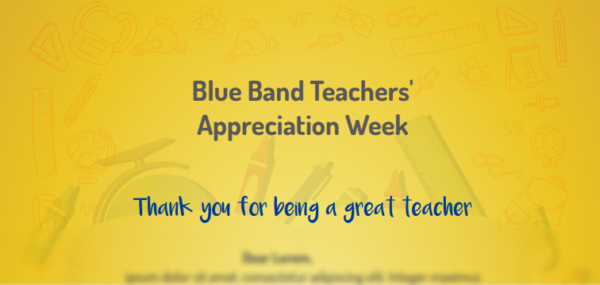 Blue Band has been helping mum's grow great kids since 1955 and is supportive of everyone who also helps mum in this quest for nutritious, happy and healthy family!
Are you a teacher? You can also be looking forward to getting many of these certificates.
_____________________________________________________________________
Sponsored Content