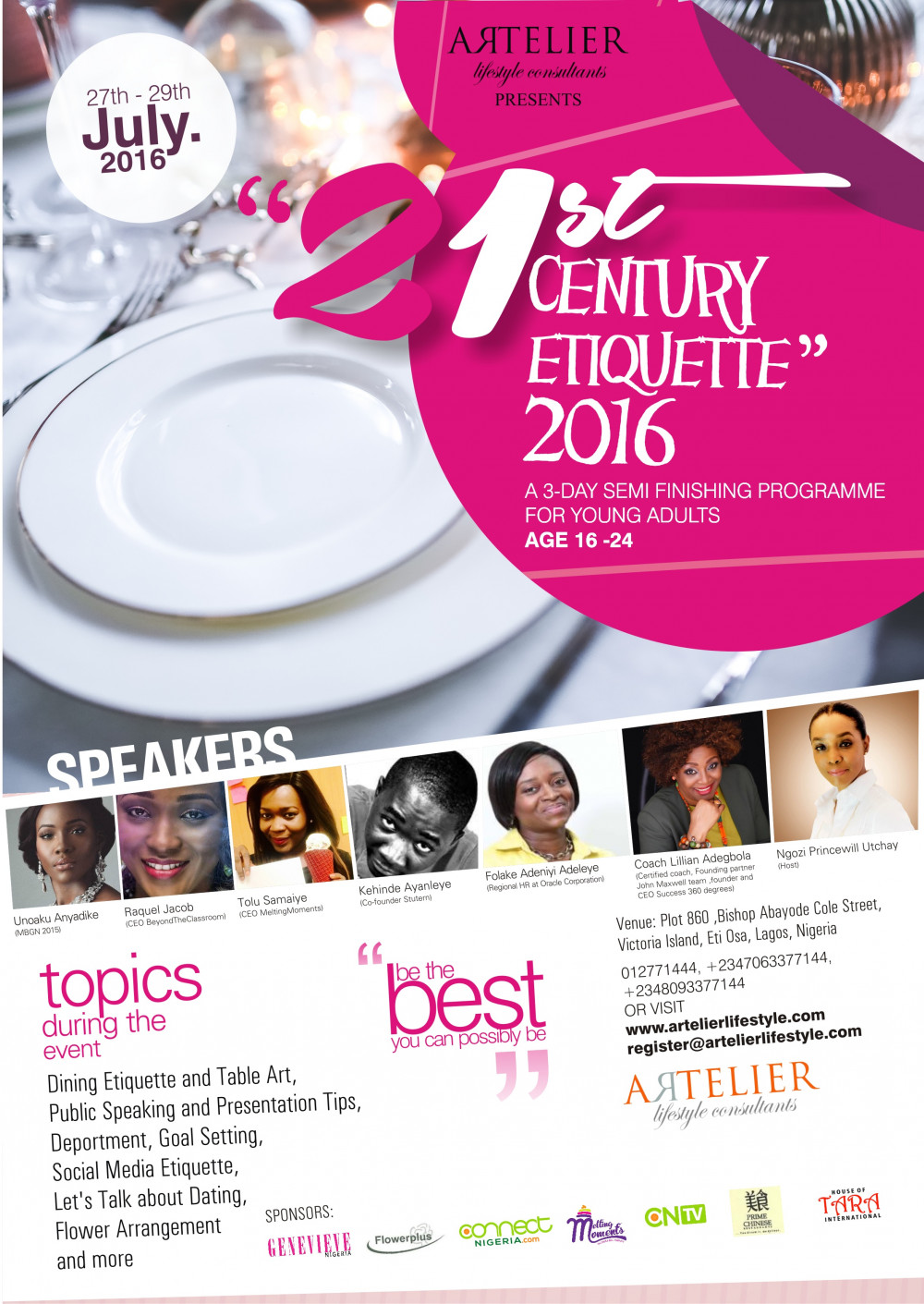 The Artelier "21st Century Etiquette"is a semi-finishing programme for young adults aged 16 – 24.
The programme which will take place from 27th to 29th July, is an opportunity for young ladies to learn the proper rules of etiquette, grow in confidence and have a polished edge. It is designed to help them acquire skills which will equip them to adapt more successfully in different social and business settings.
Facilitators include
Folake Adeniyi-Adeleye (Regional HR Director, Oracle Corporation)
Unoaku Anyadike

(Reigning Most Beautiful Girl in Nigeria)

Tolu Samaiye

(CEO, Melting Moments)

Coach Lillian

(The Success Catalyst)

Leslie Okoye (CEO, Cookie Skin)
Rhema Akabuogu

(House of Tara)

Raquel Jacobs

(Beyond The Classroom Foundation)

Kehinde Anyadike (Co-founder Stutern)  and
Ngozi Princewill Utchay (Event Host and CEO, Artelier Lifestyle Consultants)
 Sessions will cover
 Let's talk about Dating;
Dining Etiquette and Table Art;
Public Speaking and other Communication Tips;
How to 'Nail' Your Big Interviews;
Passionpreneurship (Turning Your Passion Into Profit);
Household Management;
Office vs Personal Style (plus Hair & Makeup Tips);
Flower Arrangement;
Deportment;
Goal Setting;
Business and Social Etiquette Foundations;
Social Media Etiquette.
There will be prizes for attendees, including vouchers from Melting Moments, gifts from House of Tara and more.
Refreshments and Certificates of Participation are included in the cost. Discounts also apply for those who register more than one person, or through our event partners.
Please call
01-2771444 or 07063377144
or send an email to
[email protected]
for more information
___________________________________________________________________
Sponsored Content