Creative & Artistic 21 Year Old Oladiran Ololade Wins Guinness Africa Special " Create Your Harp" Competition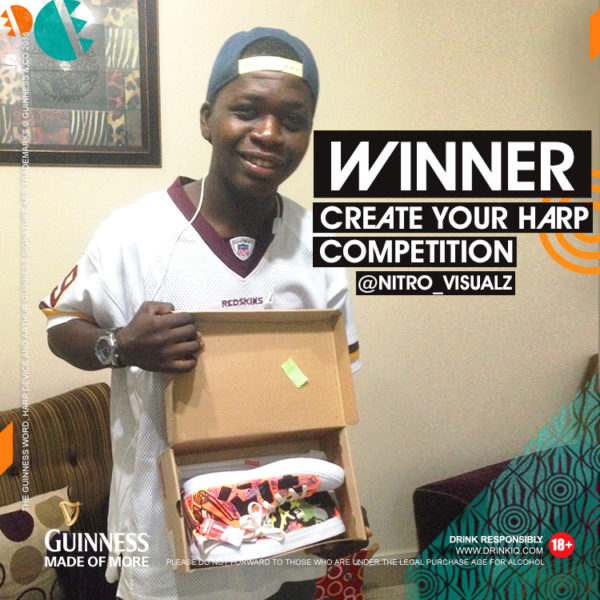 In case you are one of those yet to come to terms with the fact that there is an abundance of talents in Nigeria especially amongst the younger generation, you may want to think again, following the discovery of Oladiran Ololade, 21-year old graphic artist who blew the minds of many with his creative interpretation of the Guinness harp logo.
The UNIBEN graduate, who describes himself as a passionate graphic artist with special love for colours and nature, beat many others to emerge champion in the Create Your Harp competition, put together by the iconic beer Guinness to give budding artistes the opportunity  to express their creativity.
Ololade will now walk home with a pair of graffiti customised sneakers as sprayed by graffiti guru, Osa 7 courtesy, Guinness Africa Special
This is one of the many ways Guinness continues to show support for emerging talents in  Nigeria.  It comes on the heels of  the  sponsorship of the 7th Element Graffiti exhibition in May and the #MoveWithSpecial dance competition which had 19-year-old upcoming dancer, Damaris Obi-Eke emerge winner.
Guinness Africa Special is made by Africans for Africans. Young African and Nigerians designed the packaging and the liquid and talented young Nigerian graffiti artist Osa7 developed the advertising. This one is ours!
Guinness Africa Special is the distinct quality of Guinness with African herbs, at 5% alcohol, for a surprisingly light and refreshing taste.
N.B: It is not for sale for persons under the age of 18. Please drink responsibly.
_____________________________________________________________________
Sponsored Content