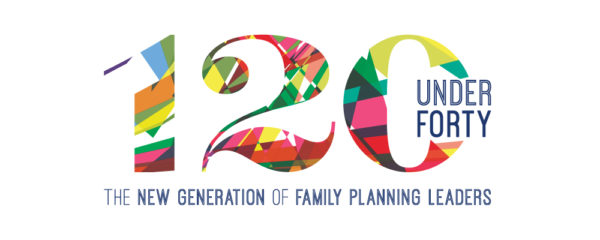 It is with pleasure that we encourage our readers to excel in their different fields of practice. 30 Nigerians have been nominated for the 120 Under 40 awards – recognising the efforts of people in the family planning industry.
The organization is an initiative of the Bill & Melinda Gates Institute for Population and Reproductive Health at the Johns Hopkins Bloomberg School of Public Health
About 120 Under 40
120 Under 40: The New Generation of Family Planning Leaders recognizes and highlights the achievements of the next generation of family planning leaders worldwide.
The project launched on 26 September 2015, World Contraception Day — an annual event that focuses international attention on enabling young people to make informed decisions about family planning and reproductive health.
Over the next five years, 120 Under 40 will highlight the accomplished and inspiring young people who are making a difference in family planning and reproductive health worldwide.
The 2016 nomination period opened in early January 2016 and closed on May 22, 2016. In order to be eligible, nominees must be 40 years or younger by 31 December 2016, and must have made significant contributions to family planning at the local, national, or international level in one or more of the following categories: advocacy, programming/program implementation, research, service delivery, demand generation, policy/government or media.
From the pool of nominees, an expert review board and the public will choose 40 winners for 2016, who will be announced and recognized around World Contraception Day 2016. Each winner will receive $1,000, furnished by the Gates Institute, to continue their work in family planning.
The process will repeat in 2017 and 2019, so that a roster of 120 outstanding young leaders will be assembled by 2020 — the year by which the Family Planning 2020 (FP2020) partnership aims to enable 120 million additional women and girls to access life-saving contraceptives and other reproductive health supplies.
120 Under 40 shines a light on the "positive disruptions" made by young leaders in family planning, enabling others to model their behavior and build on their success. The project's international profile will increase awareness of family planning as critical to young people's health and well-being and essential to sustainable global development.
Here is a list of the Nigerian nominees.
Morenike Fajemisin
Regulatory affairs and Medical marketing Manager
DKT Nigeria
Fifi Ogbondeminu
Service Delivery specialist/Deputy Chief of Party, Adolescents360
Society for Family Health
Happiness Chijiago Boms
Business Development Manager, Leadership & Capacity Building
3PLACE FARMS LIMITED, Port Harcourt Rivers State, Nigeria
Isaac Ejakhegbe
SRHR program officer, FP advocate/peer educator
Women's Health and Action Research Centre
Adetola Olugbile
PhD candidate
Federal University of Agriculture, Abeokuta, Nigeria
Oyindamola Soremekun
Behavioural Change Communications Specialist/ Public health Practitioner
Society for Family Health
Andrew Saman
Health Communication Coordinator
Society for Family Health Nigeria
Chibuike Alagboso
Country coordinator
International Youth Alliance for family Planning
Umar Sani
Sarkin Yakin Gagi/Traditional Leader
Nigeria Aid Group of Islam Ja'amatu Nasril Islam
Helen Odega
Executive Director
Centre for Women's Health and Adolescents' Development
Margaret Bolaji
Associate Researcher
Population and Reproductive Health Initiative
Bridget Chioma
Mrs/ Teacher
Ministry Of Education
Onyinye Belinda Ndubuisi-Chijioke
Program Manager
Economic and Social Empowerment Of Rural Communities (ESERC)
Nnamdi Eseme
Young Leader/writer
Women Deliver
Olumide Ojetunde
Volunteer
Planned Parenthood Federation of Nigeria
Blessing Digha
SRHR Advocate/Community Mobilisations and Advocacy Officer
Girl Child Development and Support Initiative
Linda Keku
Clinical Coordinator, Family Planning Outreaches, Health Educator and Service Provider
DKT International Nigeria
Obafaye Aderonke
EXECUTIVE DIRECTOR/SCIENTIST
POPULARISATION OF EMERGING SCIENCE AND TECHNOLOGY (PEST) INITIATIVE
Hussaini Garba Mohammed
Author/Researcher/Advocator
Daily Trust Newspaper
Aliyu Jibril Guraguri
PROJECT MANAGER, USAID/ESMPIN CBD
ASSOCIATION FOR REPRODUCTIVE AND FAMILY HEALTH, ABUJA NIGERIA
Onyinye Edeh
Founder & Executive Director
Strong Enough Girls' Empowerment Initiative
Billy Shoaga
Public Health Pharmacist
Self Employed
Isaiah Owolabi
Co-executive director
International Youth Alliance For Family Planning
Kolawole Oreoluwa
Executive Director
Youth Health and Development Initiative
Olukoya Yetunde
DEMAND CREATION SPECIALIST
SOCIETY FOR FAMILY HEALTH NIGERIA
Olajumoke Onaolapo
Quality Improvement System Strengthening Officer/Nursing
Association for Reproductive and Family Health/Nigerian Urban Reproductive Health Initiative (ARFH-NURHI)
Chukwudera Bridget Okeke
Program Manager /Women Deliver young leader
Concern Women International Development Initiative
Emmanuel Adebayo
Author/Doctoral Student (Child and Adolescent health)
Institute of Child Health
Khalid Garba Mohammed
Community Pharmacist/Assistant Lecturer
Faculty of Pharmaceutical Sciences, Bayero University, Kano
Congratulations to all of them. Please vote for your favourites.