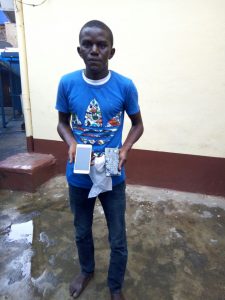 A teenager, Segun Adeyefa, 18, has been arrested by officers of the Rapid Response Squad (RRS) of the Lagos State Police Command for allegedly selling bars of soap as mobile phones to people in traffic.
The suspect, who confessed to the crime, was arrested at 7:30PM on Tuesday by the officers on routine patrol of Ikorodu Motor Park, while trying to defraud a man.
Adeyefa, narrating his modu operandi, and what made him go into the act, said:
My action was prompted when I was swindled by two guys about a year ago by this way. I had intention of buying a phone but unknowingly to me it was a cut-to-size bar of soap just looked similar to a phone shape.

The two guys approached me on my way to work, then, I was learning a plumbing work somewhere around Ikorodu.

I bought the phone which was advertised to me as 'London used phone' for N2, 500.

As I left the place, I checked the phone I bought, to my surprise, I discovered it was a soap I bought for such amount.

That very moment I promised myself to revenge by doing same to the people.

After I discovered that it was a cut-to-size soap I bought as phone, I learnt that tactics by understudying the material.

The item contained cut-to-size soap, carton and wrapped all together with a cello tape.

What I usually do is called 'exchange'. My prospective victims will have the mind of buying handset from me but unknowingly to them I would have changed the real handset to soap wrapped with cut to size carton put inside an envelope.

I will engage them in discussion after showing them real phone initially, and in the process of bargaining for the price, I will change it with the aid of white handkerchief to fake phone.

And, I will tell them to keep the phone inside their pockets immediately, that people are watching us. As soon as the buyer leave the spot, I will immediately change my location by moving to another place.
The State Police Public Relations Officer (PPRO), SP Dolapo Badmus, who confirmed the arrest, said that the suspect has been transferred to Lagos State Task Force on Environment for prosecution.
Credit: ENCOMIUM