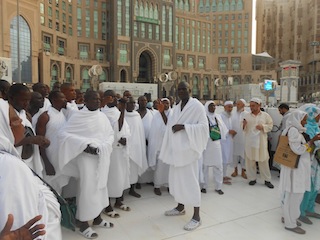 The Federal Airport Authority of Nigeria (FAAN) on Monday, said no fewer than 80,000 pilgrims were expected to be transported in the next five weeks for the 2016 Hajj in Saudi Arabia.
The News Agency of Nigeria (NAN) reports that this is contained in a statement issued by the General Manager, Corporate Affairs, FAAN, Yakubu Dati, in Lagos.
Dati said that this year hajj operation would be carried out in 17 airports across the country.
He said FAAN was providing security and safety oversight to all airports including state-owned airports participating in the exercise.
A Director, Ministry of Transport, Adamu Wakil was quoted as saying that the ministry would collaborate with aviation agencies to ensure that safety and security in the airports.
Wakil, who is also the Chairman, Aviation Monitoring Committee, said that his team would ensure seamless passenger transportation during the period.
Dati said two directors from FAAN, Olufemi Ogunode and Capt. Henry Omeogu, had earlier led various technical teams to supervise preparations for the exercise.
NAN reports that the transportation of the pilgrims began on Monday when the first batch of 500 pilgrims left the Sultan Abubakar III International Airport, Sokoto, for Saudi Arabia.
The exercise is expected to be concluded on Sept. 6.