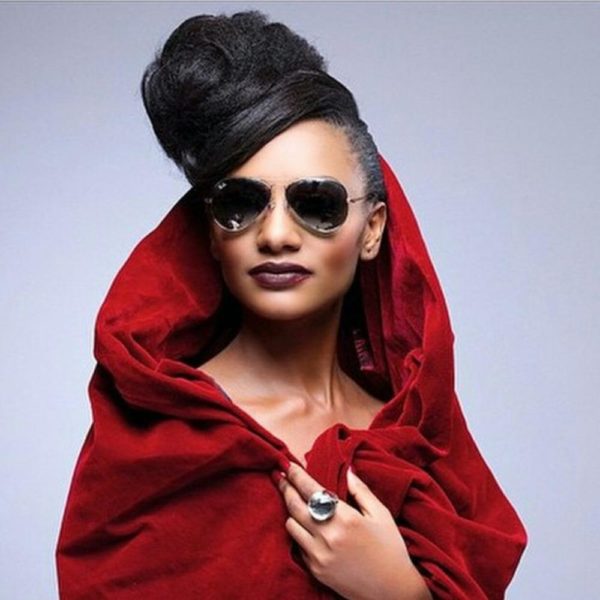 Move Back to Nigeria is a series on BellaNaija which aims to encourage young and not-so-young professionals in the diaspora who are trying to make the decision of whether to move back to Nigeria. In collaboration with the brilliant team at MoveBackToNigeria.com, we hope to bring you regular interviews with individuals who have successfully made the leap, so you can learn from their experiences and make a success of your move back.
***
Hi, my name is Simi Drey and I am a TV presenter, actress and model. I grew up in London but decided I wanted to move back to Nigeria after I completed an internship at HiTV in Lagos during the first summer vacation after starting University. I knew getting a job in the media industry in the UK would be extremely hard but Nigeria proved to be the land of opportunity as I received so many job offers (which I turned down since I hadn't yet finished university and I have Nigerian parents.)
Tell us about some of your fondest memories from childhood, growing up in London. 
Although my mother, siblings and I all lived in England, my father lived and worked fully in Nigeria (long distance relationships can work, ha-ha). I used to look forward to his visits and all the Nigerian sweets he would bring back for us. He never told us children exactly when he was coming but instead loved to turn up at the doorstep and surprise us.
I quickly want to take time to humbly confess to my parents and sibling that those sweets my dad brought did not magically disappear…I stole and ate them all. No apologies.

LOL! Interesting childhood activities. So, tell us about your educational background.
I graduated with a First Class degree from The University of Wales. I believe in getting involved in extracurricular activities, so I founded and became the Editor of the student magazine. I was also the Women's Officer and also one of the officers representing the Student's Guild. Don't get me wrong, every Friday night, I was out 'waving my hands in the air like I just didn't care', but I do believe in striking a balance and enjoying all aspects of student life; both academic and social.
And after that, what came next?
I graduated in October, and in November I packed my bags and said goodbye to London. I decided to give myself one year to find a job in Nigeria but signed up for NYSC in case all failed and so the entire year wouldn't be wasted.
How did you find things when you arrived back?
I don't think I experienced any major culture shock… Lagos is a pretty multicultural city with lots of expatriates and Nigerian returnees. Nevertheless, it took me a while to adjust to driving here (now I've toughened up and you'll probably see me yelling my own fair share of insults in traffic ha-ha). The hardest thing I had to get through though was the fuel scarcity. My goodness during those periods I felt like hopping on the next flight out but when it finally settled I was like 'false alarm! I'm not going anywhere'.
What was your NYSC experience like?
To be completely honest, I think NYSC has lost its true meaning and needs reformation. I remember being assigned to a public school in Ogun state to teach Economics (a subject I didn't feel experienced enough to teach). Not too long after, I got offered a full time presenting job at CoolTV and NYSC became a burden. I wanted to work properly, earn a proper salary but there were so many restrictions. It was a relief finishing it and getting my certificate but one thing I am grateful for is the people I met and became friends with. There is something about joint suffering that brings people together haha.
*Life Hack* I borrowed an empty inhaler and claimed to be asthmatic to get out of marching in the sun and other strenuous activities. In my defence, I hadn't fully acclimatized to the weather here… that's a good enough excuse… right?
TV presenter, Actress and Model; it must be tasking to deliver on all three roles, how do you do it and do you have to compete often for gigs?
I call myself a TV presenter foremost. Nevertheless I feel all jobs possess similar elements. You have to become something/someone and convince the world you are that person in all platforms. I still go for acting and presenting auditions and modelling castings (it never really stops to be honest) but the more I do and the more I am seen on TV, the easier it gets to secure a job.
So, are you back in Nigeria for good?
Yes I am here for good and loving every minute of it. I love being able to go to the beach every weekend and not having to deal with British weather most especially.
What do you do for fun/relaxation in Lagos?
Like I said earlier, the beaches are lovely to visit- Ilashe and Tarkwa Bay are a few of my favorites. I also enjoy going for lunch at Ocean Basket, a sea food restaurant that has the friendliest staff ever. Due to my job as a TV presenter I get to host a lot of red carpet events so although the red carpet bit is work, the events themselves are truly enjoyable and Lagos seems to have a new one each weekend. There are comedy shows, film premieres, festivals, stage plays, art exhibitions and product launches to name a few. The list is endless.
Do you have any advice for prospective returnees?
My mother told me something and she was right. When moving back to Nigeria, the first year will be your toughest. However, if you make it through those twelve months, you'll be fine. Nigeria is the land of opportunity. Yours is waiting for you.