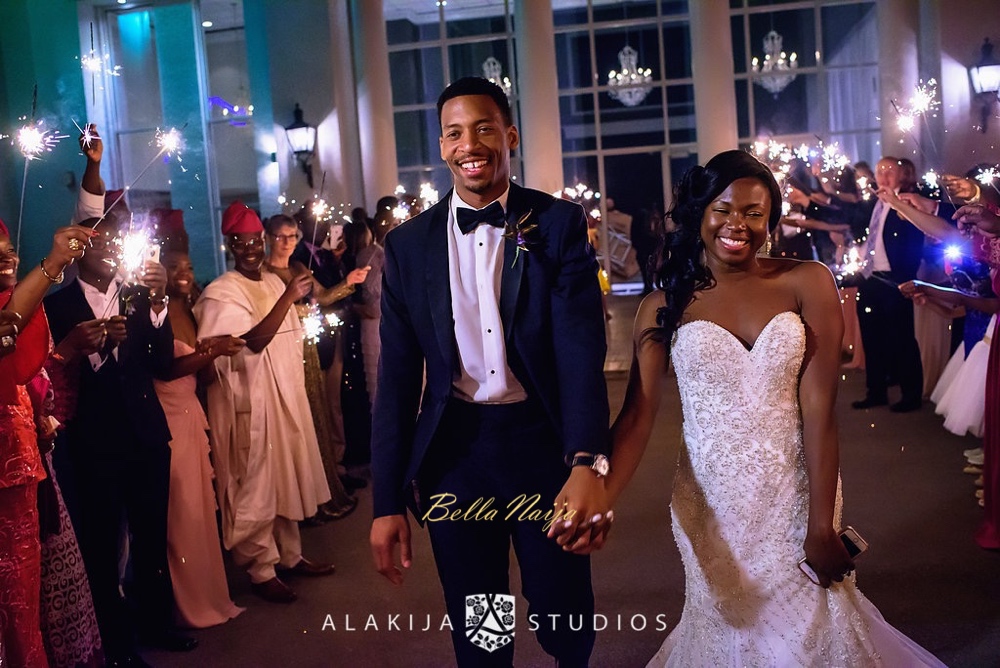 Nigerian Eloho and American Bradley met thanks to the covert matchmaking skills of their mutual friend.
The bride is an internal medicine physician while her Mister is a mechanical engineering PhD Candidate. Three years ago their love story began at a friend Dionne's house. Dionne invited Eloho to a game-watch party – the Eastern Conference finals – Heat vs. Pacers on May 26th, 2013, with friends that she met while at Michigan including Bradley, Lilian & Jared.
In the time at Dionne's house, Bradley was arguing with his lab mate about the game, and barely interacted with anyone else.
Little did they know their host had other ideas that they would make each other's better half, so she put in their names and numbers in each other's phones, and let the magic happen from there. Eloho shares,
Bradley texted me that night to say how great it was to meet me, we eventually went on our first date to brunch at Meat and Potatoes and we've been together ever since!
The Proposal followed a year and three months after on October 26, 2014.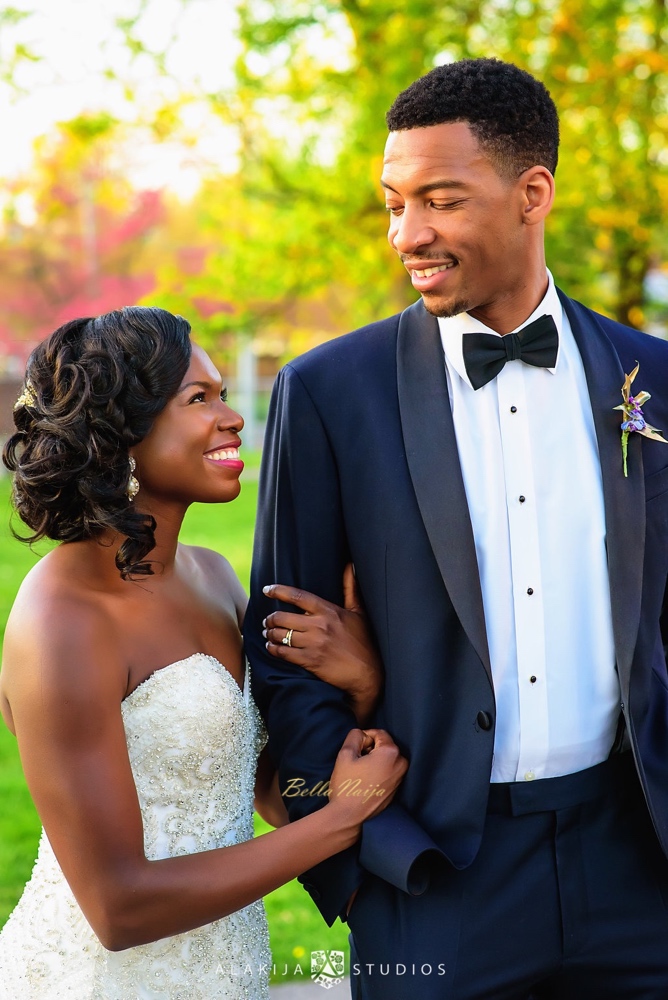 Eloho dishes on the 'hangry' day that turned into a perfect one –
Friends of ours had invited us out on a double date. Little did I know, Bradley had planned this for months, and secretly invited my best friends and family to Pittsburgh. The night before, we attended a medical gala and went out clubbing afterwards with a group of friends, naturally I was HANGRY (hungry + angry) the morning of and anxious to get to brunch. As we headed out, I noticed Bradley was taking an unusually long route and got annoyed as I was starving! We rode up the historic the Duquesne Incline up to Mount Washington. It was a beautiful sunny day, with a slight chill in the air. As we walked over to the look out to meet our friends, I noticed my dad as he turned around… in shock, I ran up to him, and started noticing familiar faces amongst the sightseers… In that moment I knew!

I turned around and saw Bradley standing in the center of the overlook, walked over, he got down on his good knee….

I still have no idea what he said! I was trembling, he pulled out the perfect round solitaire ring on a knife edge yellow gold band, and I stuck out my right hand, he placed the ring on my finger and the crowd shouted "No, its the left!"

We had an engagement brunch at Altuis immediately after… I couldn't eat a thing despite my 'hanger' from earlier.

It was perfect.
Advice from the Couple
~ Photography: Alakija Studios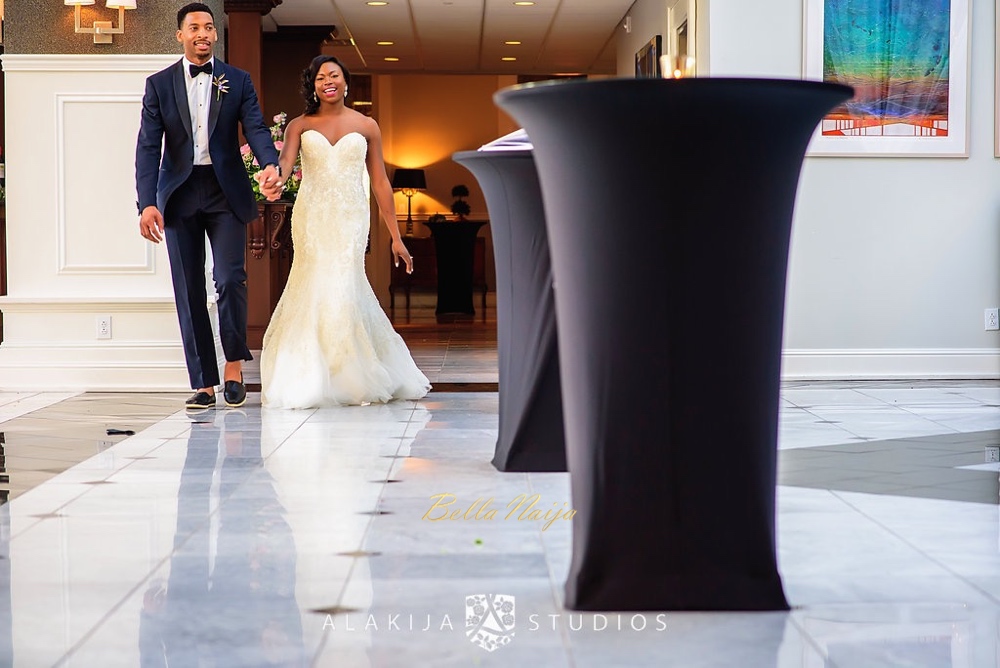 We attended a series of pre-marriage counseling sessions with our priest which was absolutely amazing! You should too. It gave us context to understand some of our differences and to discuss them in a safe space.
Oh, get a wedding planner!!!
Wedding Highlights
Our priest totally surprised us and sang John Legend's "All of Me" during the service.
Another really cute moment was when the ring-bearer handed the ring pillow to Bradley and sprinted down the aisle to the back of the church.
Here's their beautiful wedding which celebrated Eloho's Urhobo and Yoruba roots and marked the beginning of their eternity as B and E – their #BEternity – captured by Alakija Studios.
White Wedding
"The white wedding reception was celebrated in an old southern antebellum mansion with large white pillars and ornate fixtures with floor to ceiling windows and lots of natural light.
We wanted the atmosphere to be intimate (despite our 250 guests) Therefore we opted to keep the decor classic and warm with rose pink."
Traditional Wedding
"For the traditional engagement, we had features of Urhobo and Yoruba traditions from Nigeria. Eloho's mother is Yoruba and her father is Urhobo, so we wanted features from both cultures.
The theme for the traditional wedding was simple elegance, we chose to use lights as our main form of decor with lighting from the ceiling, candles and mirrors along with the flowers as centerpieces.
The first outfit was the Urhobo George wrapper and cord lace. The wrapper was a silvery lilac with gold embroidery and our tops were made of a blue cord lace with flowery patterns.
The groom sported a cane with a bronze eagle head (and a hidden dagger! – extra surprise we were unaware of when we purchased it!), and a contemporary black wool felt top hat instead of a more traditional bowler hat. He complimented this with gold tassel loafers and coral beads.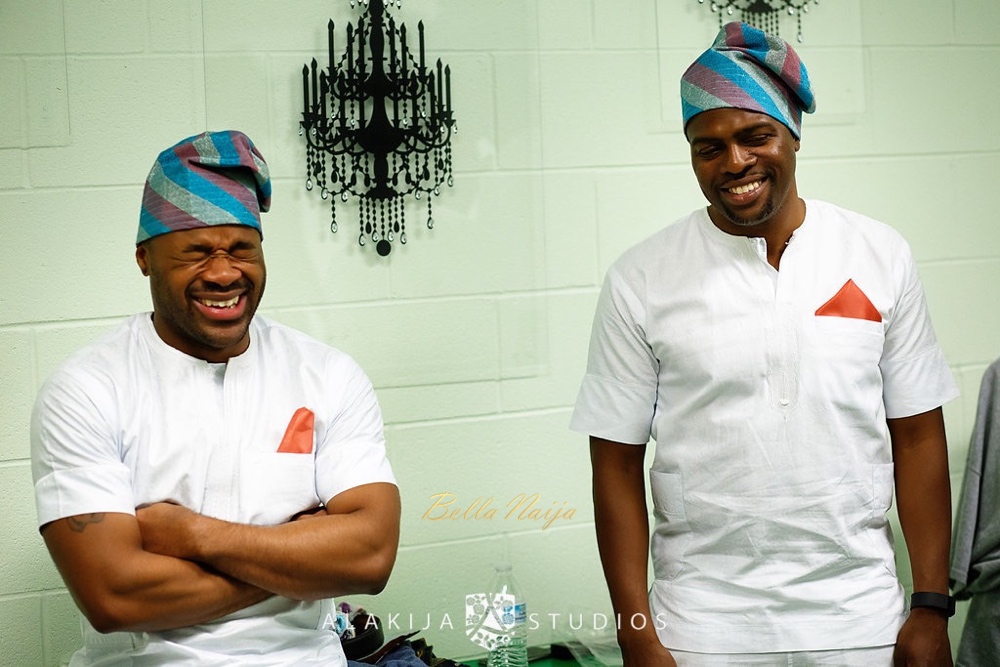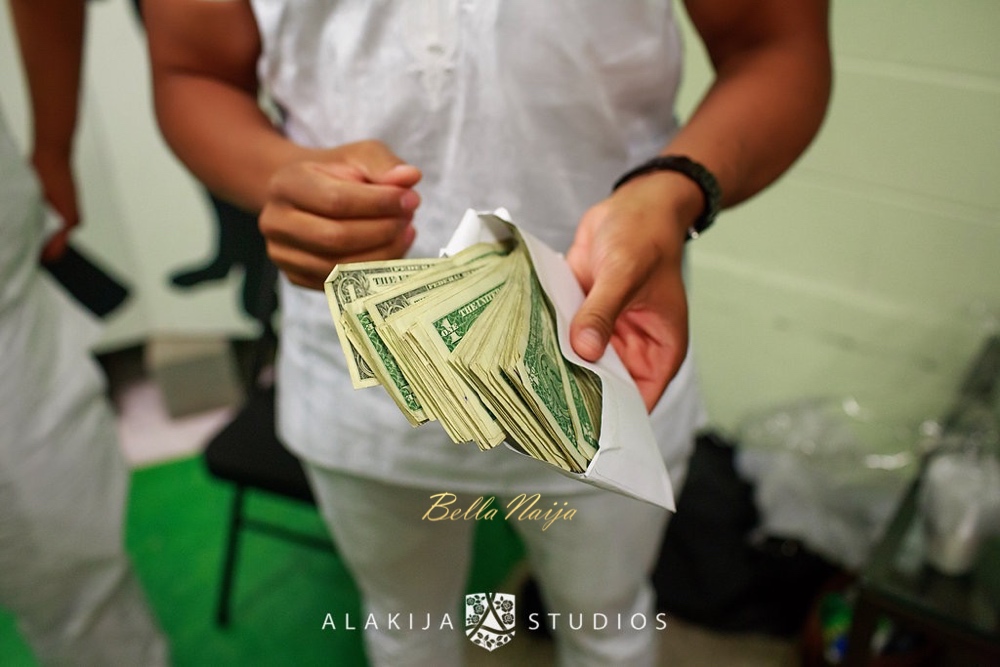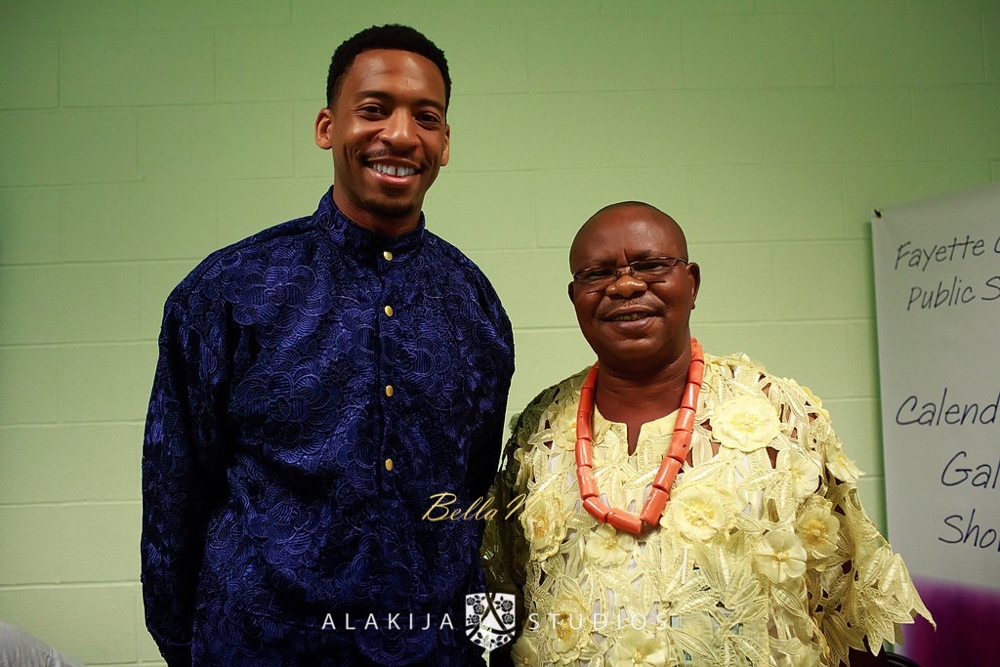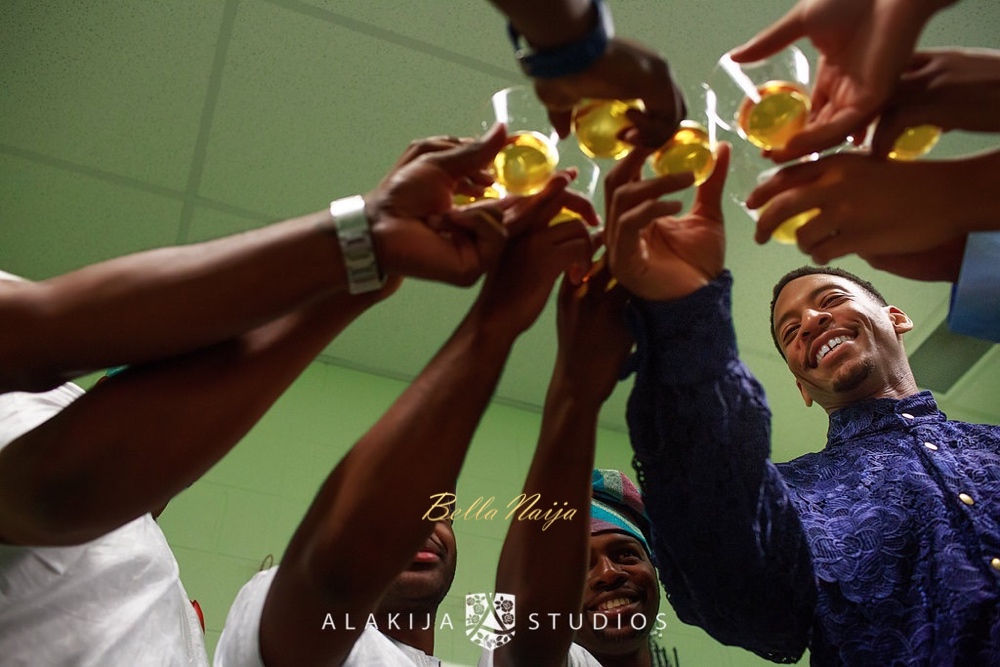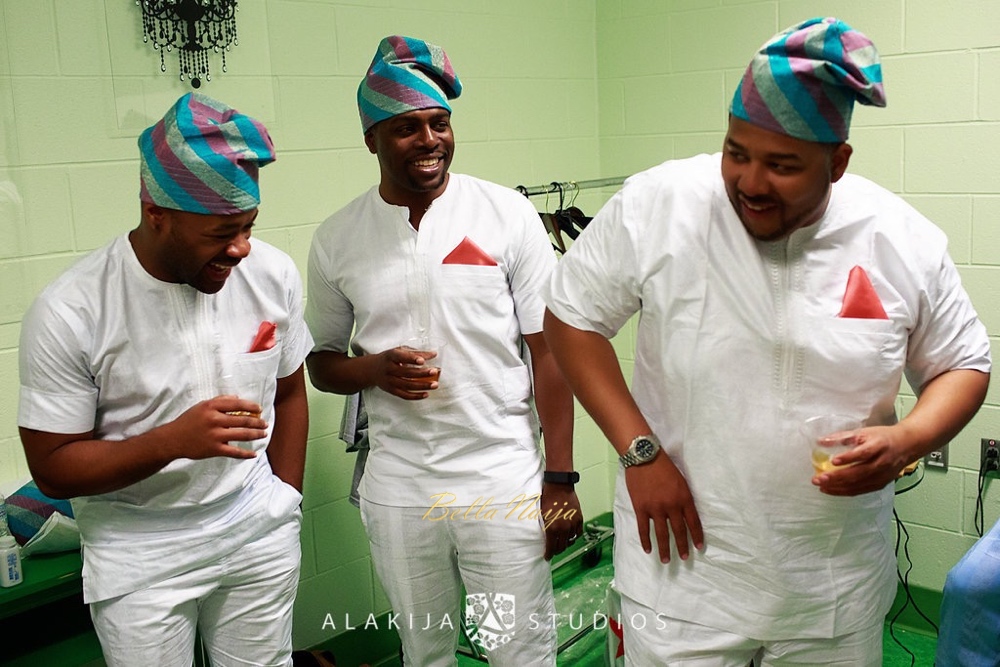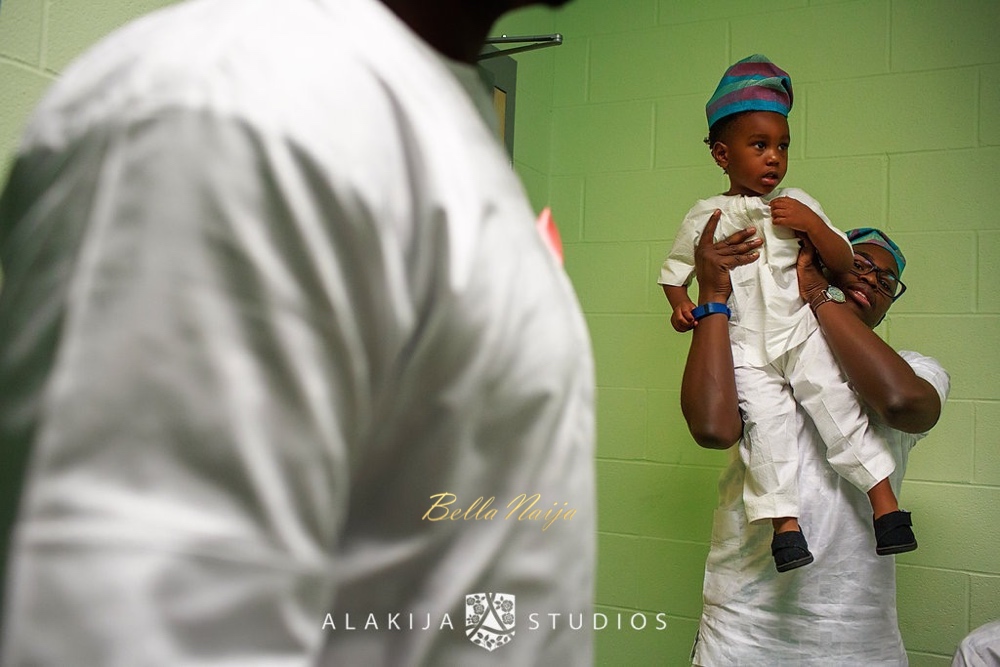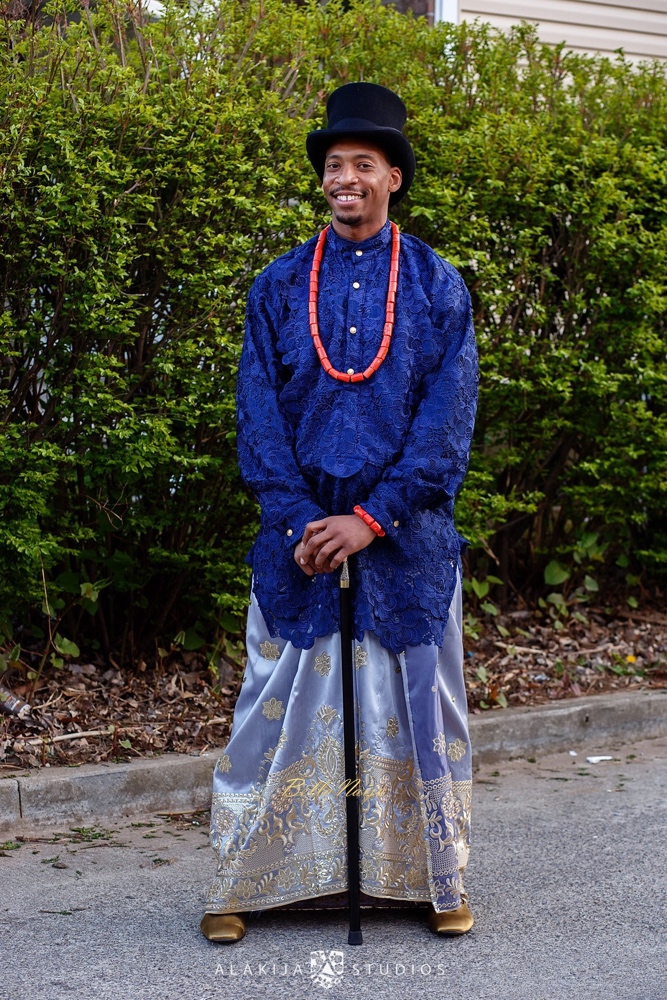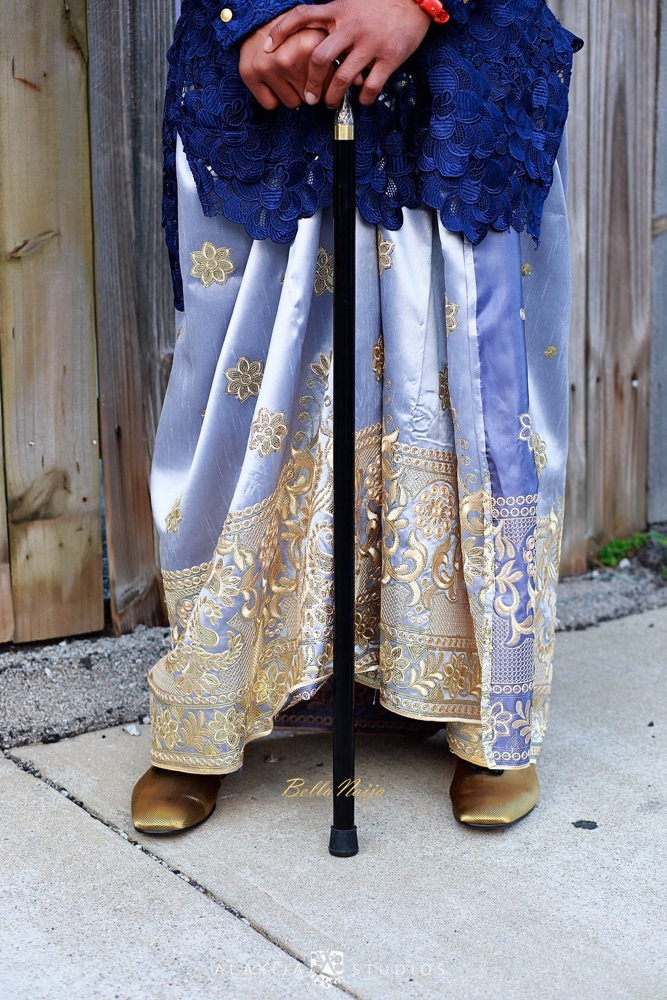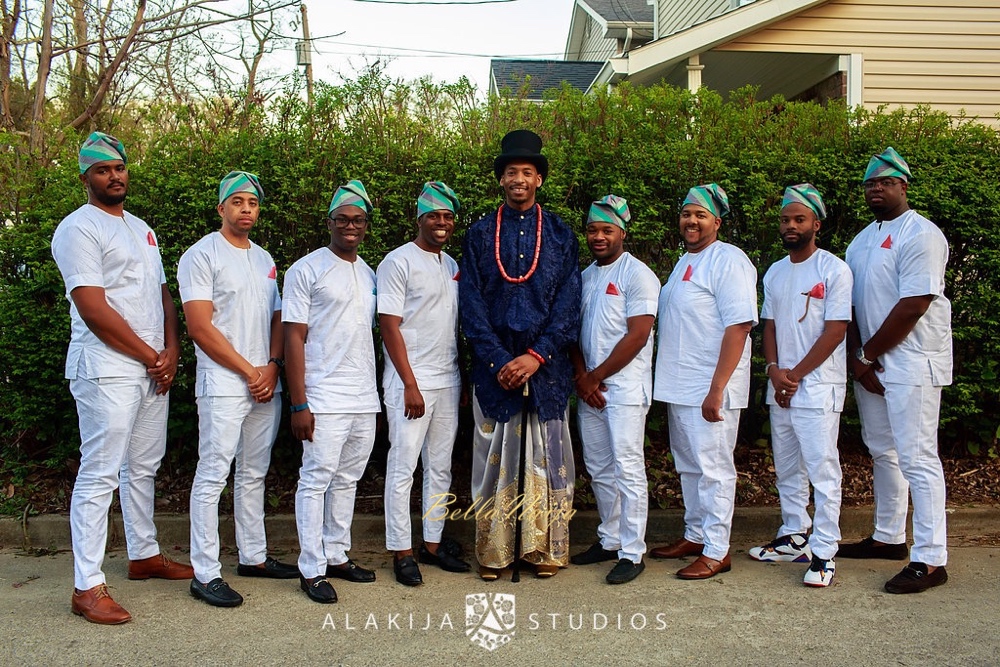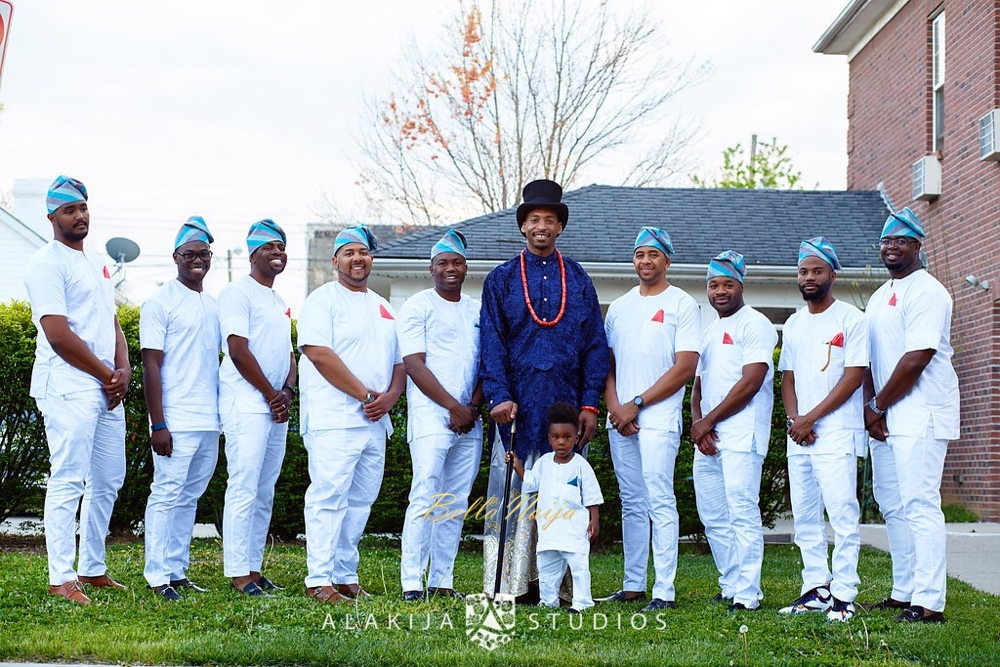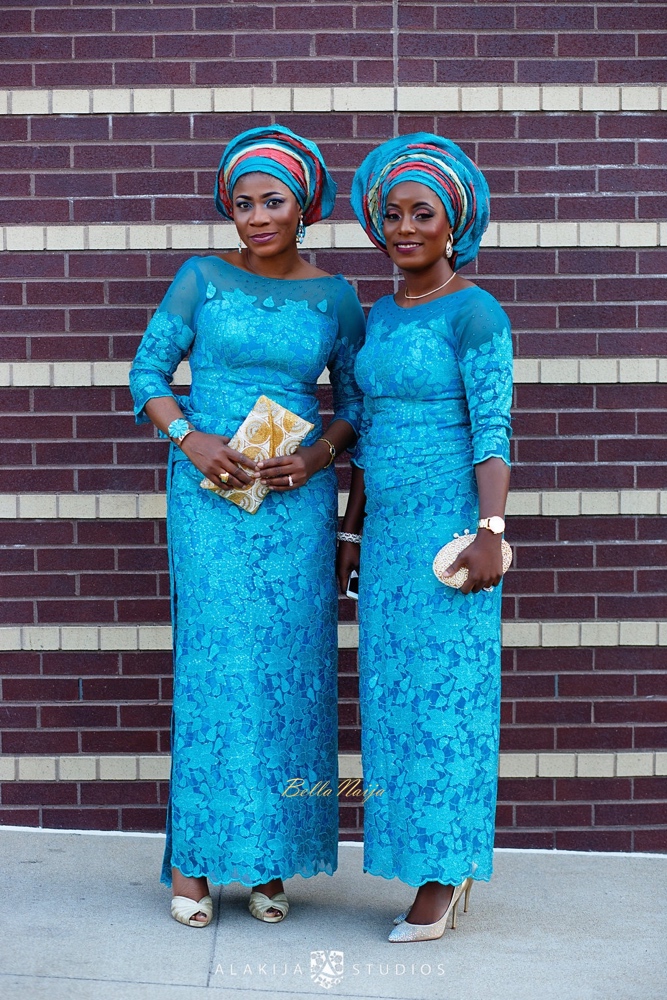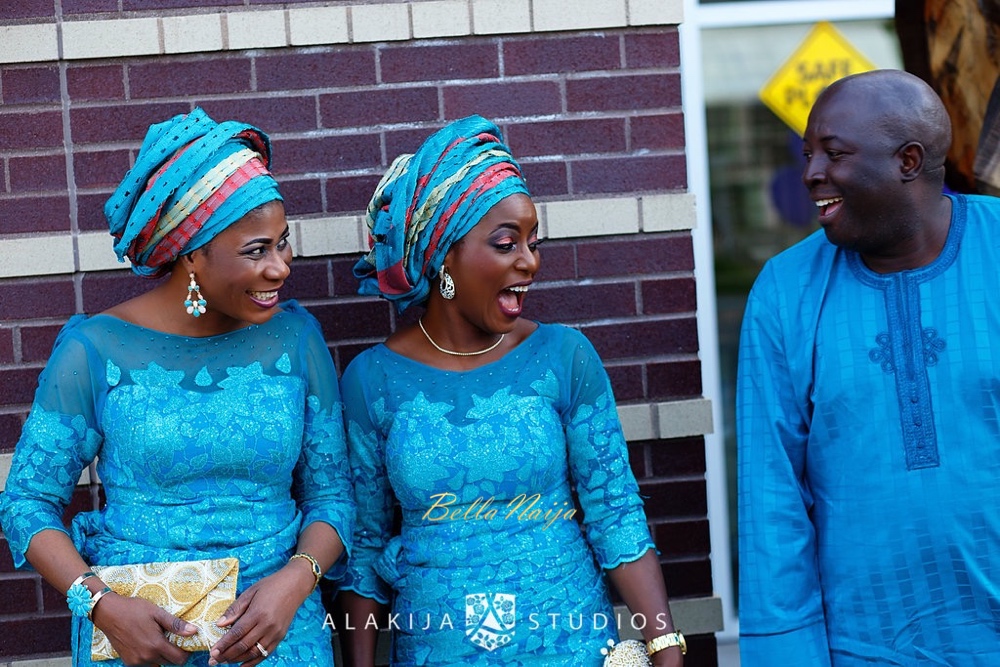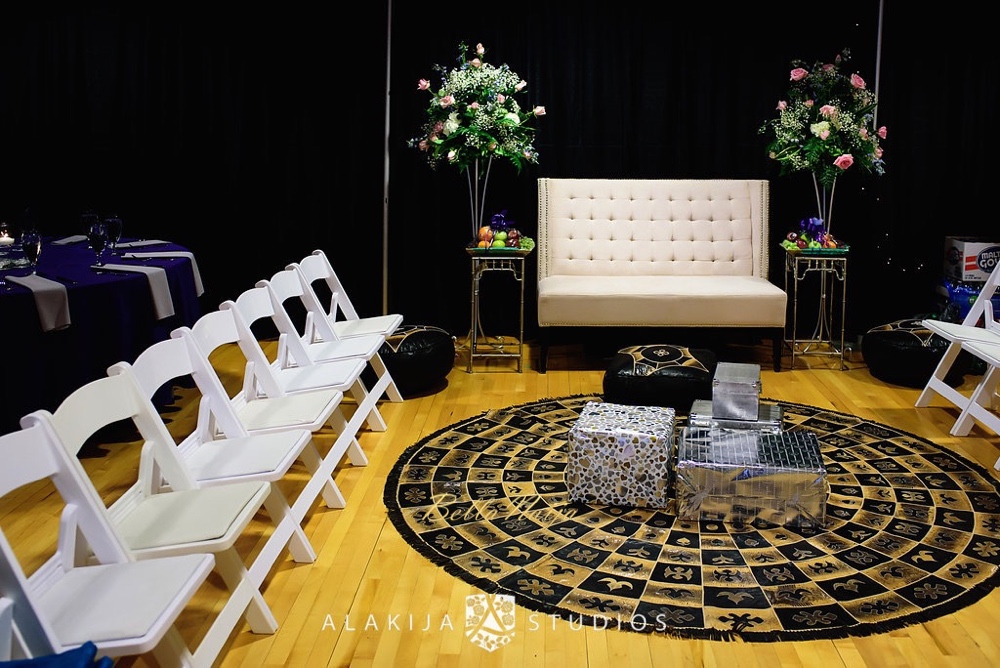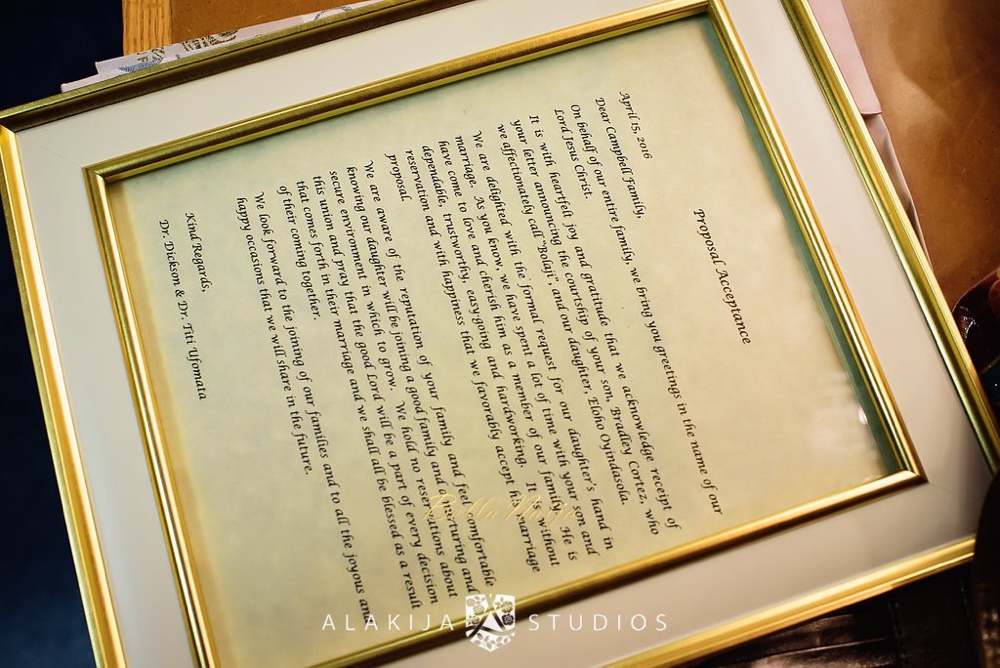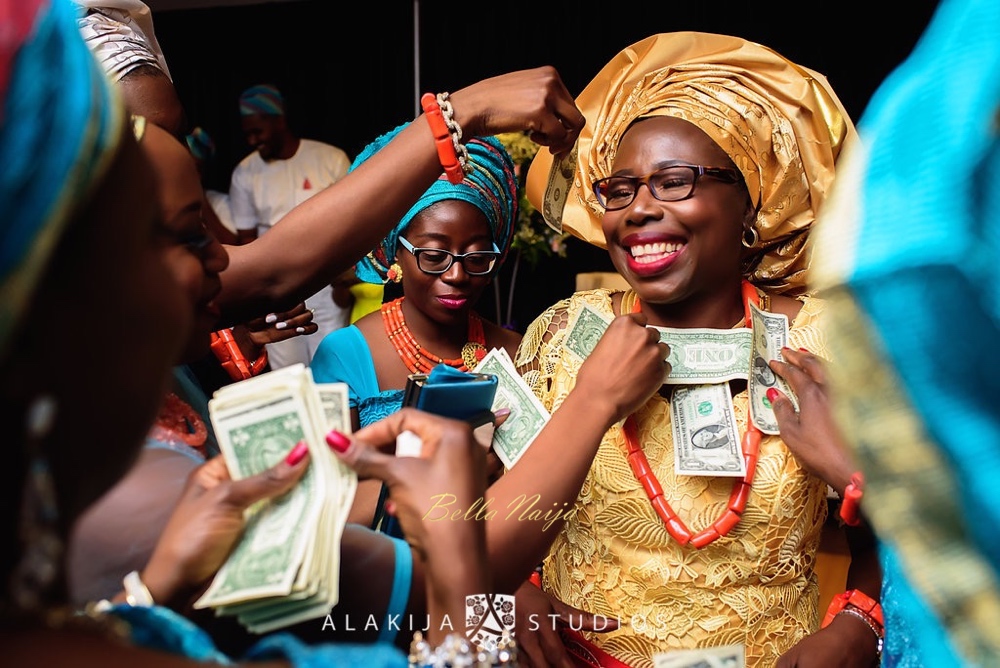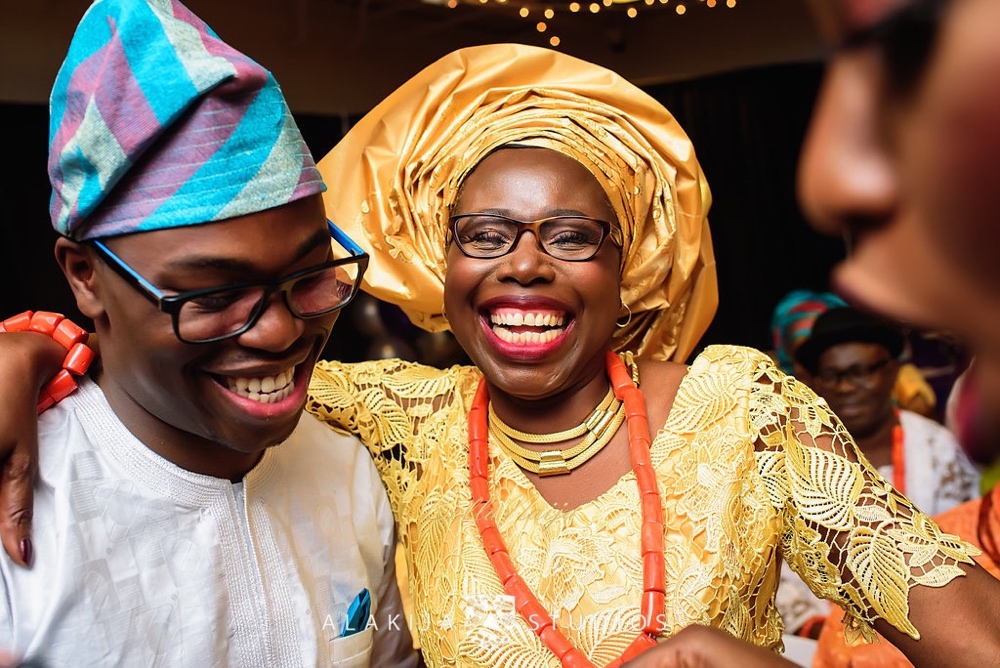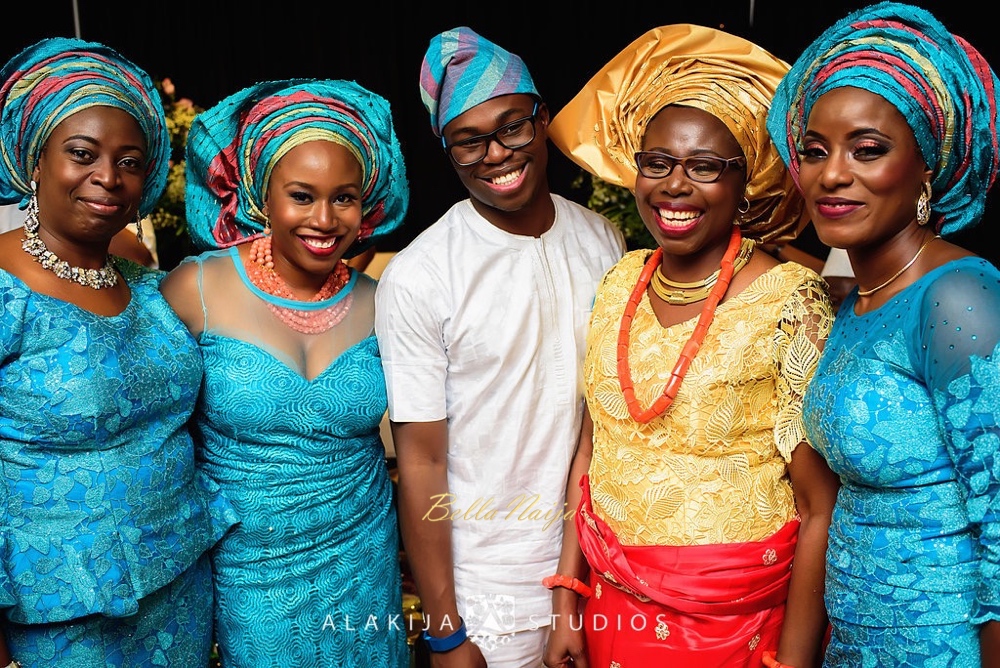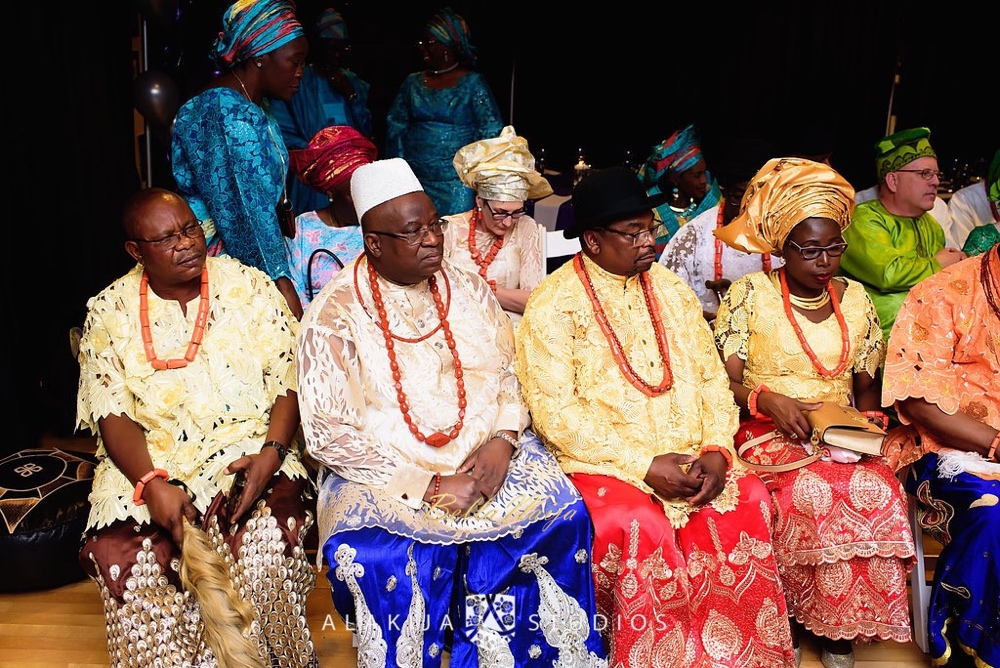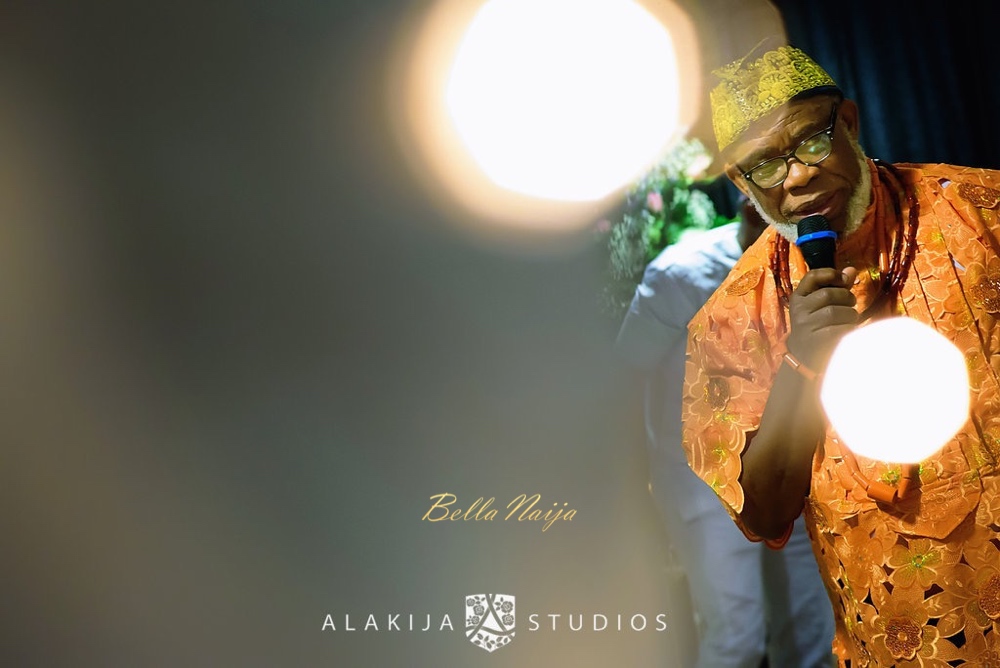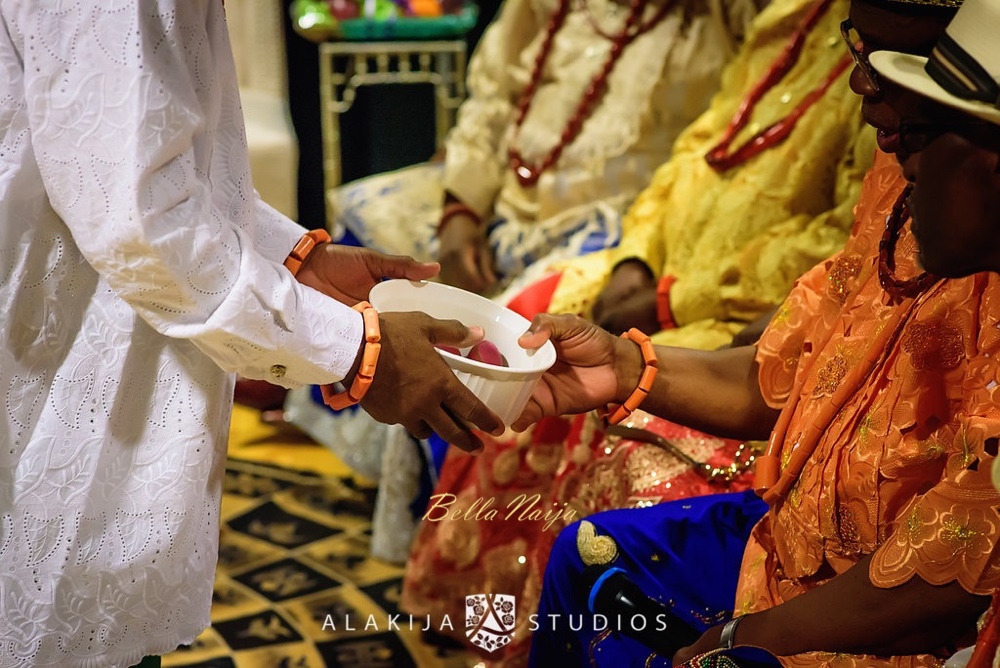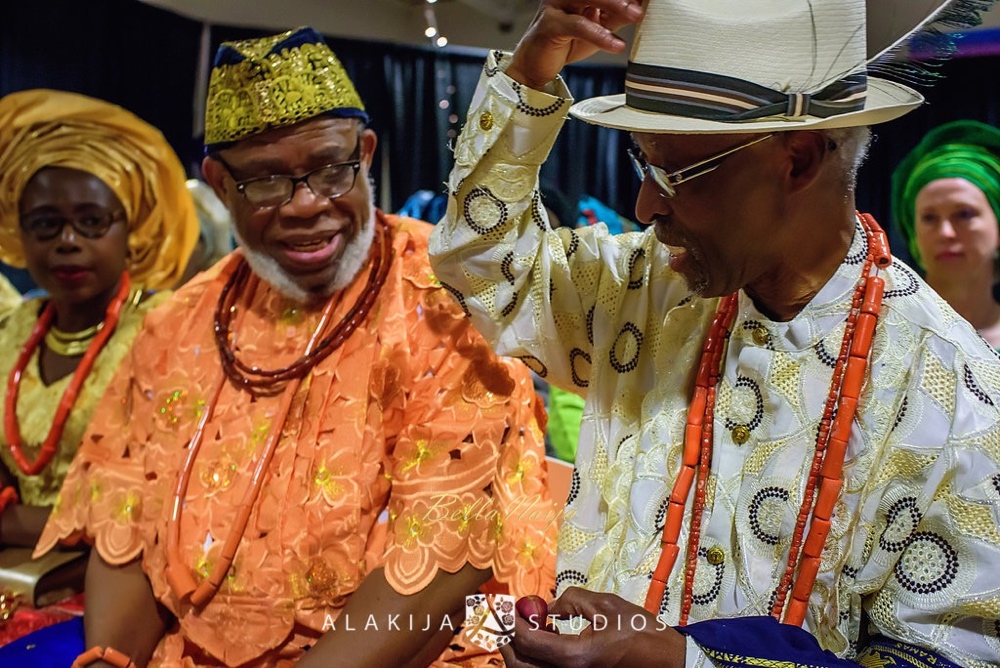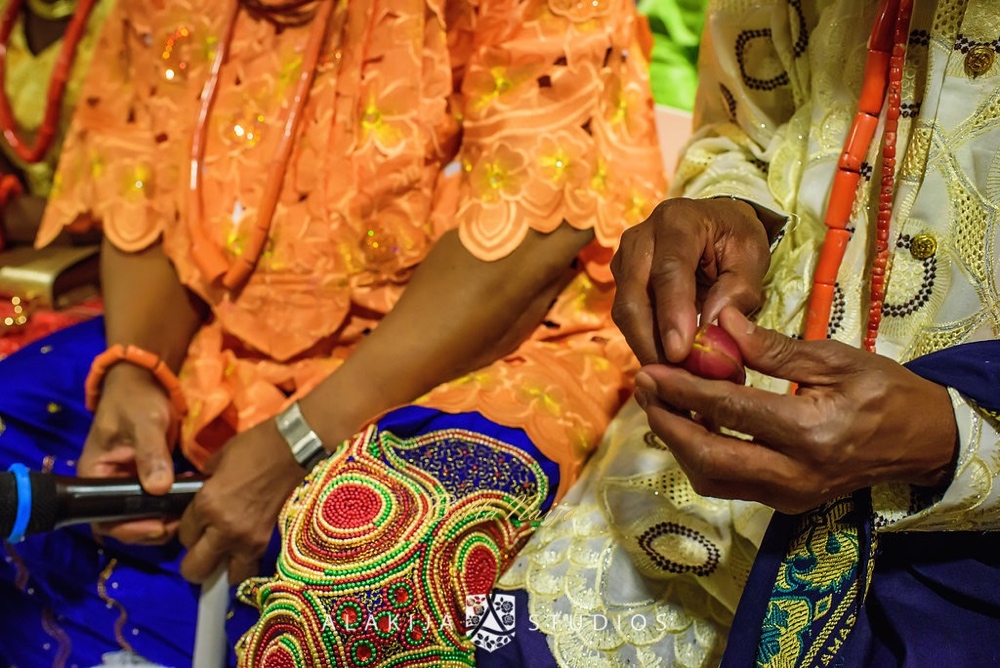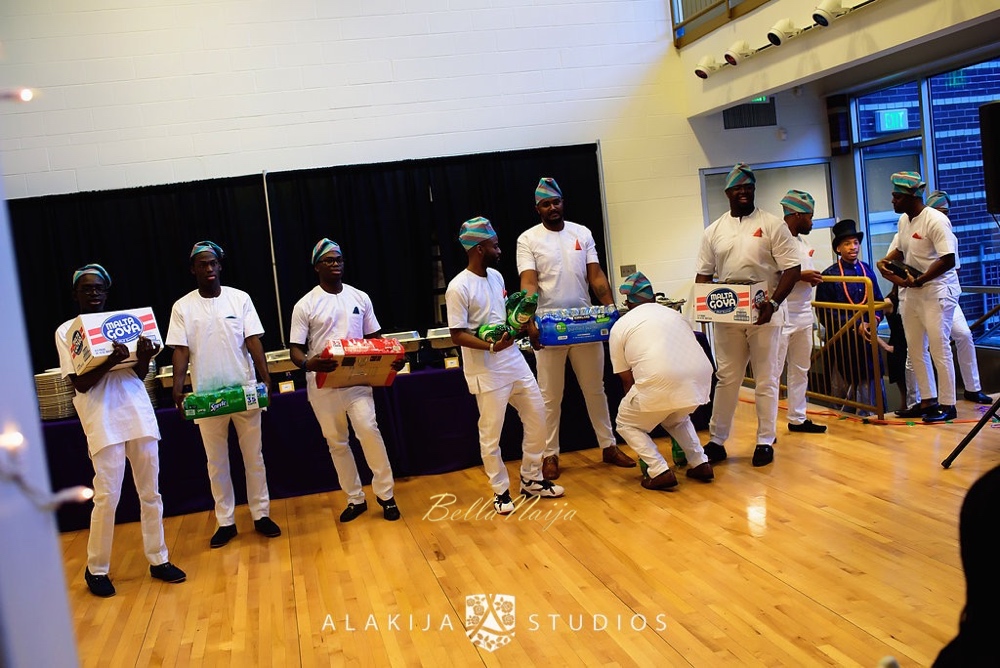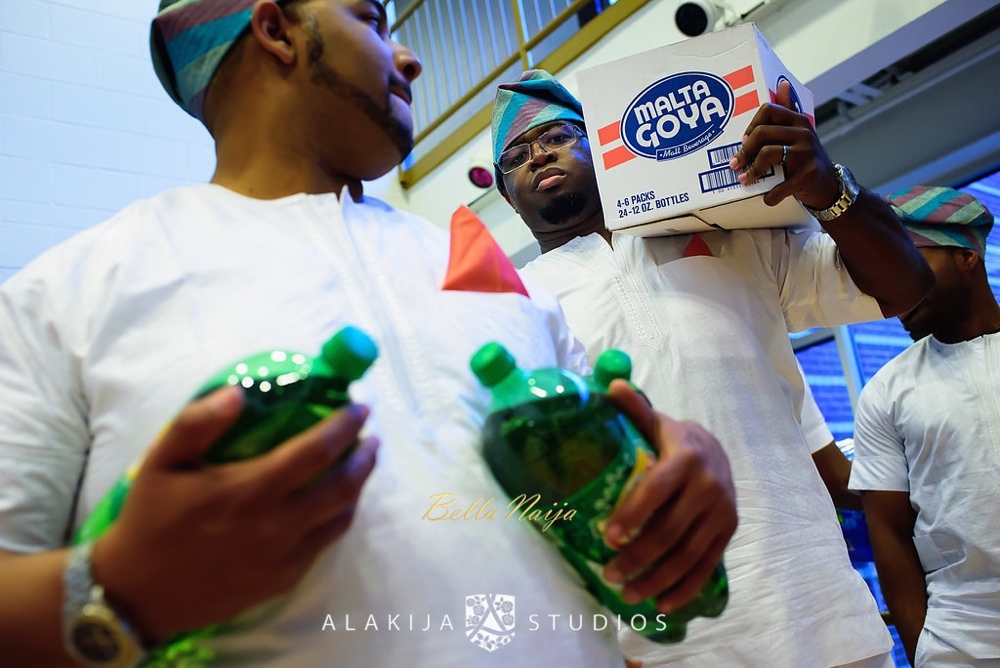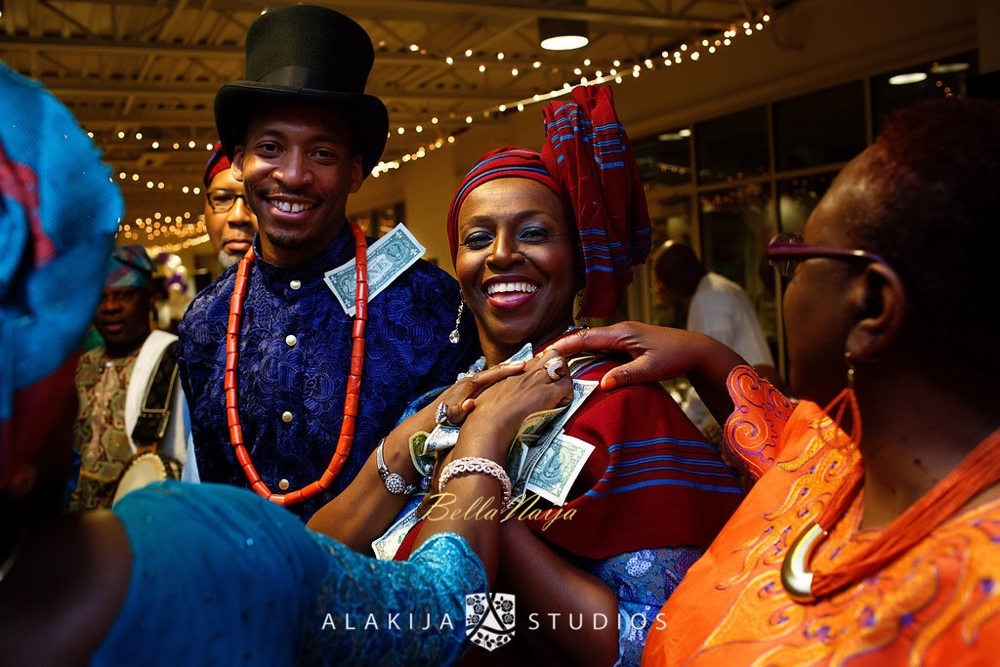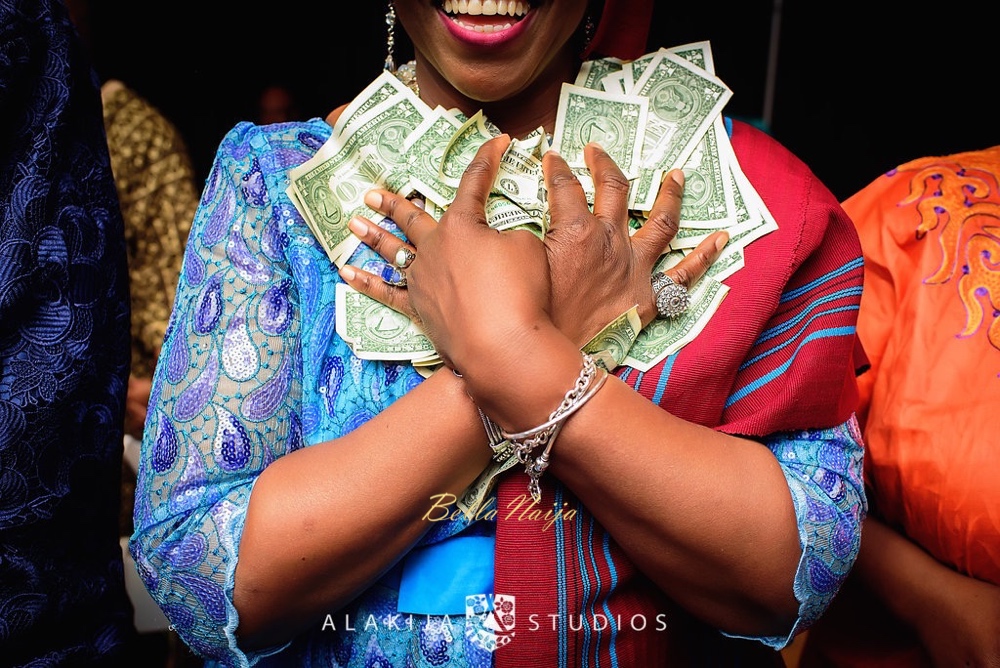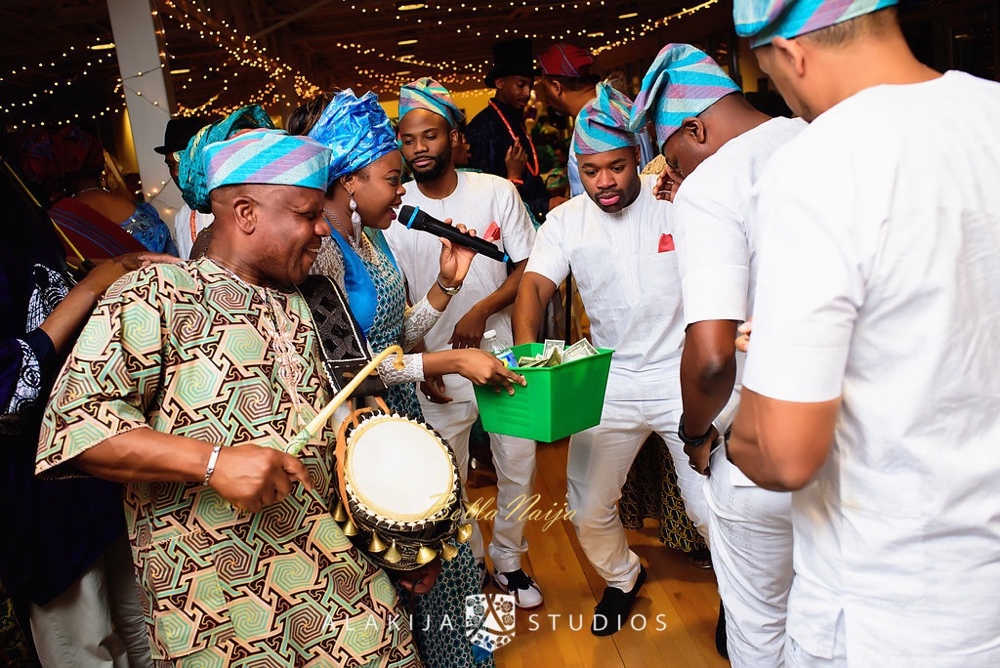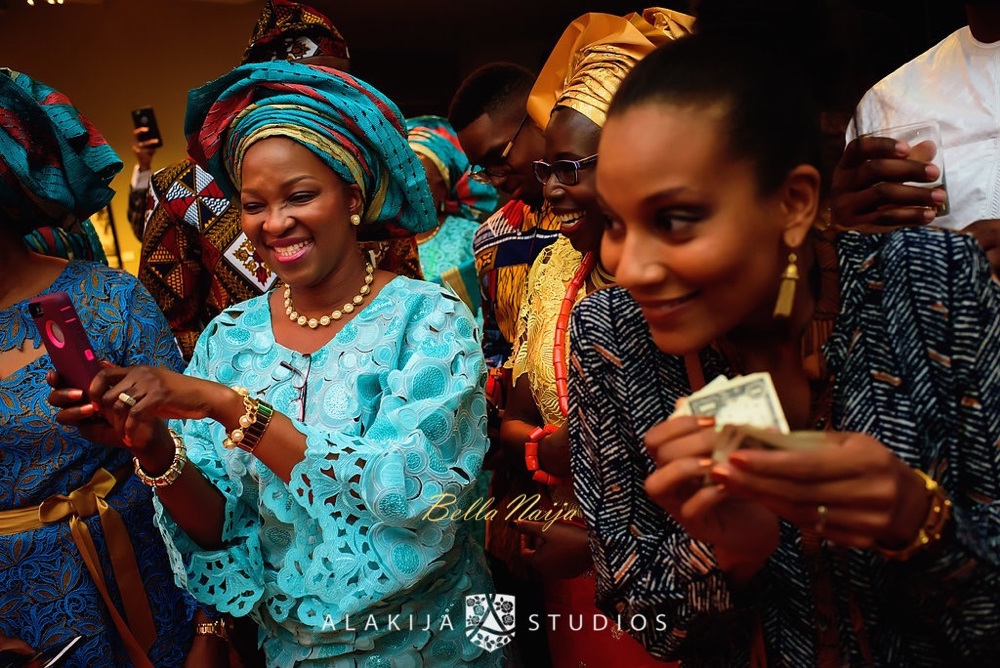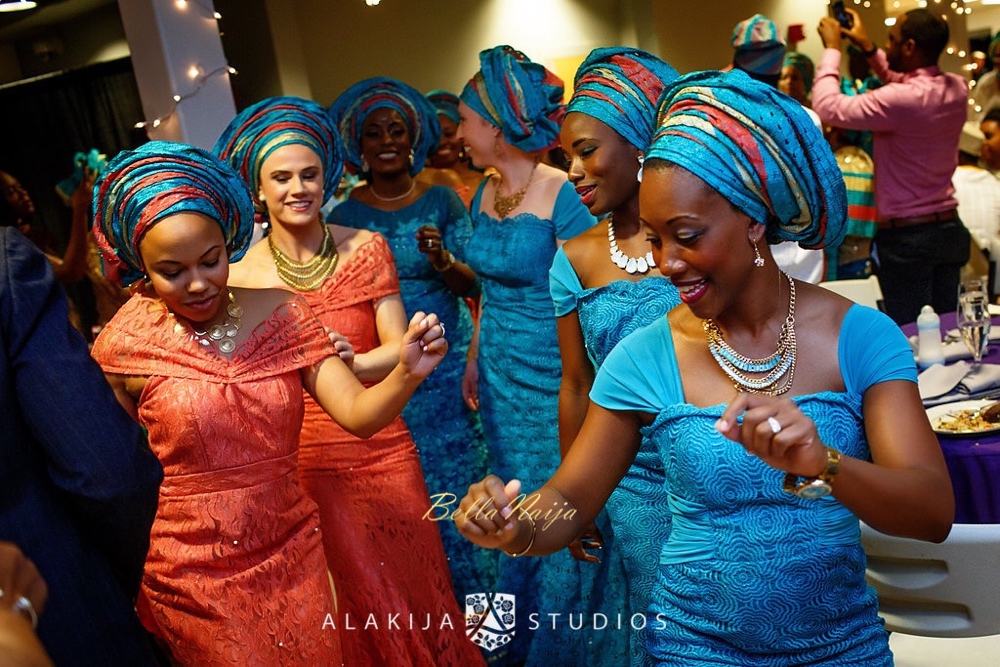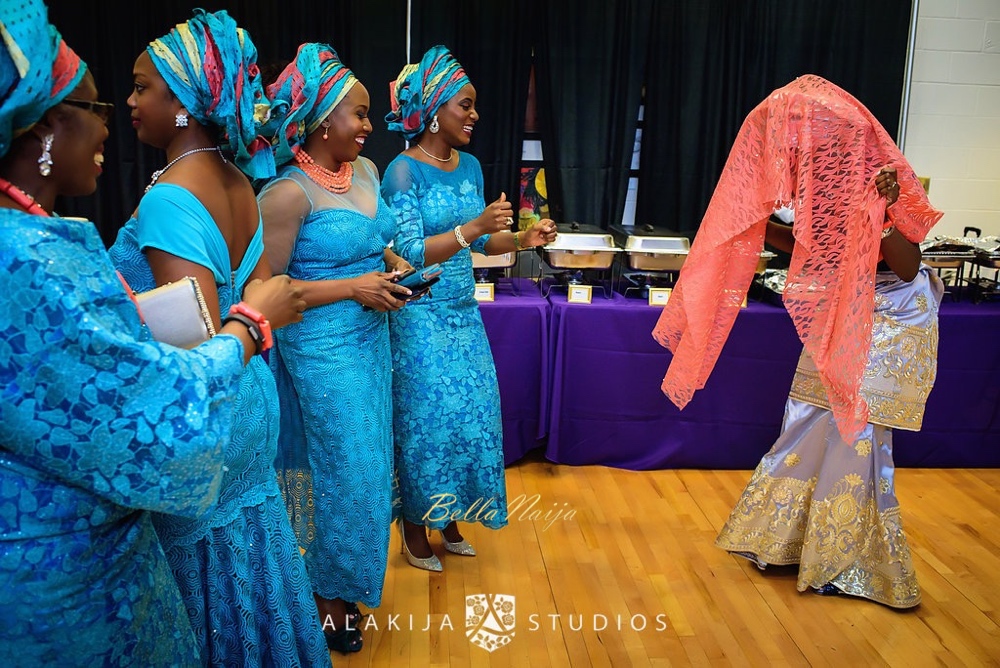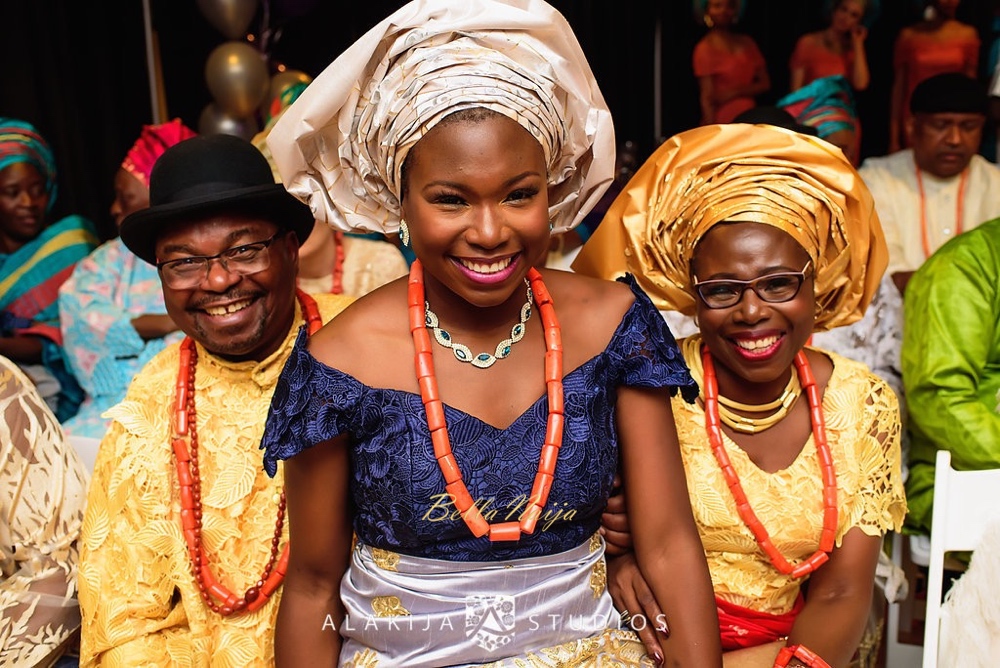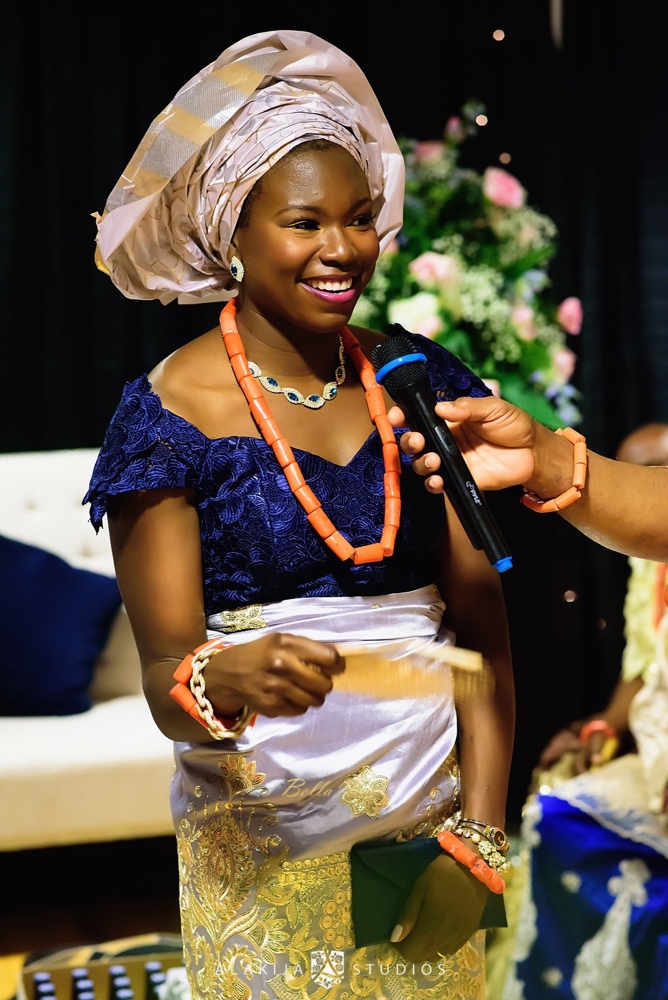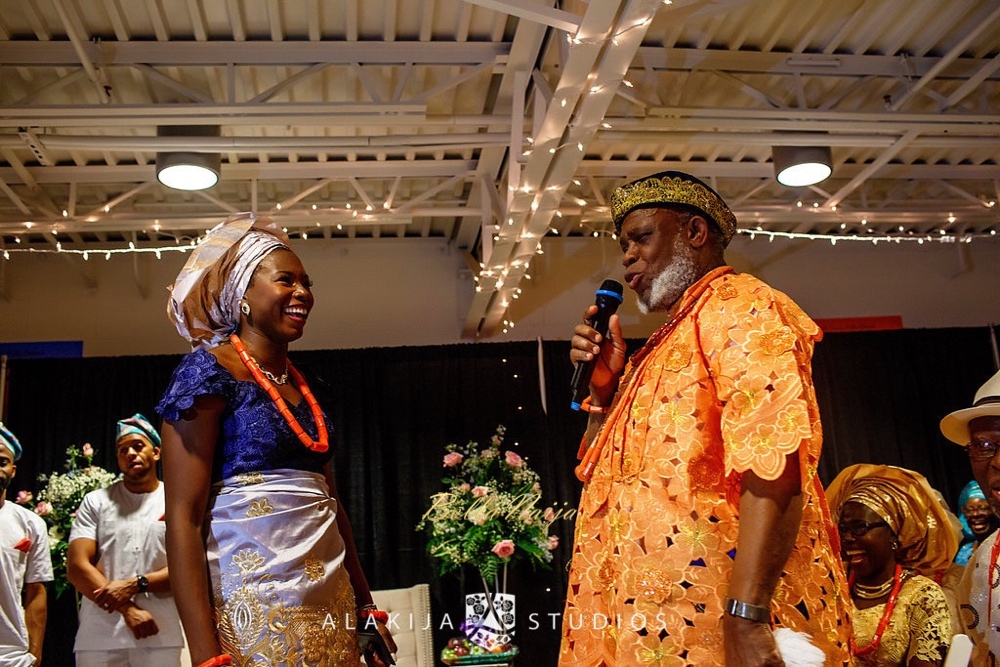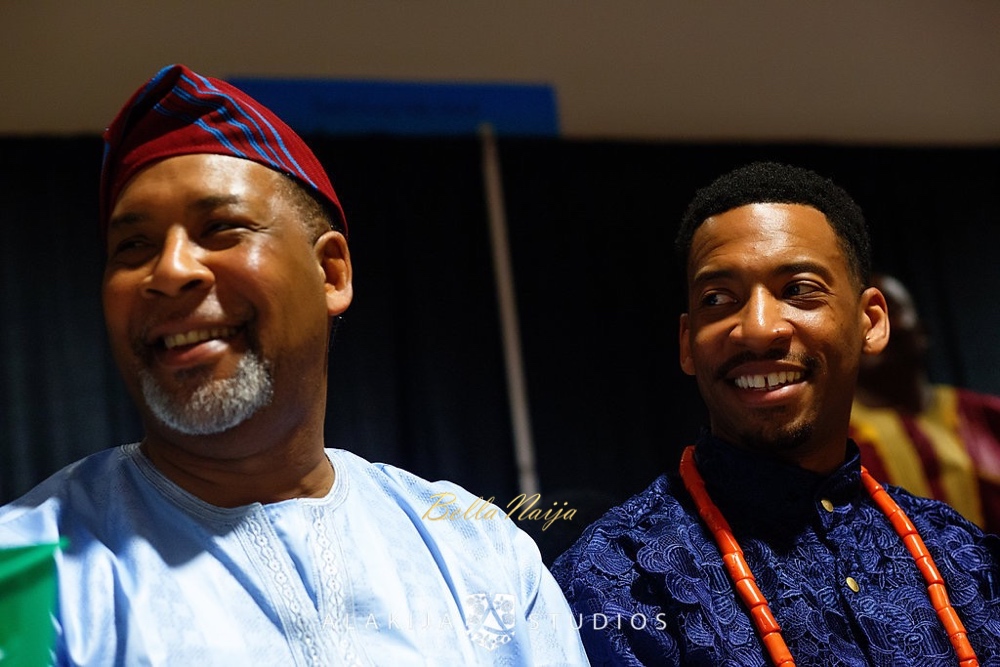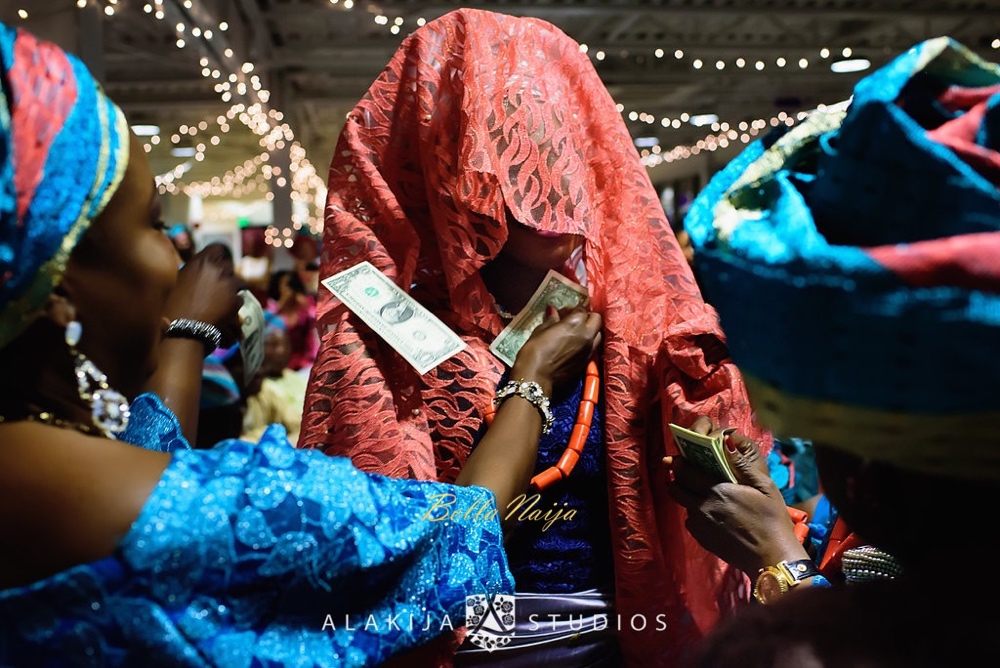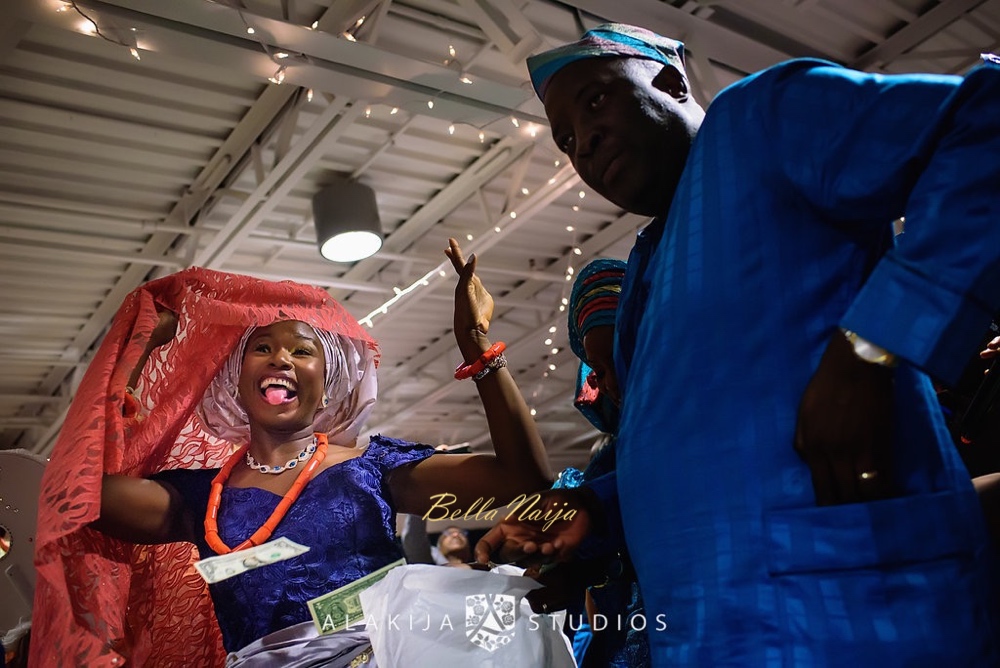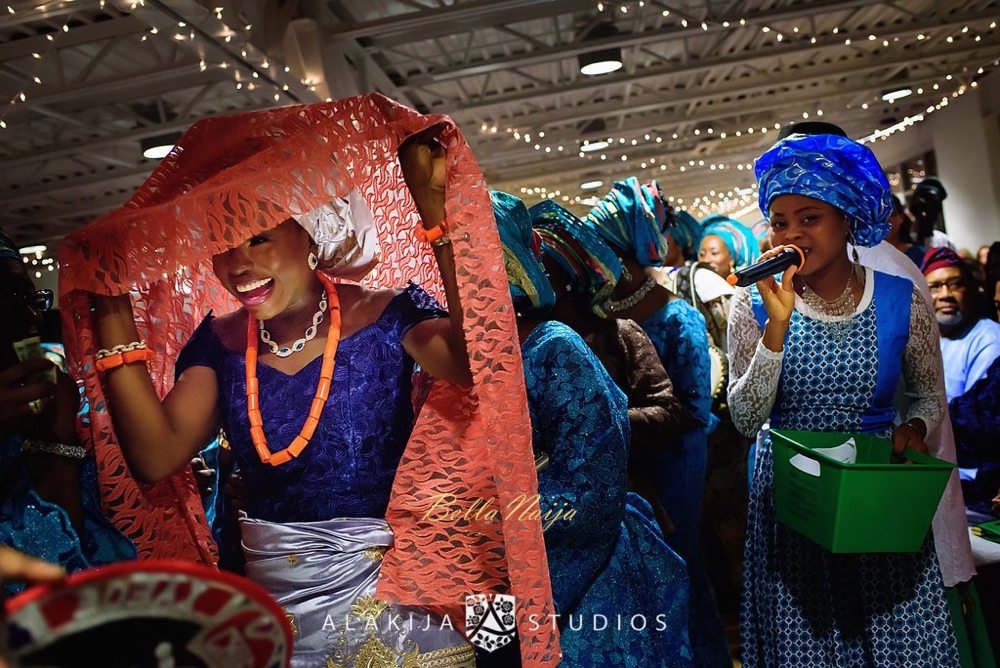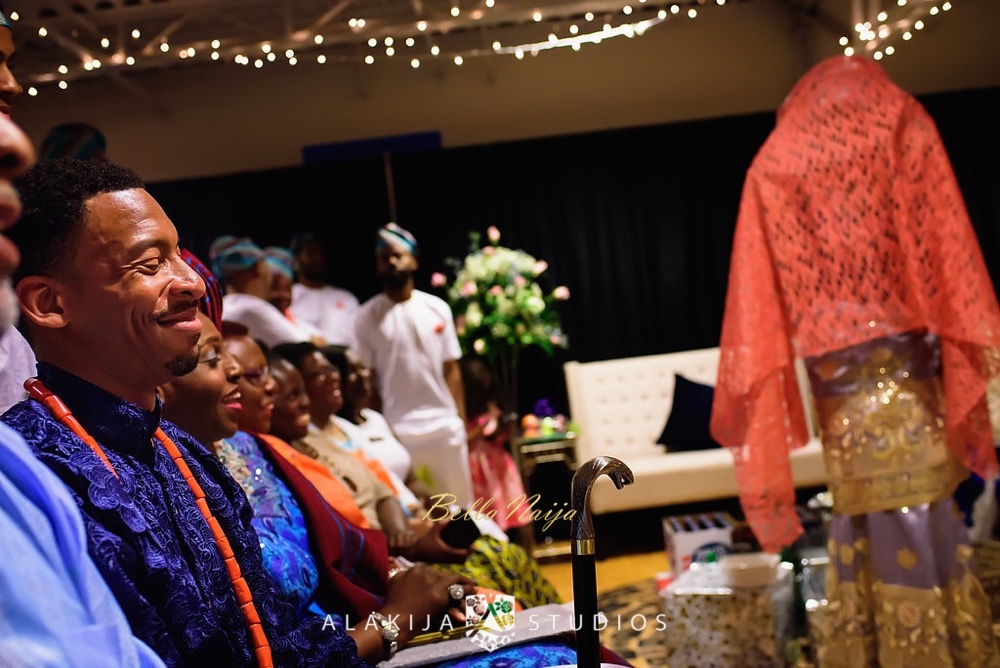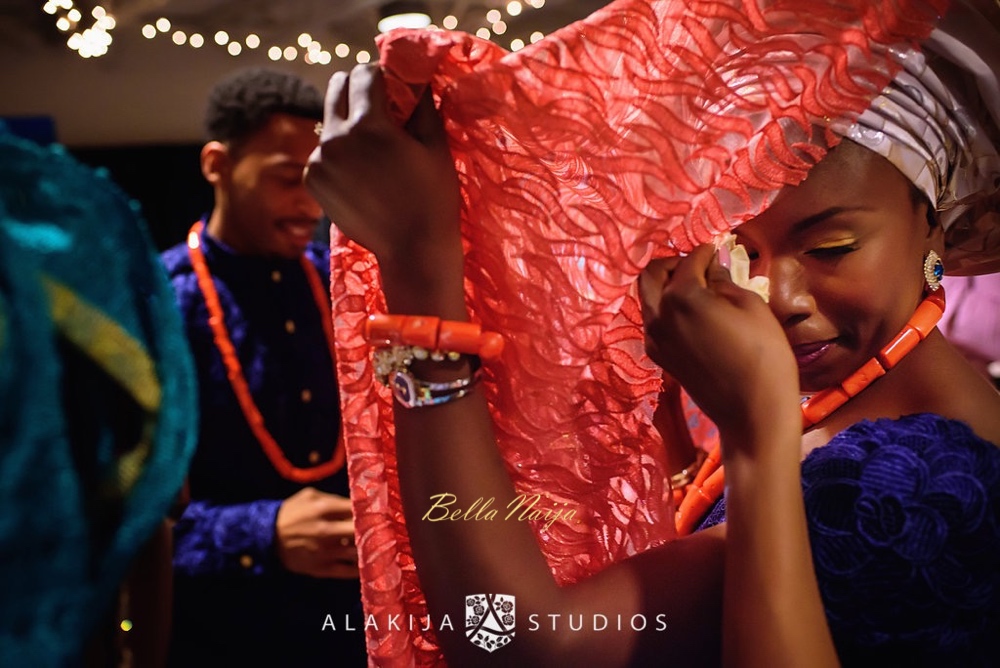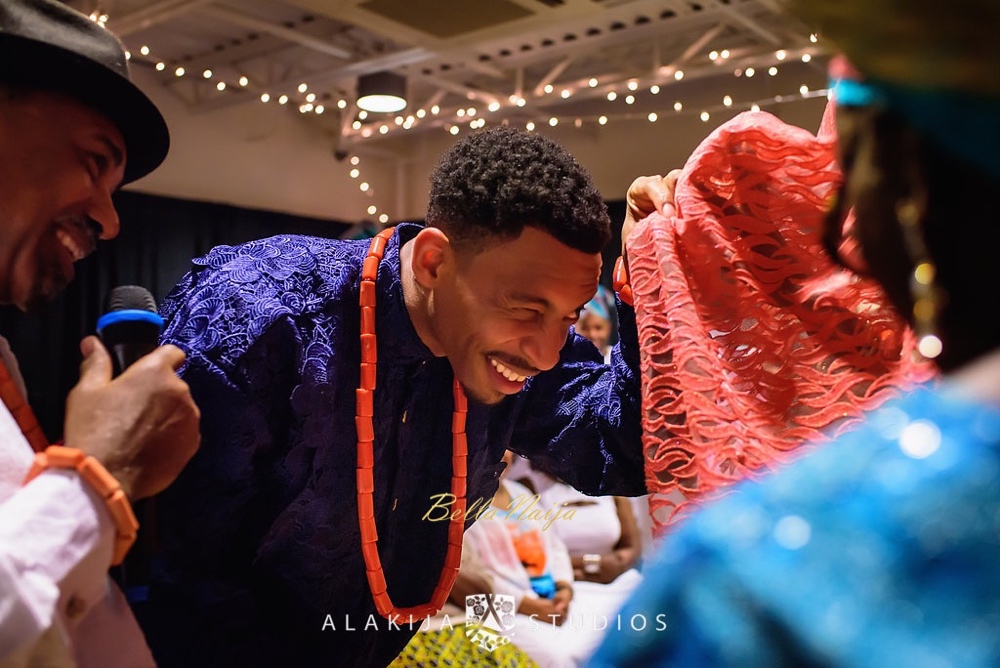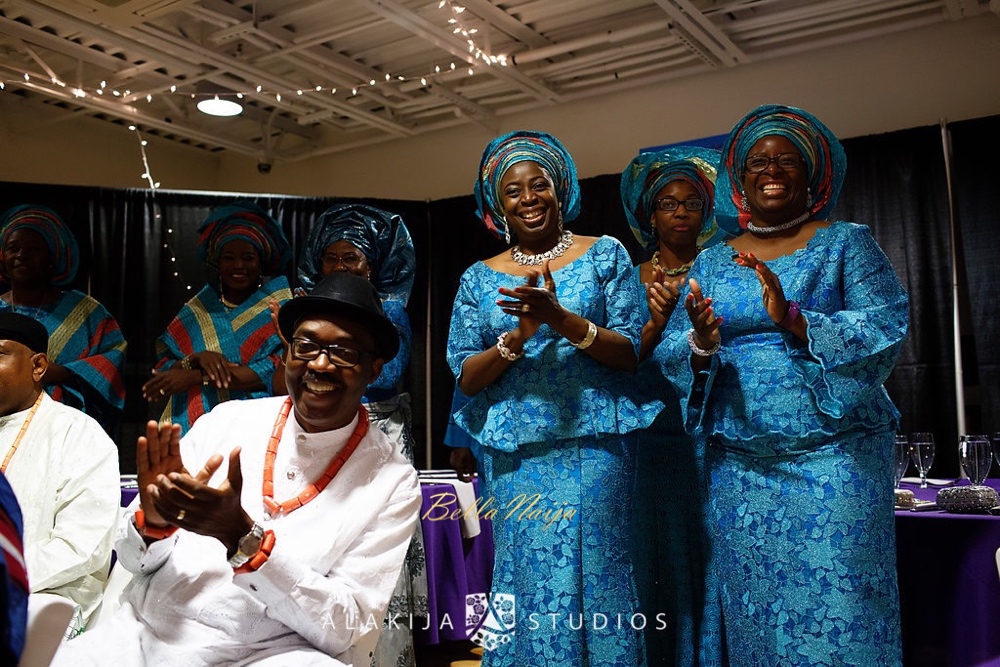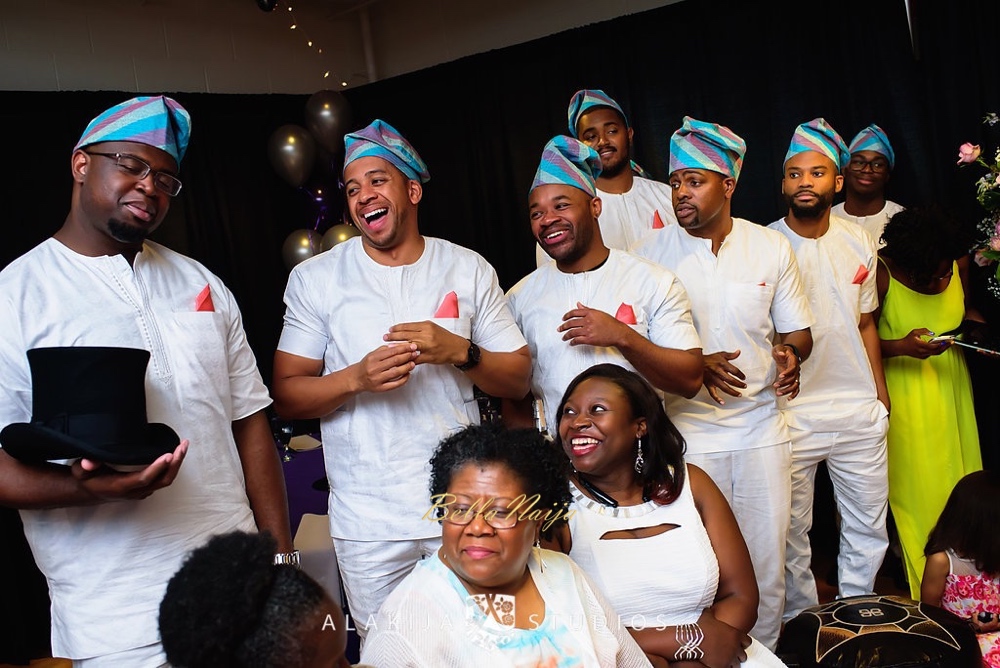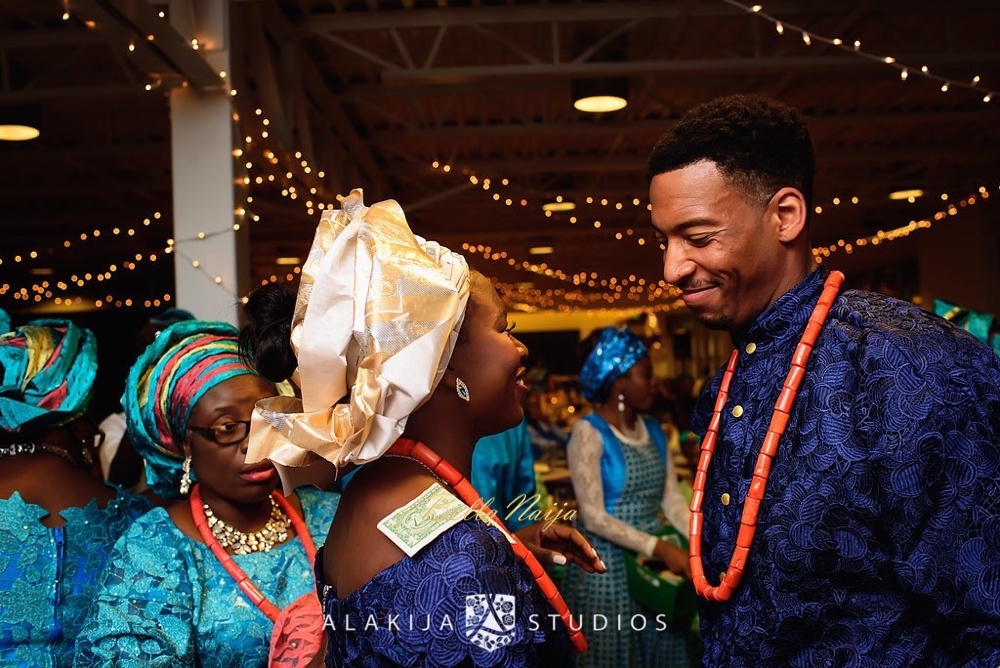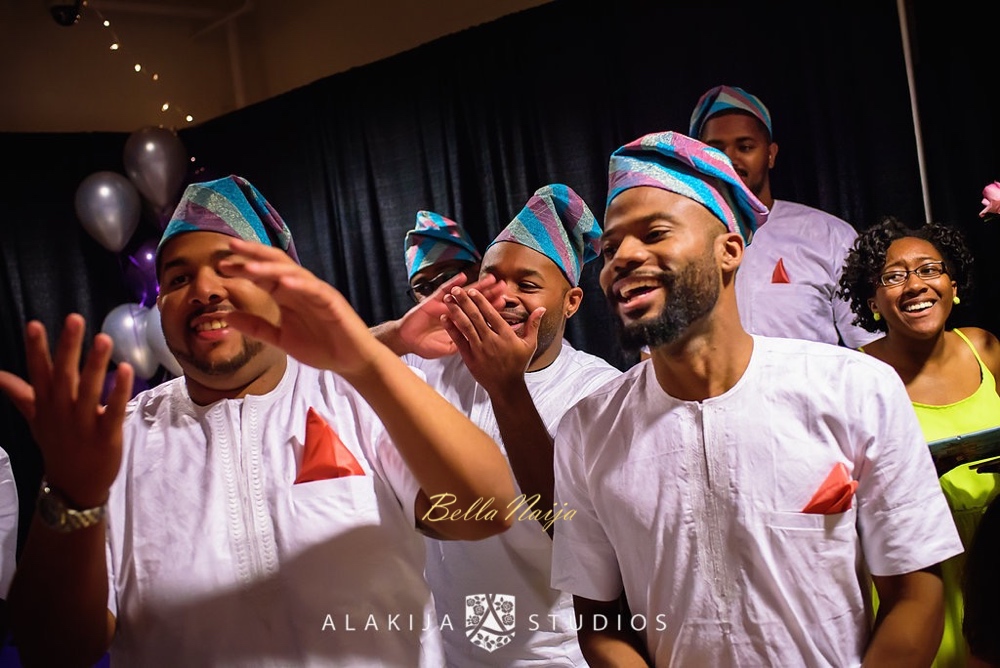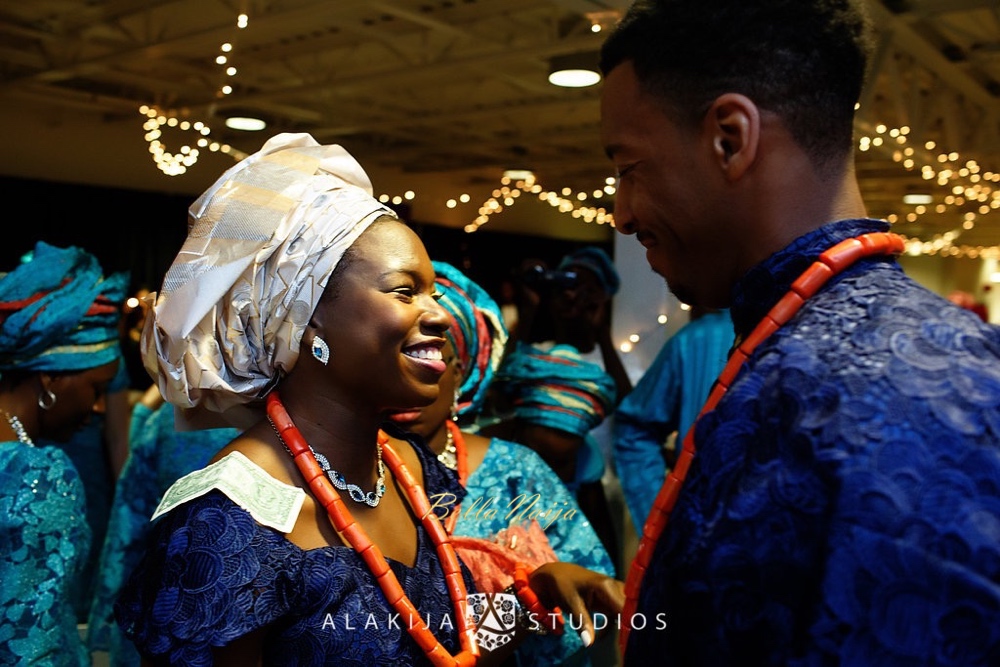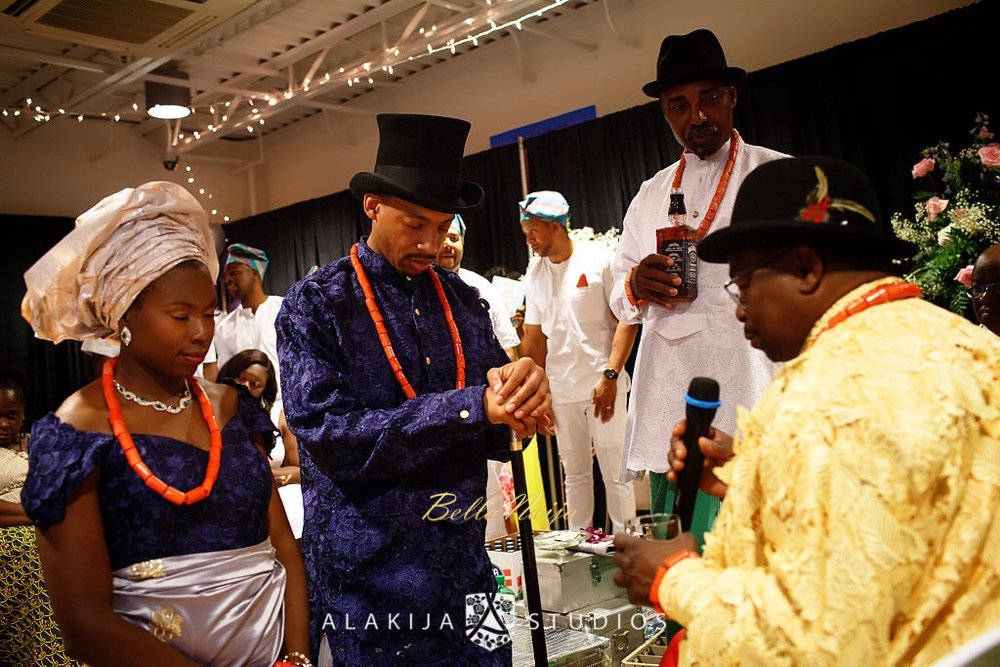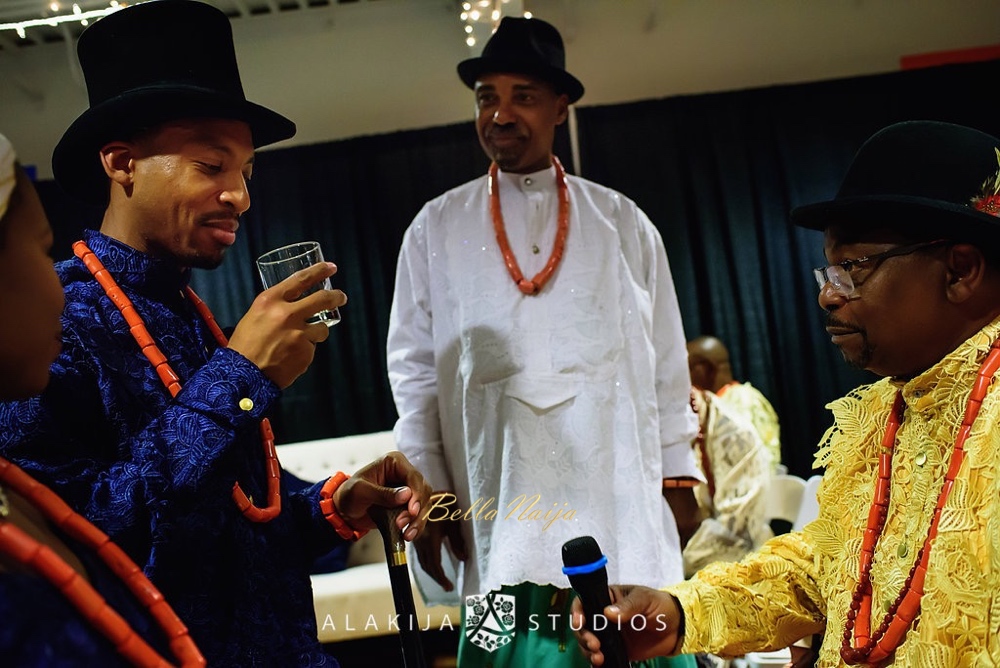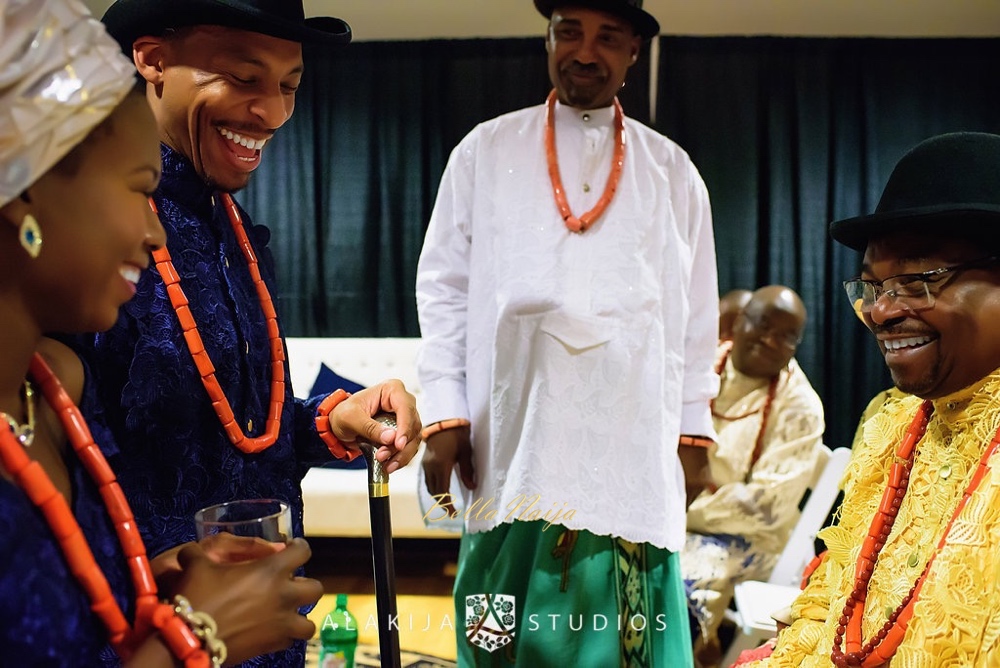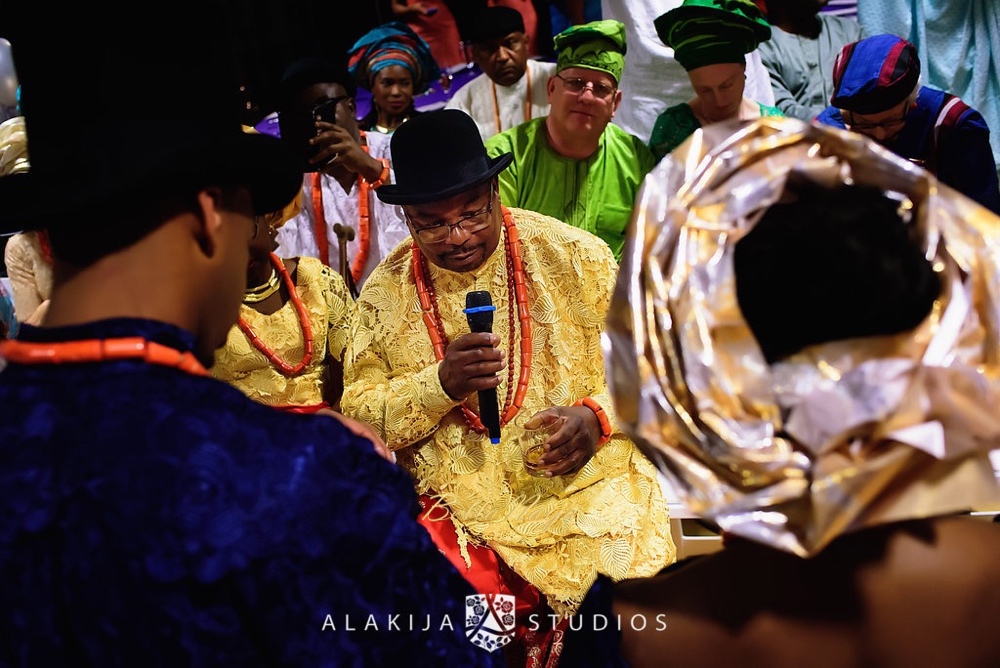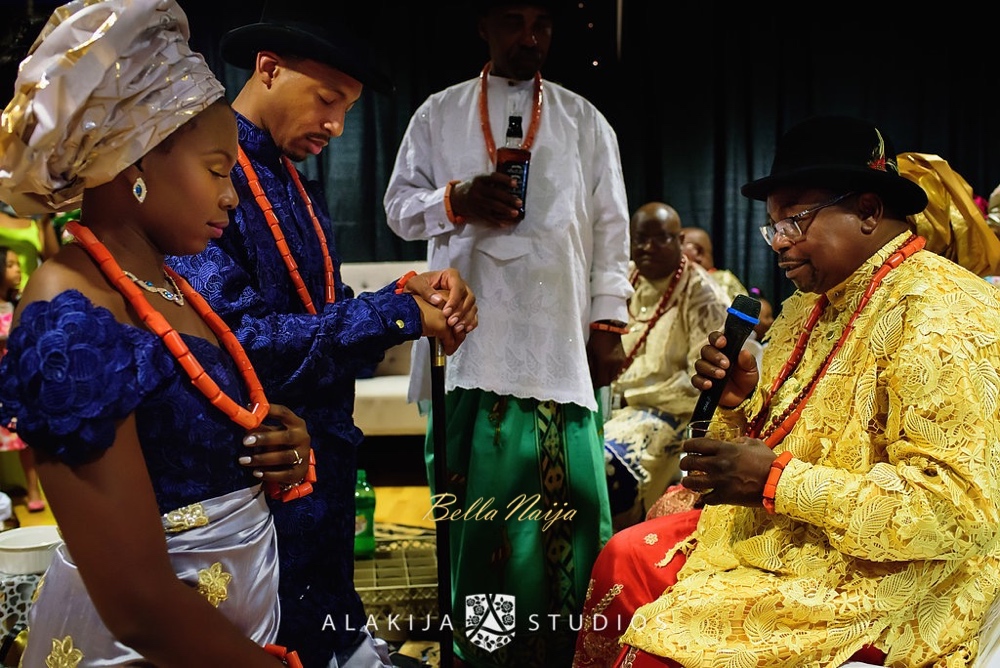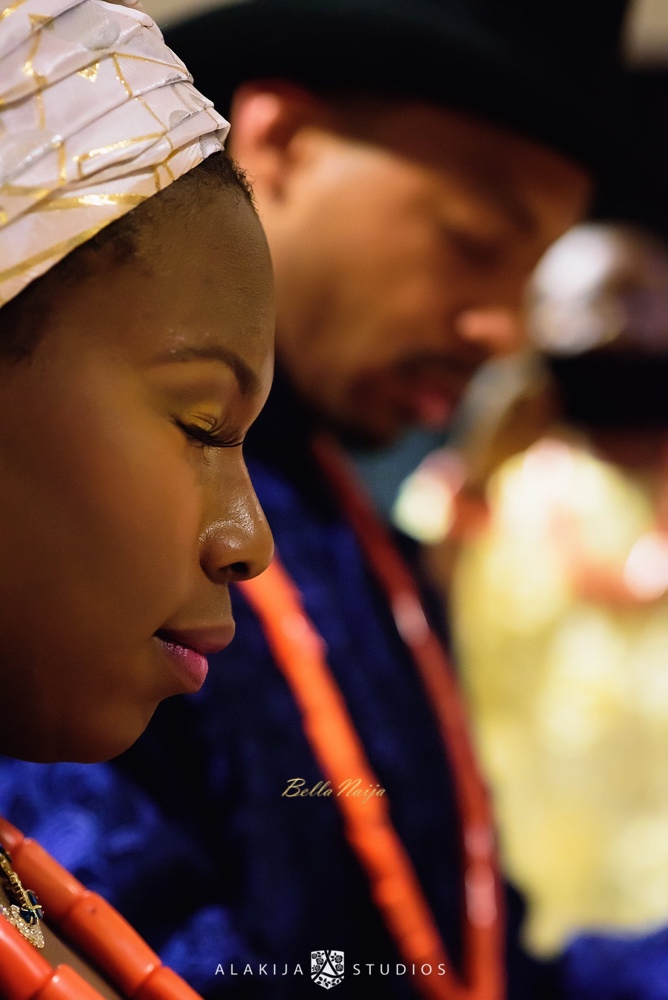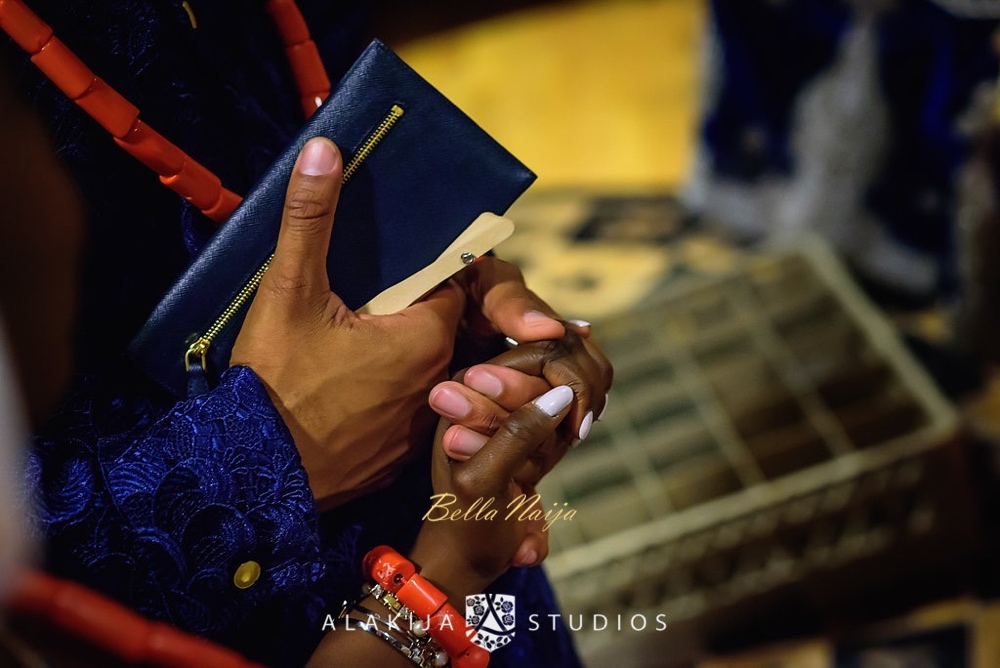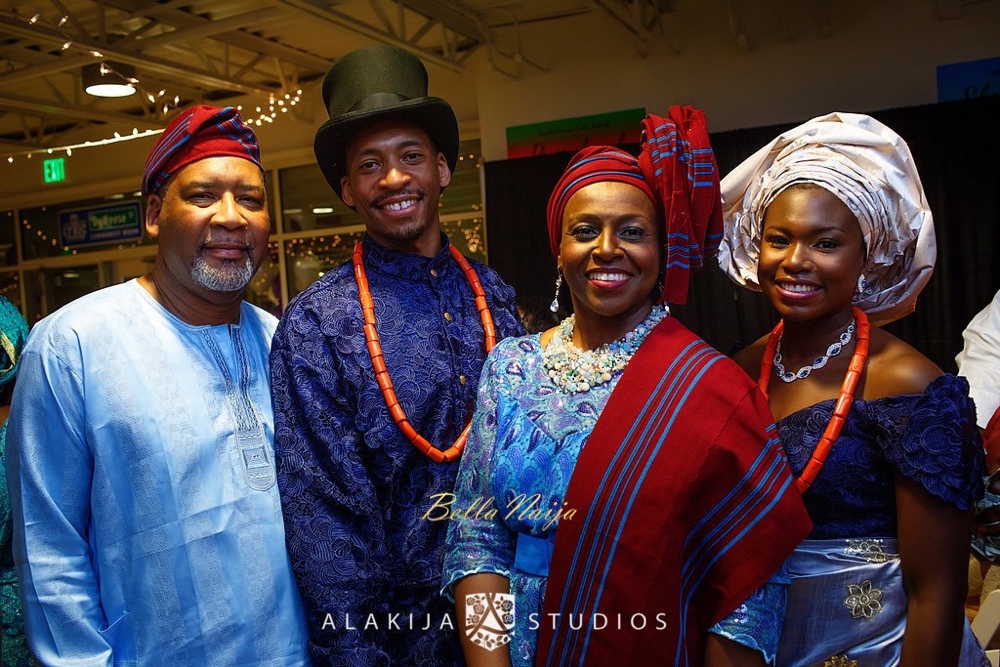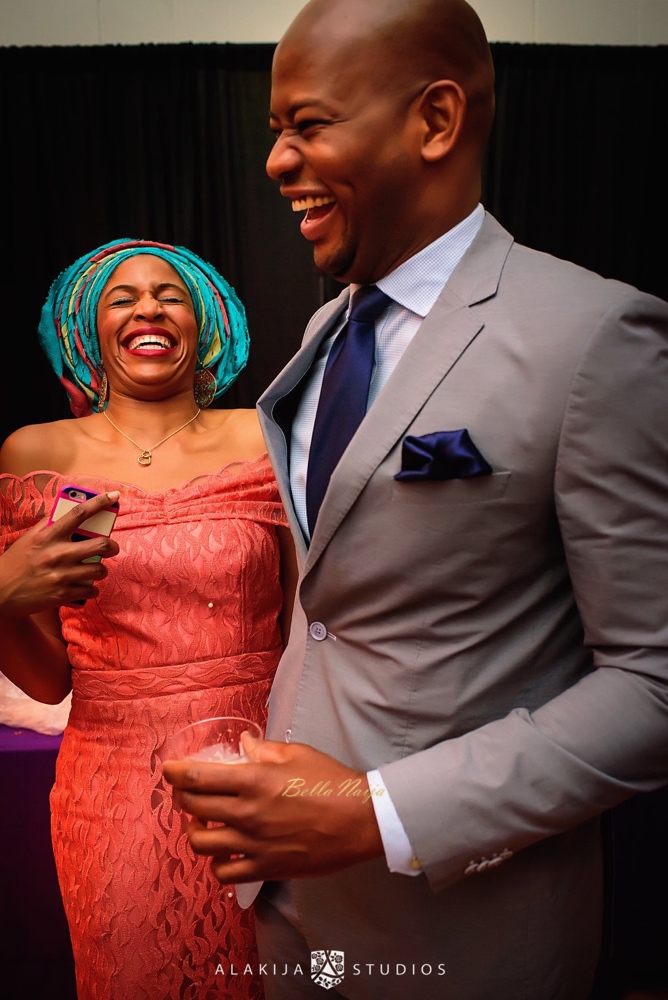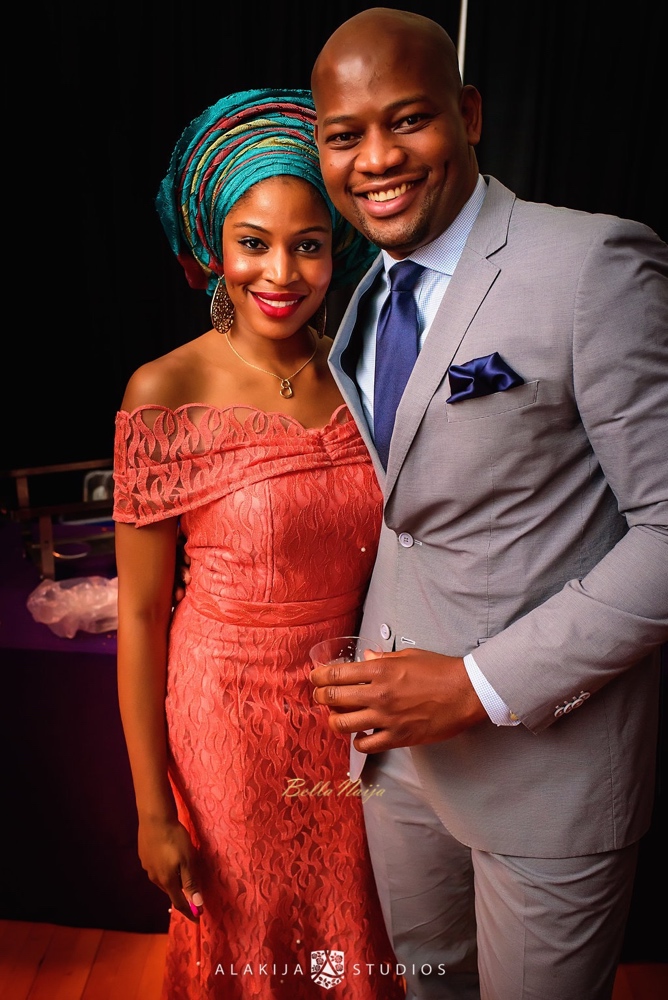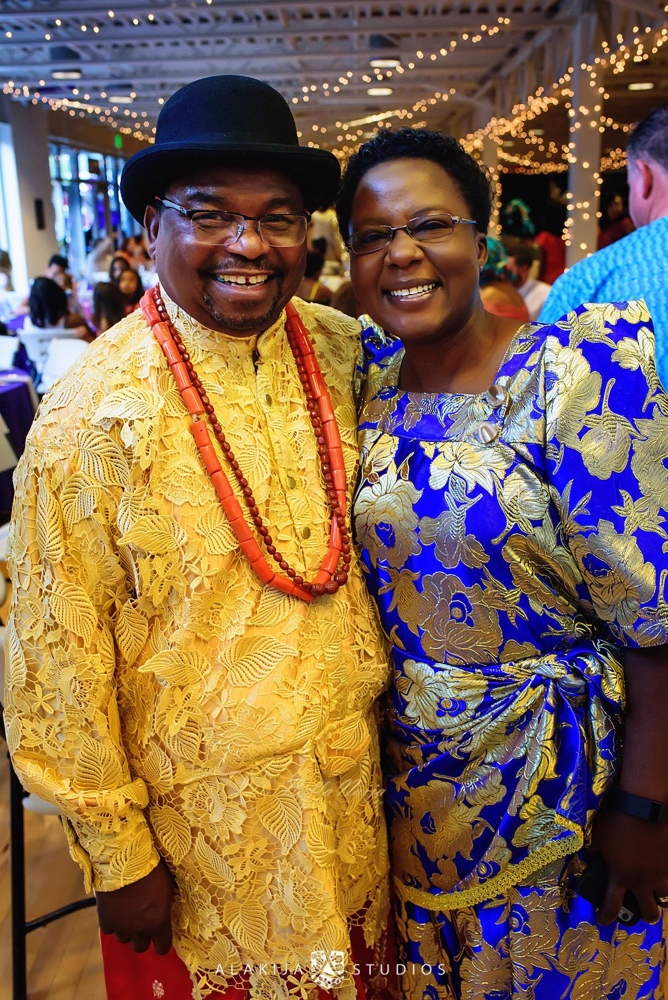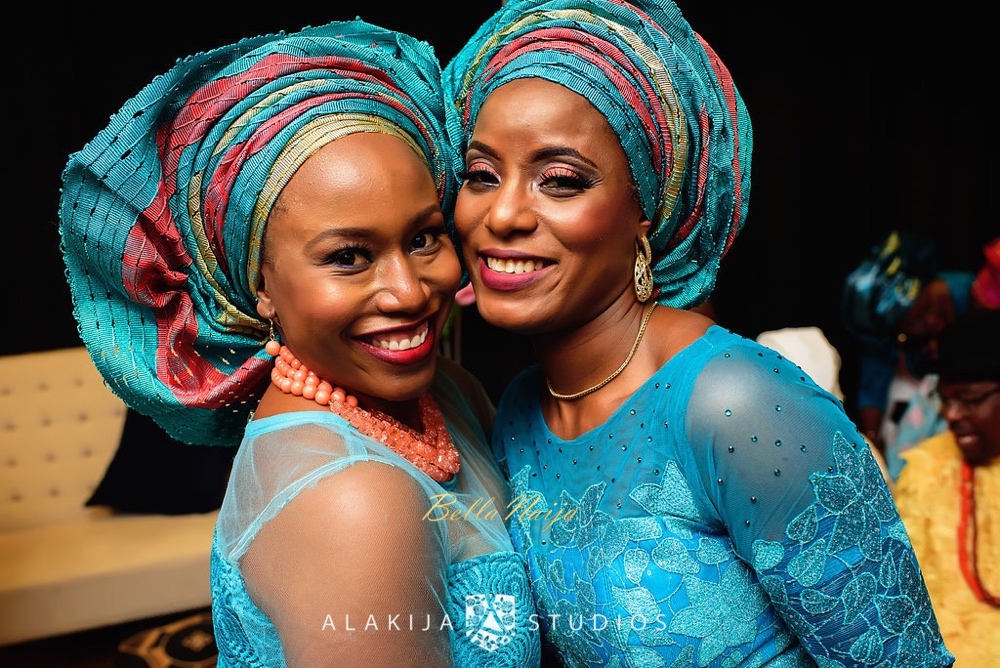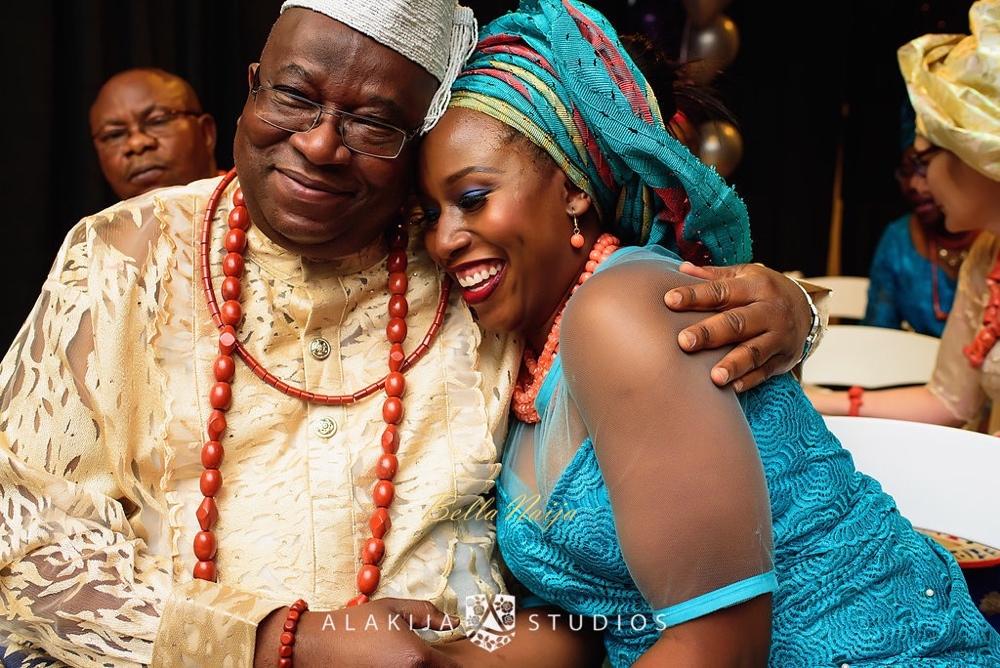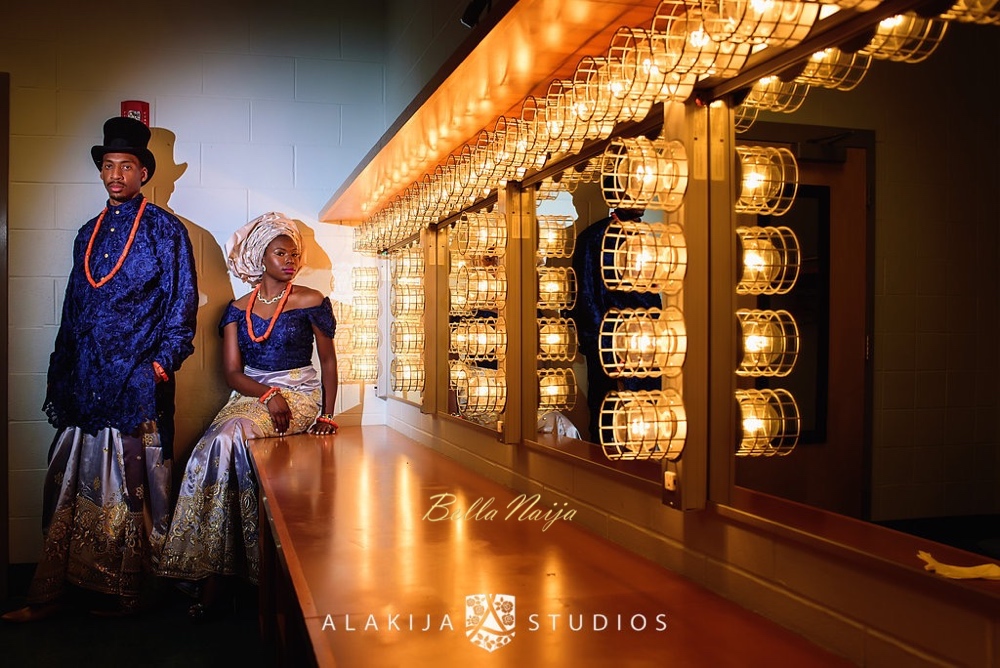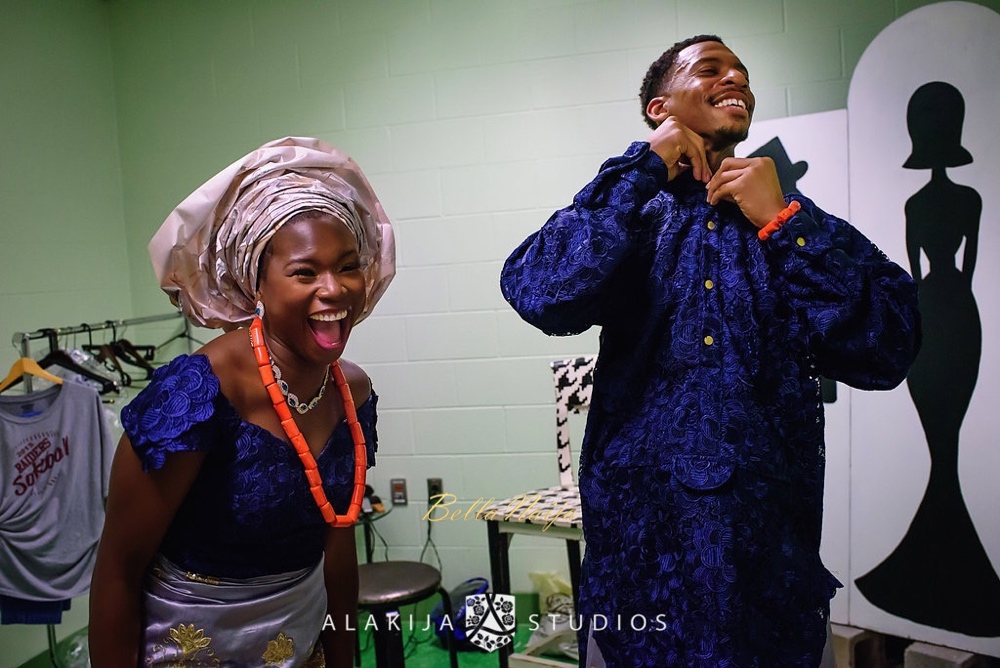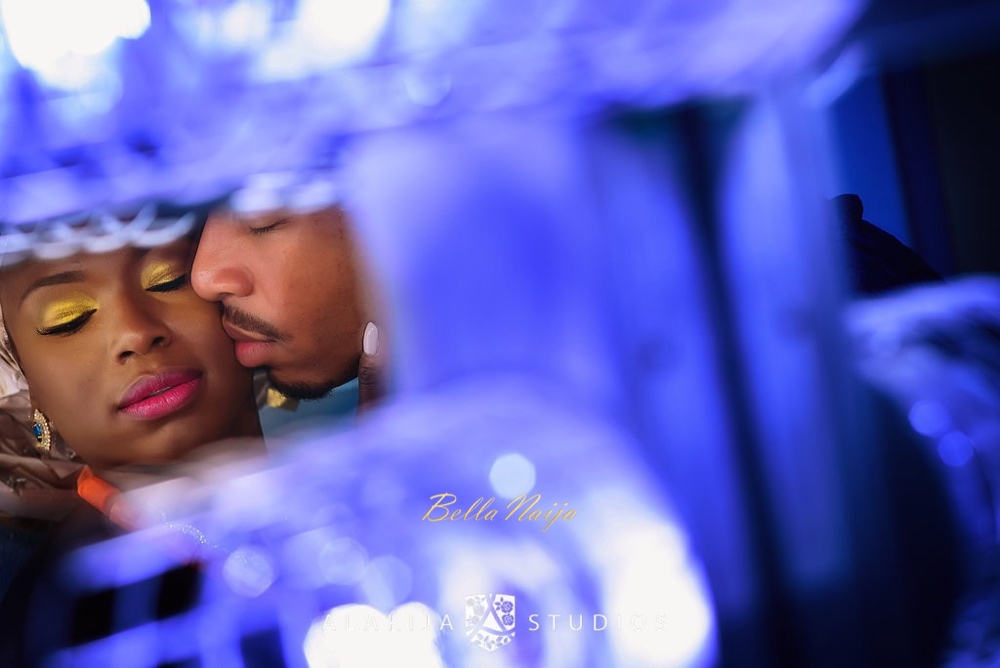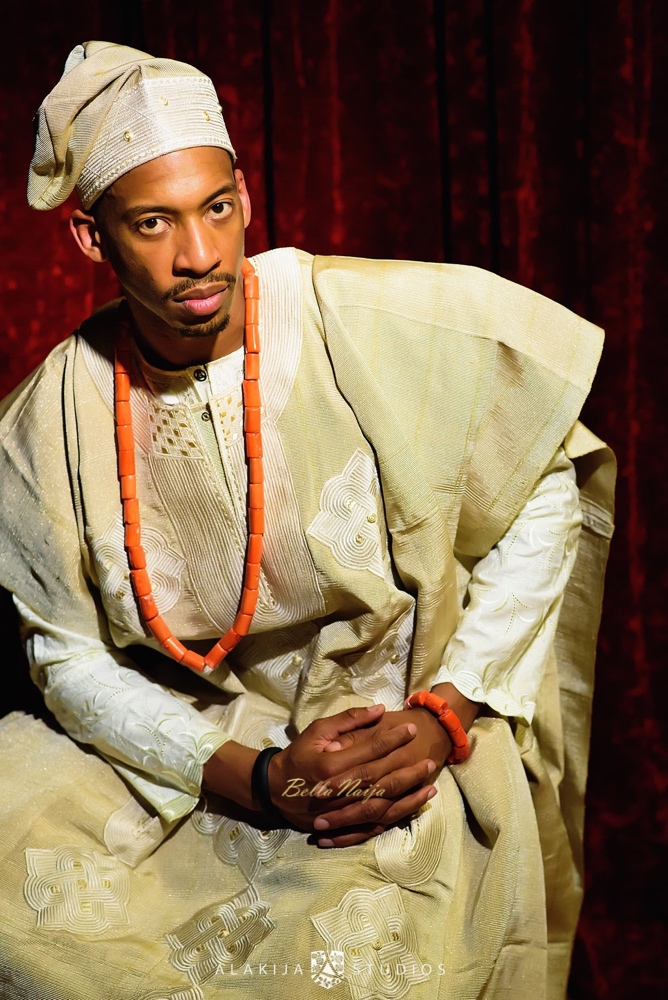 For our Yoruba themed outfit, we wore a custom made hand woven aso oke in gold and champagne, with pearl and rhinestone embellishments. These were complimented by glittery gold  pumps, a chunky gold jewelry, coral beads and a pink gold crystal clutch with a gold heart clasp. The groom accessorized with black velvet slippers with a gold cap toe and coral beads."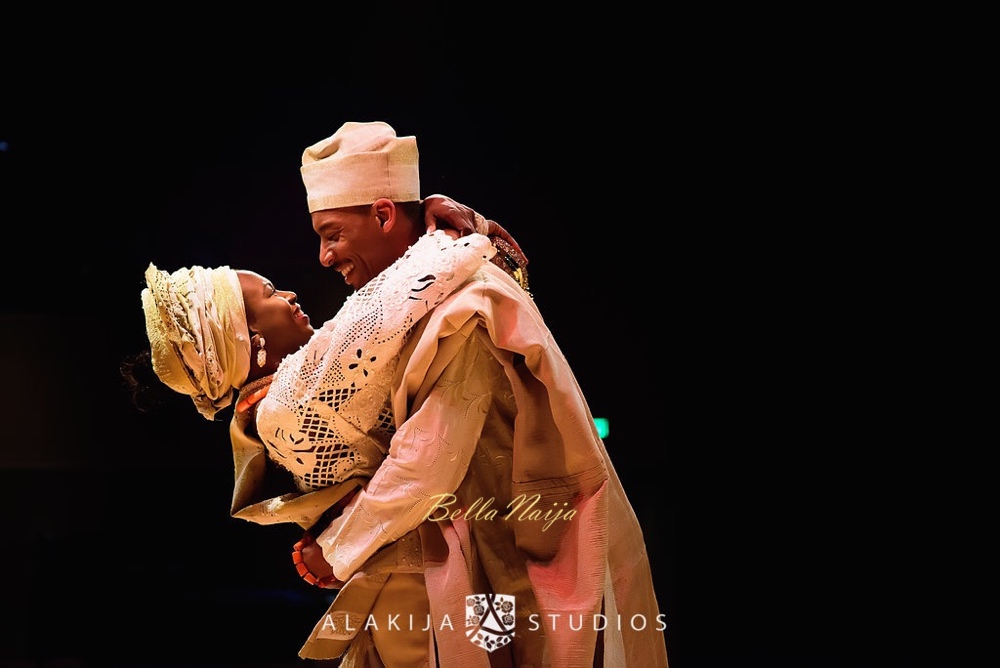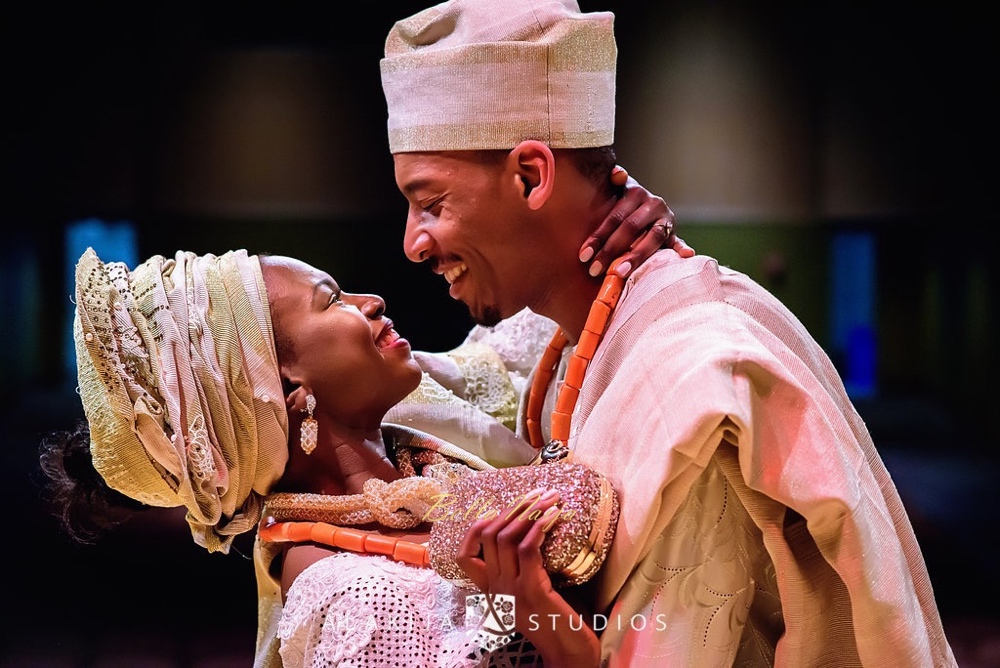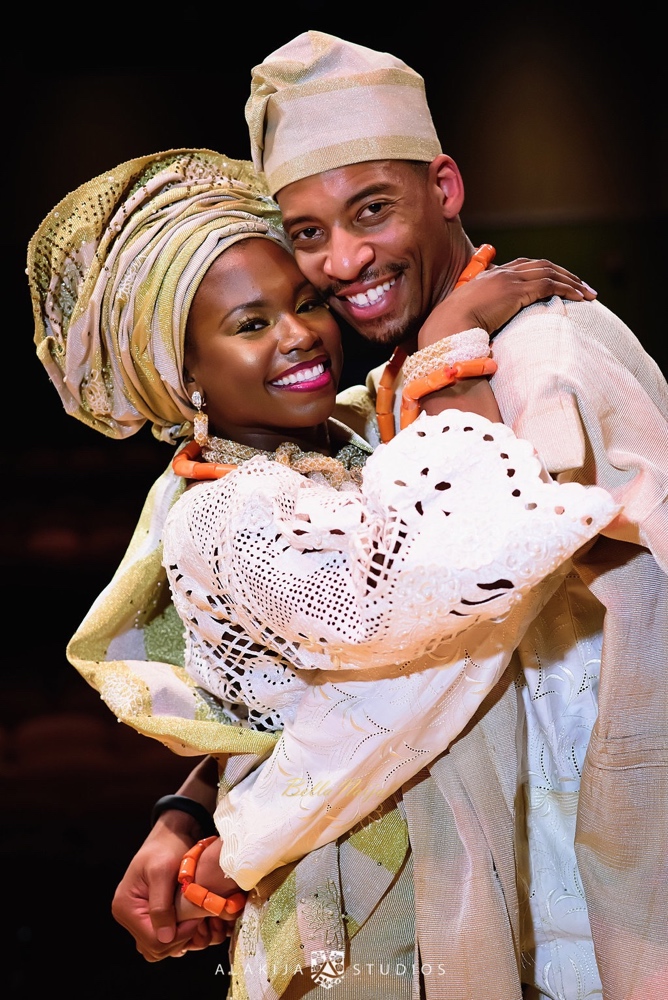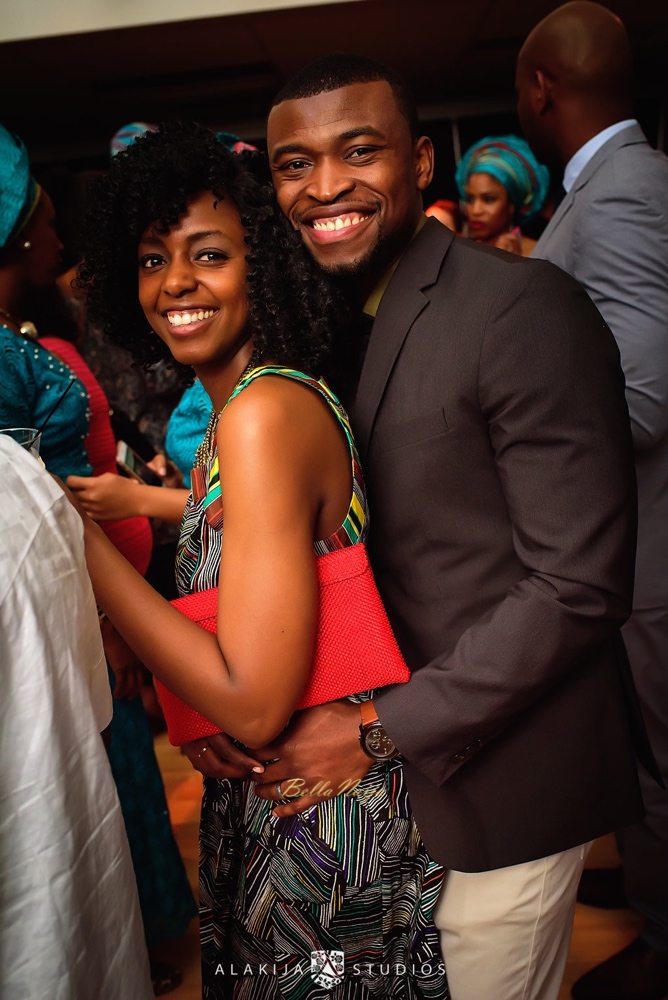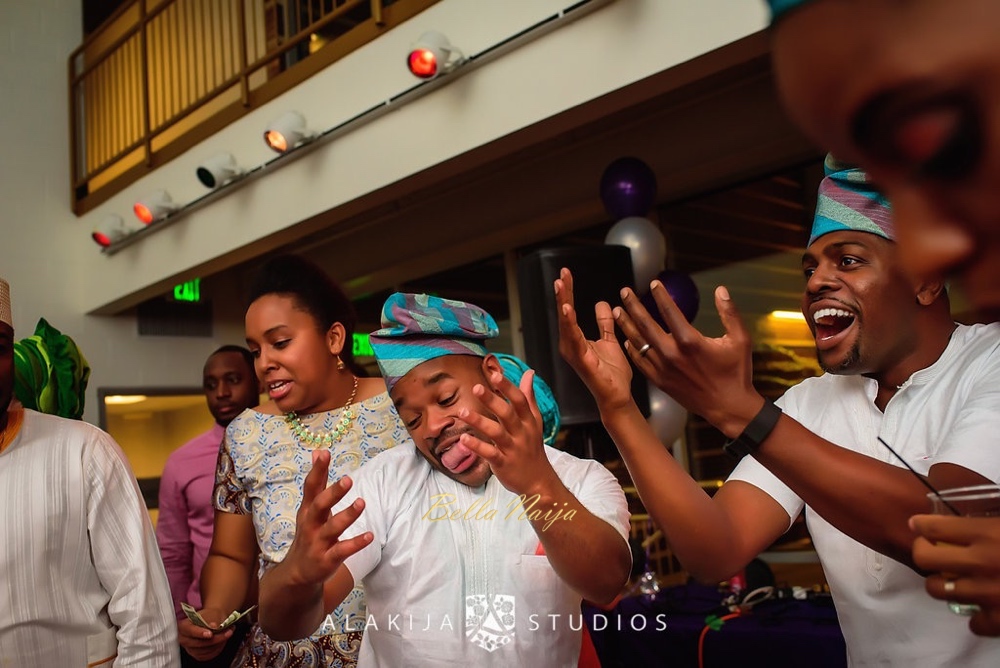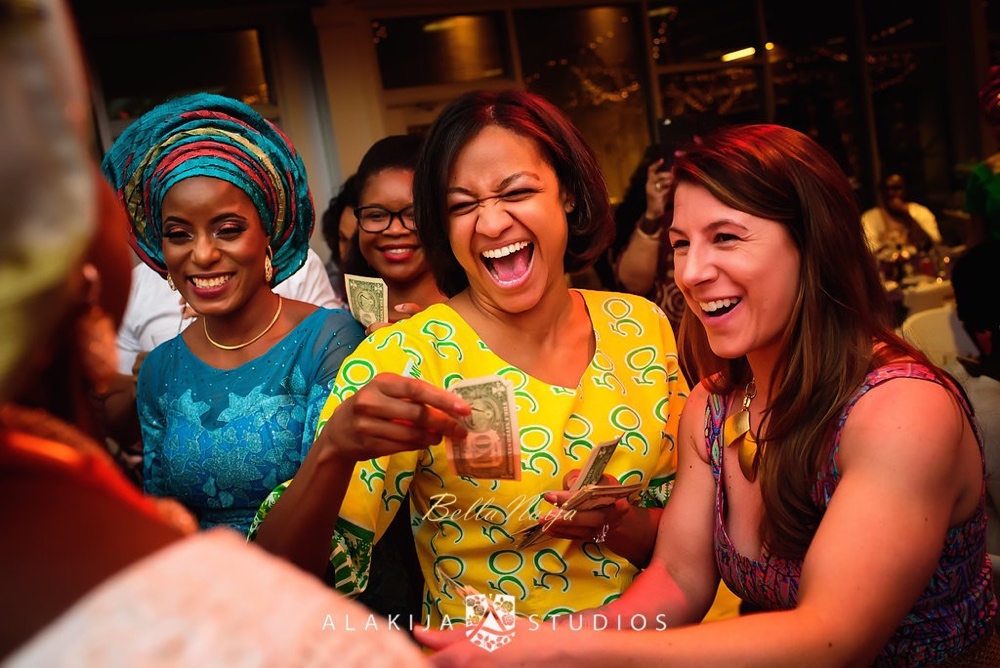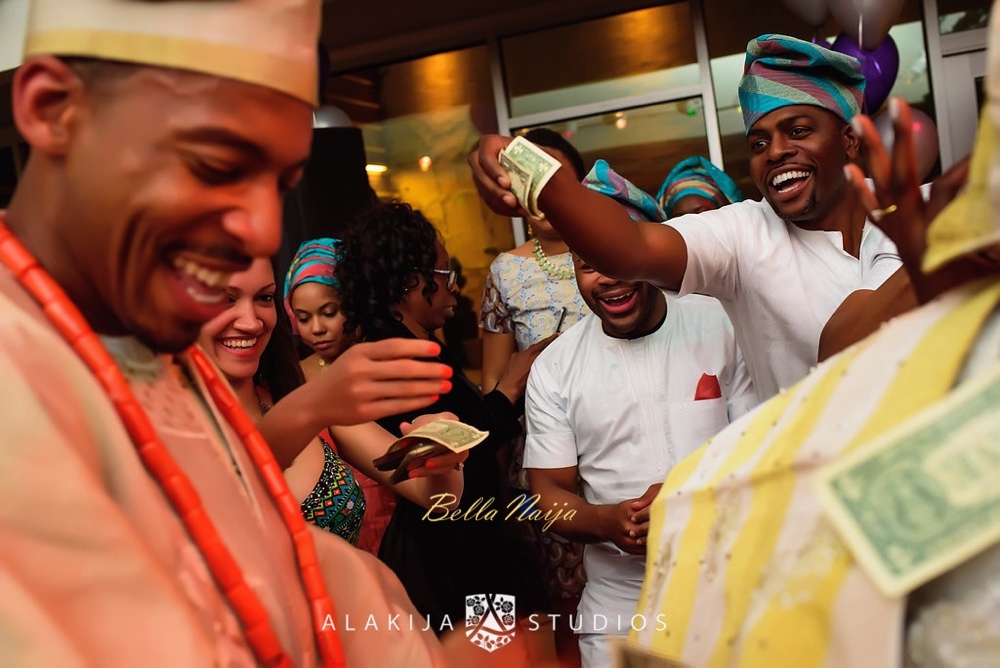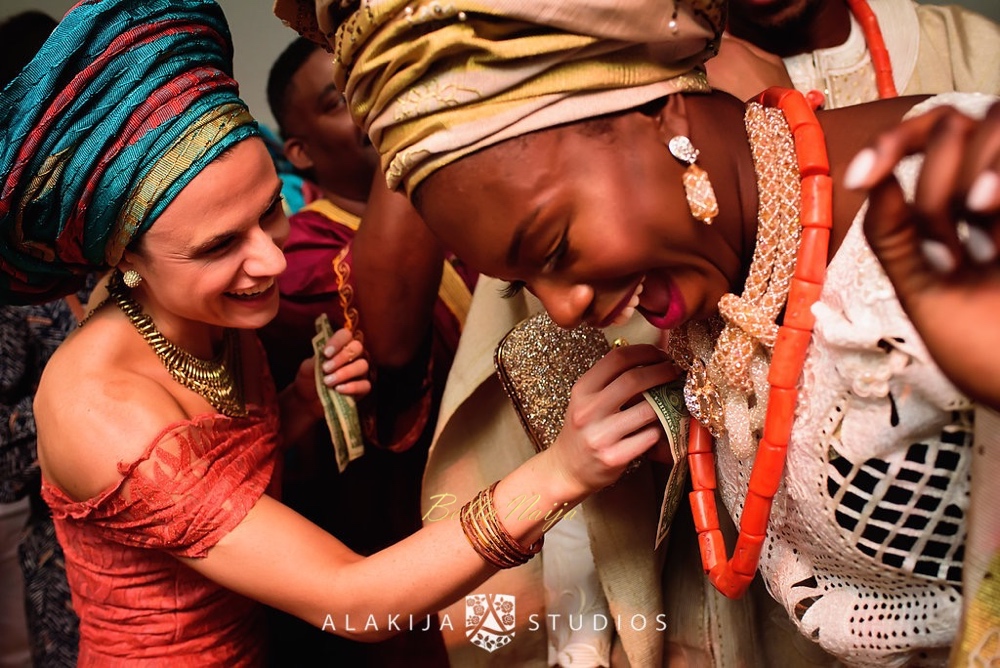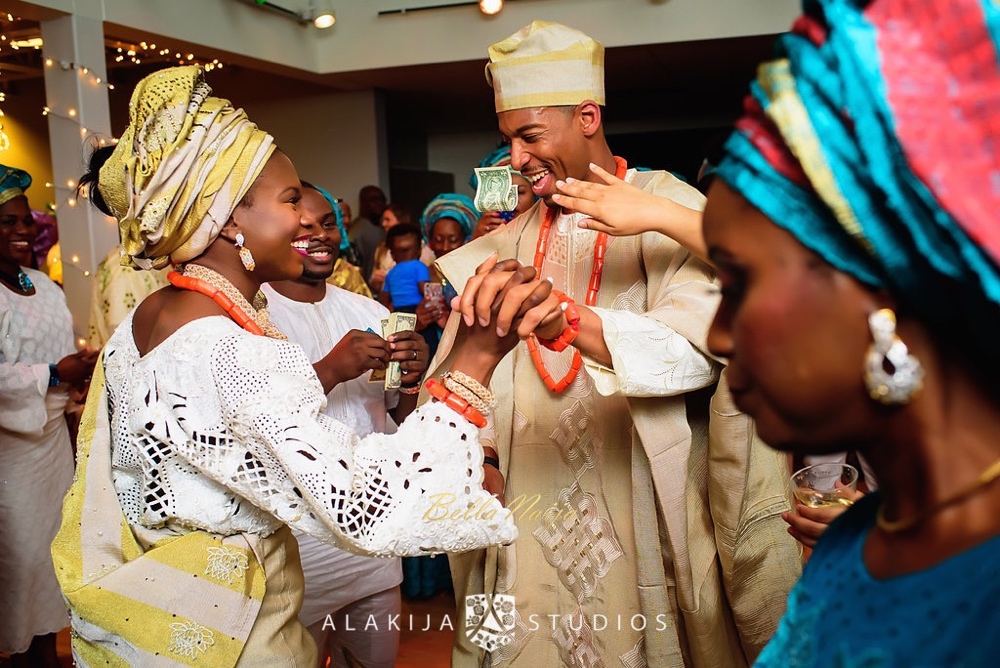 ***
Photography: Alakija Studios | @alakijastudios | email: [email protected] | website: www.alakija.com
Wedding Info – Dates | Venues | Colours
Traditional Engagement Ceremony: April 15th, 2016 | The Lyric Theatre & Cultural Arts Centre, Lexington, Kentucky, USA | Purple and Grey
White Wedding: April 16th, 2016
Wedding Ceremony: St. Peter Catholic Church, Lexington, Kentucky, USA
Reception: The Carrick House, Lexington, Kentucky, USA | Rose Pink, Gold and Navy Blue
Wedding Attire
Wedding Dress: Allure Couture – Style C348
Bride's Shoes (White): Jimmy Choo Abel Glitter Pump
Bride's Shoes (Trad): Badgley Mischka & Jimmy Choo
Bride's Clutch (Trad): Diane von Furstenberg
Bride's Makeup (Trad & White): Omonigho Ufomata | @faarifaces
Bride's Hair (White): Yasmeen Thompson | @yasmeen_t_stylist
Gele (Traditional): Segun | @segungele
Bride's Bouquet: Bonnie at Stems LLC
Groom's Suit: Black Lapel
Groomsmen: Black modern fit Joseph Abboud tuxedos from Men's Wearhouse
Bridesmaids: Floor-length Dessy dresses in suede rose, and the maids of honor in blush. They each got to choose their styles.
Vendors
Wedding Planner & Decor: LexEffect – Hannah Scweppe
Food and Drinks: Provided by Venues
Favors: DIY
Traditional Cake: Flat white cake with kola nut, bowler hat and coral beads by Mondelli's Bake Shop
White Wedding Cake: 4 tall tier cake with pearl shimmer, alternating gold pearls and gold bands, topped with fresh flowers by Tinkers Cake Shop