At the redemption party of the ongoing Ribena Back to School Scholarship, the parents of the beneficiaries shared how their children became beneficiaries of the N100,000 scholarship.
Harry-Anyibuofu Jeremiah (Abuja)- Mum of 1 year old Jeremiah shared her excitement at the redemption party. "At first, I didn't believe it, not until I got a call confirming that my child has won a scholarship and I will be sharing the message. My colleagues at work, have started buying Ribena too."                                                                  
Anuoluwapo Ajala (Surulere, Lagos) – Her dad revealed she chose the winning promo pack by herself. "Anu loves Ribena very much and takes it to school every day, we were shopping for her back to school pack when she spotted the carton and luckily for her it had the winning smarty berry sticker in it" said her dad. Now Anu has N100,000 scholarship just for loving her favourite drink Ribena.                                                                                                                                                                          
Gold Chinedu (Ijesa, Lagos) – The father of the 8 year old shared he bought the carton of 150ml Ribena for his daughter. To his surprise he found the smarty berry sticker among the buddy berry stickers. He was pessimistic about the credibility of the promo but followed the instructions on the sticker anyway. Now he has received N100,000 scholarship from Ribena for his daughter just for buying her favourite drink.                                                                                                                        
Dorcas Kunle (Benin) – 8 year old Dorcas' cousin Bamidele Ojo who is also her guardian shared "When I first saw the sticker, I was like, 'this thing, could it be real?' But since I had nothing to lose, I scratched and sent the code. Then some days later, I got an SMS, telling me where to go for confirmation. Thumbs up Ribena. Thank you and Thanks to God for making us one of the winners.                                                                                                                                                                                                        
Watch two of the latest winners of Ribena Back to School Scholarship promo 4 year old Anu and 8 year old Gold declare their love for Ribena https://youtu.be/qj8ywBuDOr8
Even as the schools are resuming, children are still winning from all over the country and the fun part is all they have to do is find the Smarty Berry Sticker in the 150ml pack send the code on it to 65432 and just like that school fees for the next session is in check.
For more info, follow the instructions in the poster below.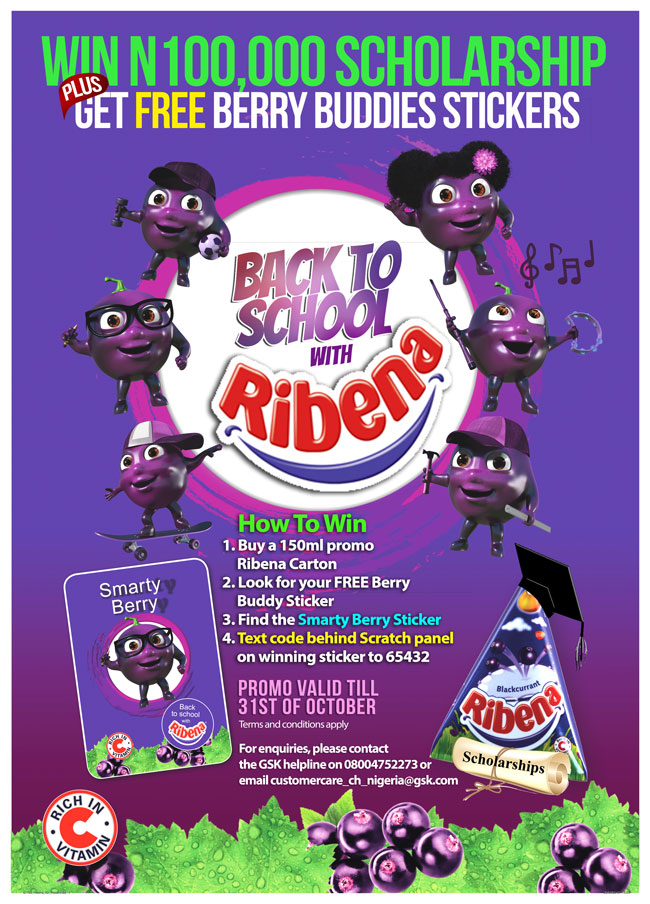 ________________________________________________________________
Sponsored Content