Hey Fam,
Thank you so much for all the kind words from our first entry. I'm blowing a hundred air kisses your way.
Jet lag is not so bad today so I am up and about. Toronto has been very calming for me. The people are quite nice and helpful. The Nigerians here are laid back and friendly. They keep offering me lots of delicious tasting Nigerian food so it is hard to miss Naija just yet.
Here's what I've been up to so far:
Petite complications and white shirts
It was time to get ready for the second screening of '76 and my stylist always has kind words to say 😉 Was she trying to say something at the very end of the video? *Rolling my eyes*
"'76" was screened again to a sold out audience at the ScotiaBank theatre, downtown Toronto. I was ready and waiting for Ramsey and Chidi but they seemed to think otherwise. They had a few nice words to say about it 🙂 but at the end of the day, twirling in my Elvira Jude skirt was worth it.
For my outfit of the day my makeup was done by Trop Belle with Styling by Yummie Ogbebor. I rocked a pair of Christian Louboutin pumps with an H&M shirt and my Elvira Jude skirt.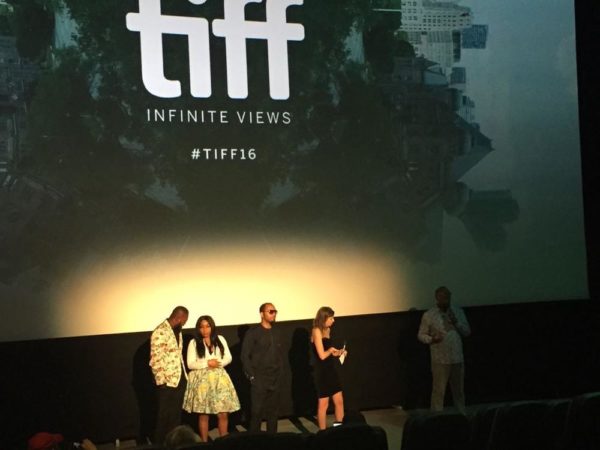 The Reviews keep coming
Here's what The Hollywood News had to say: "Ramsey Nouah as Joseph Dewa and Rita Dominic as Suzy are natural performers full of morality with full commitment to their situation. I think this was an important story to be told"
The Film Stage goes in depth to the heart of the matter; "These characters are crucial to our investment because they're good at heart despite losing their way on the path towards righteousness. There are many temptations whether Dewa's compatriots looking to acquire his ID card to cement him as a member of the coup or Jaiye gradually chipping away at Suzy's resolve so she begins believing her husband's a criminal. We yearn to know how their relationship will progress even though the political turmoil should be more universally pertinent. But that's not why we're here. This isn't some war epic about rebellious heroes succeeding or failing for their convictions. It's about a husband and wife striving to survive outside forces in private and public seeking to destroy them. If true innocence can't be upheld, what's the point anyway?"
I can't wait for you guys to see '76 with all my heart! I have to tell you there are tons of images that didn't make the final cut. I am secretly hoping director Izu Ojukwu, or producer Adonai Owiriwa release them some day as part of the BTS.
City to City Party at the Shangri-La
I wanted to go watch another film after our screening but we were whisked back to the hotel to get ready for the next event. This was the City to City party at the Shangri-La hotel, downtown. Yummie hooked me up in this Moofa Designs Face Print dress, Madam Bling jewellery, Eddie Parker clutch and YSL shoes. Tres chic, tres comfortable!
There were a lot of filmmakers at the party, champagne flowing and lots of finger food. Yum, Yum but yours truly could not eat much! Here I am flanked as usual by my amazing co-stars.
Here is also one of myself with Chidi Mokeme and the GM of Toronto Raptors, Masai Ujiri.  I am not a big sports fan but Google tells me the Raptors are a basketball team based here.
All white, all night
For the premiere of Okafor's Law (thumbs up to the cast and crew by the way, I laughed a lot) we decided on this gorgeously tailored white jumpsuit is by Ejiro Amos Tafiri, Trop Belle hooked me up with these really dark smoky eyes and we were set!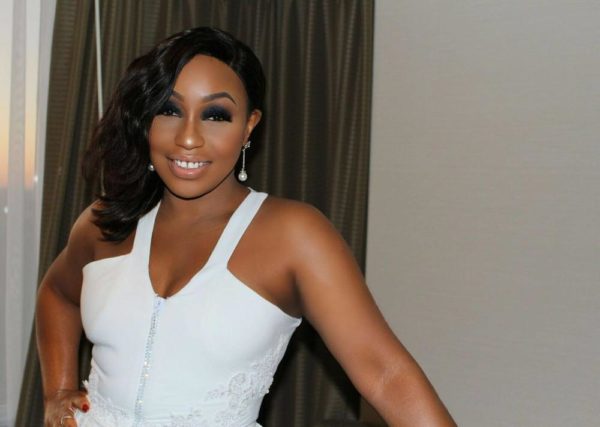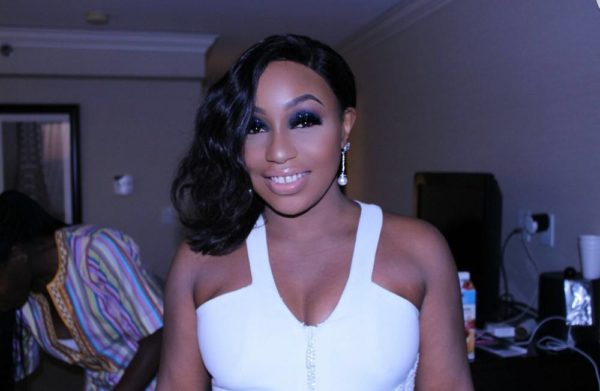 Black for The Young Hollywood party hosted by Lexus
For this party, I had on this divine custom made Yuteerone mid length- sheer black dress. Styled as usual by Yummie Ogbebor with make up by Trop Belle. It was a very busy night of networking for us.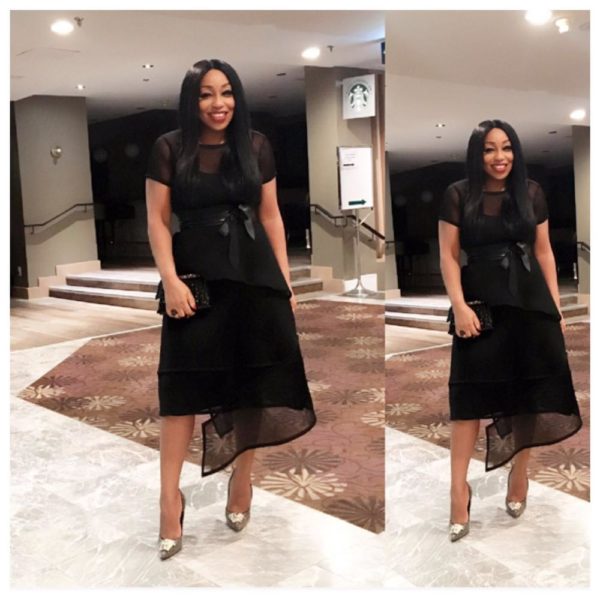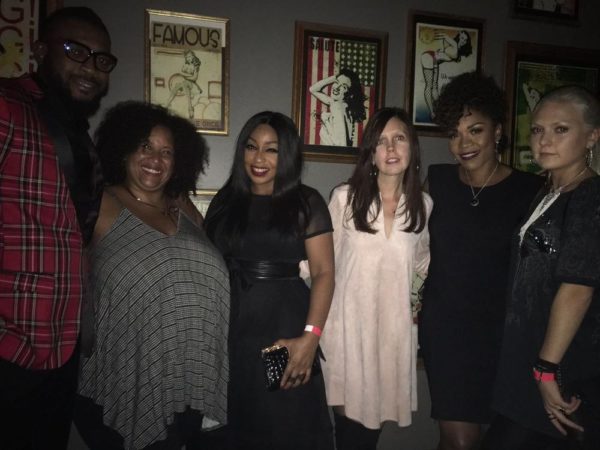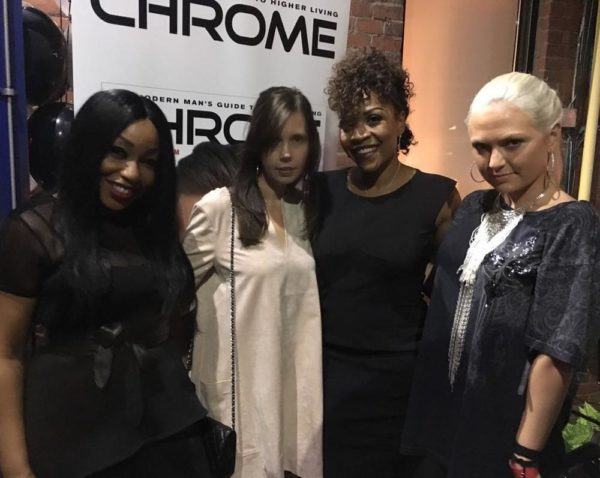 Thanks again for your time. TIFF is coming to an end and my next post will be our final for Lagos to Toronto…
Hugs and Kisses…
****
For more on Rita Dominic follow her on Facebook.com/OfficialRitaDominic | Twitter.com/RitaUDominic | Instagram.com/RitaDominic