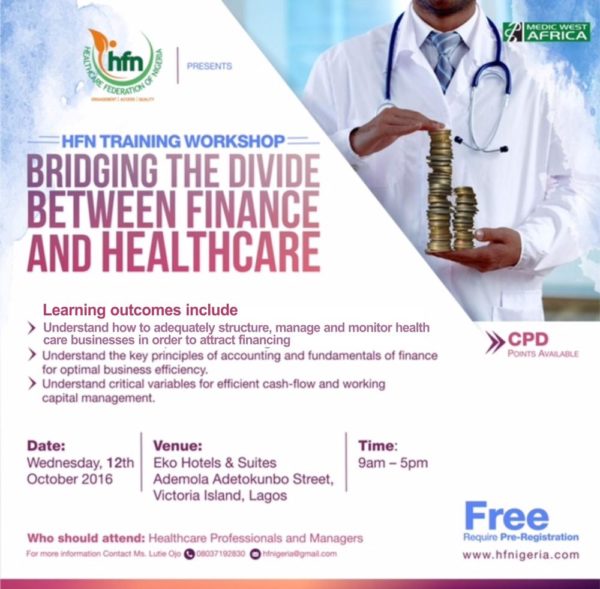 Healthcare and Medical Entrepreneurs in Nigeria are often faced with multiple challenges. Asides from compliance and regulatory issues, and the mandate as a health professional to provide stellar services which meets the needs of patients, health care practices must essentially operate as a profitable business ventures if they are to keep their doors open to the public.
The Health Care Federation of Nigeria (HFN) is an active coalition of Nigerian Private Sector professionals whose mission it is to improve healthcare indices and create an environment where Nigerians can receive affordable and accessible healthcare of the highest quality.
In partnership with Medic West Africa, the largest medical exhibition in West Africa, which brings together over 3,500 healthcare professionals and host more than 280 of the world's leading healthcare suppliers, manufacturers and service providers, HFN will be providing one of 6 educational conference tracks will take place during the exhibition
The training aptly titled, Bridging the Gap between Finance and Healthcare aims to take medical entrepreneurs through a one day CPD course which will help participants to adequately structure, monitor and manage their businesses in a manner which will attract capital and funding from financial institutions. Other learning outcomes of the workshop will include;
A deeper appreciation of key principles of accounting and fundamentals of finance for optimal business efficiency;
An understanding of critical variables for efficient cash flow and working capital management; and
A key understanding of the business numbers which drive successful business decisions
Facilitators at the workshop will include representatives of major financial institutions and banks as well as faculty members of Arkounting Business Concepts, a financial advisory and management consulting firm which provides outsourced financial management and management consulting services. Arkounting faculty members are first class chattered accountants with over a combined 30 years of experience providing finance and accounting oversight to micro, small and medium scale businesses.
The workshop will take place on Wednesday 12th October 2016 at the Eko Hotels and Suites. Admission to the workshop is free, however pre registration is required via www.hfnigeria.com
Date: Wednesday, October 12th, 2016
Time: 9AM-5PM
Venue: Eko Hotels and Suites, Victoria Island, Lagos.
For further information on the workshop please contact Lutie Ojo on [email protected]
_________________________________________________________________
This content has been published for free as part of BellaNaija.com's commitment to youth, education, healthcare and community development as part of our corporate social responsibility programme.