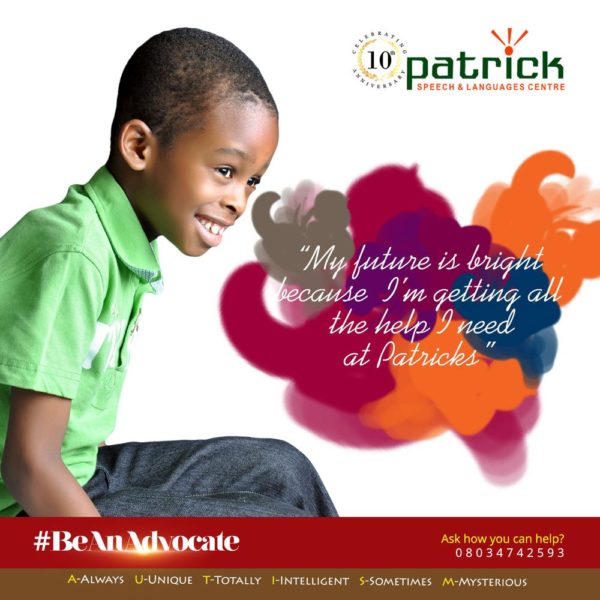 In the year 2000 at the age of two, Mrs Akande's son was diagnosed with autism in Nigeria. After the diagnosis, there was no information on the way forward. With the help of a mother (her son's paediatrician) she found a speech therapist to work with her son three days a week while she taught her son all the other skills needed with assistance by his school teacher. Slowly over a period of six years, combined with music therapy, her son emerged from his shell a mathematics genius. With this revelation of hope she decided to set up a centre in Nigeria.
On the 11th of September 2006, Patrick Speech and Languages Centre opened its doors to the public and as you can imagine establishing the first centre in Nigeria dedicated to individuals with autism was tough.
To date, the centre has seen over 500 children out of which 260 at various times have enrolled into our programme at the centre. We have been able to integrate over 50 children into mainstream schools. We are proud to be the first Certified Autism Specialist (CAS) by International Board of Credentialing and Çontinuing Education Standards (IBCCES)  in Nigeria.
In 2012, we released our flagship movie on autism, titled "Silver Lining," and since then we have released four short documentaries to the general public.We have been instrumental to the start of the yearly Autism Conference organised by one of the leading banks in Nigeria GTBank.
One of the key challenges we are having is the ability of parents to pay our subsidised fees. Many people would rather spend millions to train a neuro-typical child than a child with developmental challenges. We have had to find ways to raise funds to support these families. Parents that are involved and have been patient with therapy have reaped the fruit as there has been seamless integration of children into mainstream schools. The centre currently provides services such as speech therapy, behavioural modification, sensory integration, occupational therapy, pre-academic skills, social skills development, physical therapy, vocational services and music therapy.
Join GTBank, Vlisco, Murtala Mohammed Foundation, TWMagazine, Kate Henshaw, Monalisa Chinda, Michelle Dede, Nikky Laoye, Noble Igwe and all our parents, partners, supporters and friends in our #BeAnAdvocate Campaign. September 11th 2016 will be a fun evening to celebrate how far we have come and share plans and raise funds for the next ten years.
Date: Sunday, September 11th, 2016
Venue: Harbour Point Event Center, No 4, Wilmot Point Road, Off Ahmadu Bello Way, Victoria Island, Lagos.
Support us in any of the following ways:
Buy a table of eight for N1,000,000
Buy a ticket for two for N250,000
Donate directly to the music /computer rooms
Build a room/unit – Named after you
Make an independent donation to the project online
Visit our website, like us on facebook and follow us on instagram. Call us on 08034742593 or 08099015000.
Attendance is strictly by invitation.
#BeAnAdvocate
_____________________________________________________________________
Sponsored Content