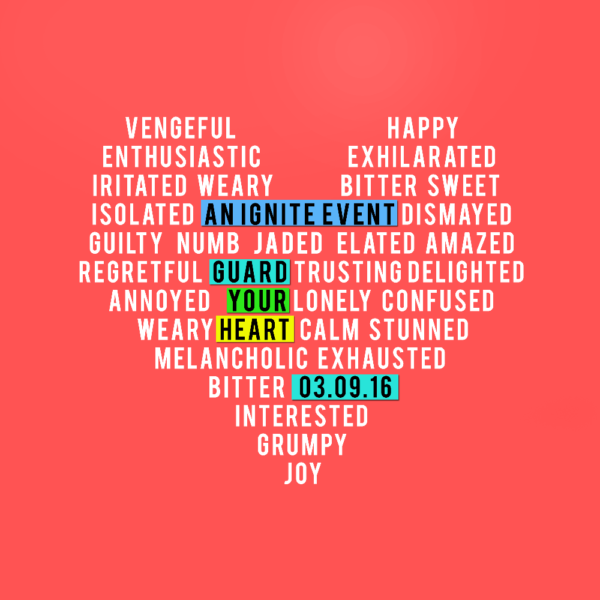 The stress level in this life right now is unbelievable. From financial woes, to insecurity in our society, worrying about our children, trying to make relationships work, hustling in our careers and everything going on in the media, there's almost no end to the issues that bombard us daily and weigh heavily on our hearts.
Before we know it, we find ourselves discouraged, unmotivated, hard-hearted, unforgiving…We stop trusting people, we become disillusioned and we stop trusting God.
How do we solve this?
Here's what the bible tells us to do:
"Guard your heart above all else, for it determines the course of your life." (Proverbs 4:23 NLT)
See, the Heart is more powerful than we realise. It is also more sensitive than we realise.
It's in our hearts that we pick up offenses, we feel stress, we get heartbroken, experience disappointment…
It is also in our hearts that we experience joy, love, peace, encouragement and passion to fulfil a purpose.
All the negativity we pick up from our struggles in life chokes the good in our hearts, and that is why we must guard it and protect it diligently.
Alright, but how exactly do we do this 'guarding'?
Join us for some really Great Food, awesome people & intimate fellowship with God this Saturday, as we discuss how to guard our hearts, and even what to guard it from.
Date: Saturday, September 3rd, 2016
Time: 4pm,
Venue: Guiding Light Assembly, Parkview estate, Ikoyi, Lagos.
Theme: Guard Your Heart
Okay, so who are these amazing people you'll be fellowshipping with?
We are Ignite, the youth fellowship of Guiding Light Assembly church, parkview, Ikoyi. We're a bunch of young people who are passionate about Jesus, and trying to figure out practical ways to live for Him in our everyday lives, outside of church.
We meet on the first Saturday of every month to discuss how to apply biblical truth to our real lives.
For more information about us, please follow us on social media everywhere!
Instagram: @ignitegla
Twitter: @ignitegla
Facebook: Ignite Gla
Snapchat: @ignitegla
Periscope: @ignitegla
YouTube: Ignite Gla
Visit our blog: www.ignitegla.org
Email us at: [email protected], [email protected]
_______________________________________________________________
Sponsored Content