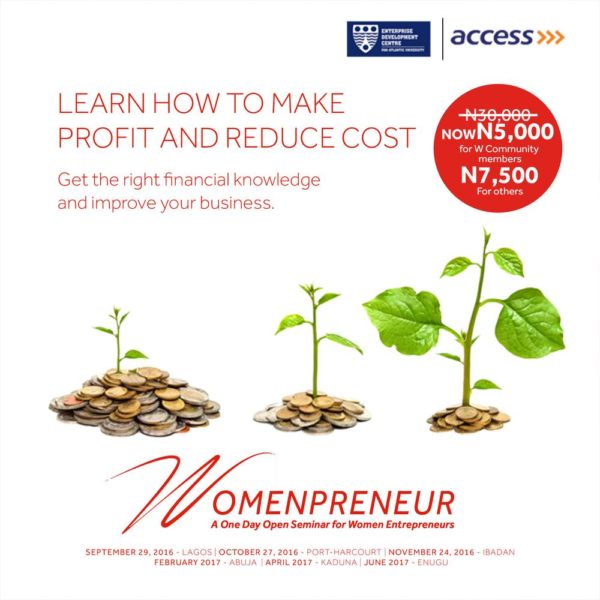 Are you a budding or established Womanpreneur? A passionate female currently building the empire of her dreams?
That's amazing! We celebrate your courage, drive and innovative spirit at Access Bank's W Community. To help you stay ahead and maximize your business opportunities, here is an exciting training initiative tailored to meet your business needs.
In partnership with the Enterprise Development Centre (EDC), W Community will be hosting an exclusive financial skills programme for female entrepreneurs.
Participants will learn the following modules, both theoretically and practically, with industry experts and consultants as facilitators:
Effective Sales Marketing Management
Legal and Tax issues
Financial and Operations Management
General and Operations Management
Personal Productivity Skills
Human Resource Management
Customer Service Management
Entrepreneurial skills and Presentation
This program is set to be very hands-on, providing a skillset needed in today's dynamic marketplace and for managing current economic realities.
Venues and dates
Lagos: September 29th, 2016
Port Harcourt: October 27th, 2016
Ibadan: November 24th, 2016
Abuja: February 2017
Kaduna: April 2017
Enugu: June 2016
Special offer: The session has been discounted from N30,000 to N5,000 (Five Thousand Naira Only) for W community members/account holders, and N7,500 (Seven Thousand and Five Hundred Naira Only) for others.
To register:
Make payment using the account details below:
Account Name: Access Bank Women Banking Events
Account Number: 0694332364
Please send your confirmation of payment to [email protected].
To learn more about the W Community, visit the official website.
_______________________________________________________________________
Sponsored Content