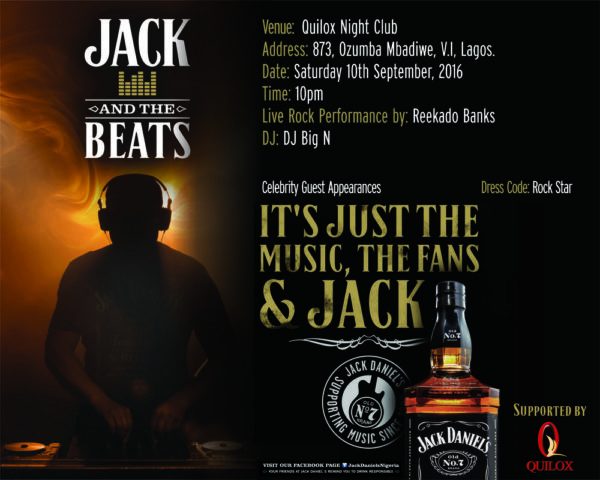 Friends of Jack have another opportunity to have the #Jackandthebeats experience as the party comes back to Quilox Bar and Restaurant this Saturday. This installation will feature Reekado Banks who just released his debut album and DJ Big N of the Mavin allstar fame.
Friends of Jack can win interesting freebies from http://facebook.com/jackdanielsnigeria and at the parties. Fans are encouraged to share their personal content from these parties on Twitter, Instagram or Facebook using the hashtag #Jackandthebeats
Jack and the Beats is a continuation of Jack Daniel's 150-year heritage which includes a long association with music.
Tune in to Beat 99.9 FM every Friday night to listen to Jack & The Beats Radio Show from 9pm – 10 pm
Date: Saturday, September 10th, 2016.
Time: 10PM
Venue: Quilox Nite Club, Ozumba Mbadiwe Street, Victoria Island, Lagos.
__________________________________________________________________
Sponsored Content