Spice Route Celebrates 3rd Anniversary with The Great Gatsby Themed Party | Saturday, September 24th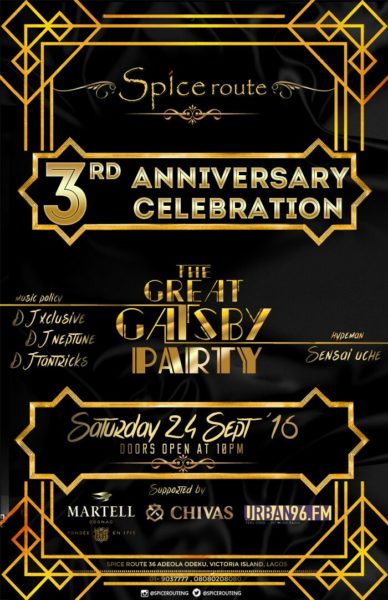 There will be a lot of celebration this weekend for the Spice Route team as they announce their 3rd anniversary in the hospitality/nightlife industry.
The grand celebration themed "The Great Gatsby Party" is set to take place on Saturday. Find details below:
Date: Saturday, September 24th, 2016
Time: 10PM
Venue: Spice Route 36 Adeola Odeku Street VI Lagos.
Dress Code: Elegant Vintage
The party will take you back to the fictional early luxury life of the 1920's lavish parties. The mention of the name ''Great Gatsby'' conjures images of grandeur, over the top glamour, glitz and a society fuelled by impulse and desire
Admission to this party is strictly by invitation or by table reservation.
For more information & Reservation, please call: 08187600000
____________________________________________________________
Sponsored Content