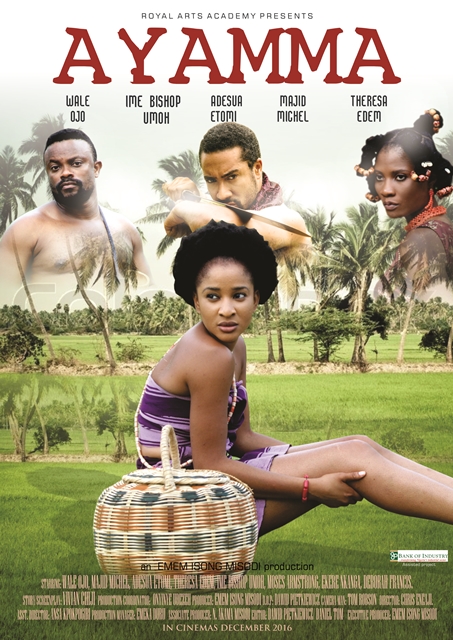 Royal Arts Academy in conjunction with Bank of Industry presents 'Ayamma' – a magical story of love, treachery, lust and revenge all entwined in the beauty of music & dance.
The movie synopsis:
Set in a fictitious village somewhere in Ibibio land in beautiful Akwa Ibom state, 'Ayamma' is the story of Ihuoma, (played Adesua Etomi) the poor but beautiful village maiden with the voice of an angel. Her voice coming out of the forest, so haunts Prince Daraima, (Wale Ojo) the handsome heir to the throne that he does all he can to reach her so as to claim her hand in marriage. His efforts are however, constantly thwarted by the envious Princess Ama (Theresa Edem) a princess from a neighbouring village, betrothed to Prince Daraima and who will stop at nothing to secure her rightful place as his bride. All this is played out under the watchful gaze of his younger brother Ekong (Majid Michel) who harbours his own dark secret. Set in the lush, green fertile land of Akwa Ibom state, Ayamma is a sweeping epic that transports us into a magical world of music, dance and drama.
The movie stars some of Nollywood's best such as Wale Ojo, Majid Michel, Adesua Etomi, Theresa Edem, Ime Bishop Umoh, Moses Armstrong, Ekere Ekanga and many more.
It was produced by the award winning producer, Emem Isong and directed by ace director, Chris Eneaji, Assistant Director was Ansa Kpokpogiri, Associate Producer was Misodi Akama, story/screenplay was by Vivian Chiji, Director of Photography was Dawid Pietkiewicz, lighting and music by George Nathaniel & Evaezi.
There will be a private viewing of the movie on the December 11th, 2016 while the film premieres on December 23rd, 2016.
Watch the trailer:
See some of the photos from behind the scenes: