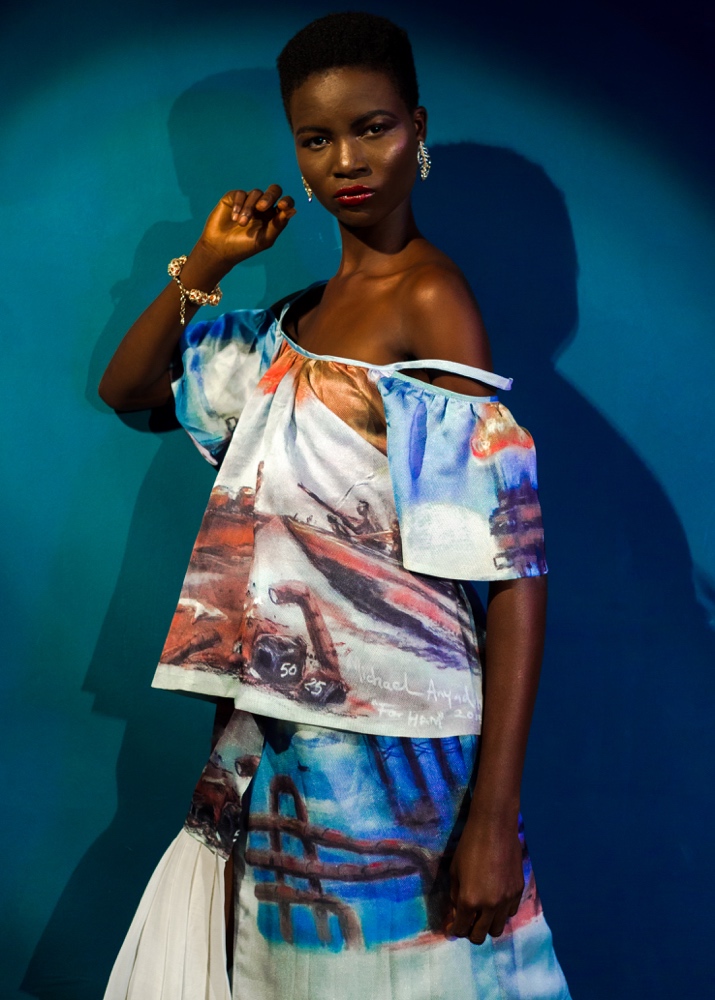 House of Marie Spring Summer 2017 is themed "Our Nigeria" and it reflects on two prominent issues in Nigeria as well as the common act of Nigerians celebrating regardless of circumstances.
House of Marie designed it's own print as a painting which shines light upon the environmental issues in the Niger Delta. Oil Spills from petroleum operations have slowly poisoned waters and obliterated vegetation and agricultural land. For over twenty five years there has been no concerned and effective effort on the part of the government or oil operators to control this issue.
Another print designed as a painting touches the Girl Child education, socio-cultural patterns, religious misconceptions, poverty, teenage pregnancy and early marriage amongst other factors. House of Marie is creating awareness of the eradication of discrimination against women.
The brand created a print which shows Nigeria as a happy country despite the conflicts we face. The print is a painting of various Nigerian tribes in their cultural attire partying together as one.
Creative Director: Joan Ibuzo.
Stylist/ Designer: Uche Uba (@VcheUba), Ethan Regal (@Ethan_Regal)
Make-up artist: Uche Uba (@VcheUba)
Accessories: Artsmith Collections. (@GbengaArtsmith)
Model: Kemi Amusan (@TheKemiAmusan)
Photographer: Enyeasi Kadara (@Enyeasi.k)
Instagram: HouseOfMarie_NG
Twitter: HouseOfMarie_NG
Facebook: HouseofMarieNg